HSBC regular saver rate hiked from 1% to 5% - here's how to get it
The bank is increasing interest rates on a range of savings products including its HSBC regular saver account and cash ISAs.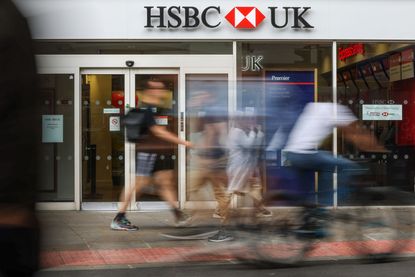 (Image credit: Bloomberg / Getty images)
HSBC customers will see their interest rate jump on a range of savings accounts, including the HSBC regular saver from December.
Those with the 12-month fixed-rate regular saver will benefit from the biggest rise, with its rate automatically shooting up from 1% to 5% on 1 December.
The rate on HSBC's one-year fixed-rate saver account will increase from 2.25% to 3.5%, while cash ISA rates will all rise by 0.9 percentage points.
Normally interest rates on regular saver accounts are fixed from the time of opening. However, HSBC says it is increasing all regular saver accounts to the new rate of 5% to "help with the increased cost of living".
But you will need to have a current account with the bank in order to access this Regular Saver.
Tom Wolfenden, HSBC UK's head of retail, said: "While the cost of living may be increasing, emergencies will still happen, so having a small safety net that will help cover you in the event of something unexpected happening can be extremely important.
"To help encourage a savings habit and to help customers make their money grow, we are increasing all current regular saver accounts to the new rate of 5% with effect from 1 December. Customers do not need to do anything, it will be updated automatically."
We look at how HSBC is changing its savings products - and whether savers should get excited about these rate hikes.
HSBC regular saver and other accounts
How can I get the 5% interest HSBC regular saver?
HSBC's Regular Saver account allows you to save up to £3,000 for 12 months and limits what you can deposit to between £25 and £250 each month.
The rate jump on the account means you can potentially make up to £81.25 in interest if you have the 5% interest rate for the full 12-month period, compared to up to £16.25 at the 1% rate over 12 months.
To benefit from the rate on this account, you won't be able to make withdrawals at any time during the 12 months, so you need to be comfortable with locking the money away. You can still withdraw it but you'll miss out on the interest.
At the end of 12 months, HSBC will pay out your savings plus the interest it earns as a lump sum.
To be able to get the regular saver you must have one of the following HSBC current accounts:
HSBC Premier
HSBC Advance, Bank Account
Bank Account Pay Monthly
HSBC Student Bank Account
Graduate Bank Account
You must continue with the current account for the 12-month duration
You will need to set up a standing order from your HSBC account to pay between £25 and £250 into your Regular Saver each month.
If your regular payments are less than £250 a month, you can carry your allowance over, paying more in later months (up to a total of £3,000).
HSBC is also offering a £200 bonus to switch to its current account if you're not already a customer.
---

HSBC Advance | £200 switching bonus
If you don't have an HSBC account, bag yourself £200 free cash by switching to the HSBC Advance Account. You must pay in at least £1,500 within 60 days of opening the account. You're also required to switch two direct debits or standing orders over to this account.
Open an account and start a switch within 30 days (including two or more direct debits or standing orders) and pay in £1,500 plus in the first 60 days. The £200 is then paid within 20 days.
You also get access to HSBC's Online Bonus Saver – a savings account that pays 3.5% on balances up to £10,000, but only in the months you don't make a withdrawal from it.
Eligibility: You must be a new customer
Linked savings: 5% regular saver (from 1 December 2022)
Other benefits: access to exclusive savings rates and discounts with retailers like Not On The High Street.
Minimum pay in: none
Arranged overdraft: 39.9% EAR variable (first £25 interest-free) - subject to status
Unarranged overdraft: 39.9% EAR variable to a maximum of £20 per month
If you're not eligible for the HSBC switching bonus but are still keen on changing banks, earning some free cash, and getting a decent regular savings account, you could consider moving to First Direct.
First Direct pays a £175 switching bonus to new customers, and its linked regular saver pays 7% on up to £250 a month from 1 December.
What else has HSBC announced?
HSBC is also waiving early closure fees on its fixed-rate saver accounts. This means there will be no access restrictions or early closure fees if customers need to withdraw their cash.
The bank says it is doing this as it "may help savers with unexpected expenses" during the "challenging months ahead".
The bank says the interest rate rises - which are all happening on 1 December - mark the sixth time this year that it has increased rates for savers.
As well as the one-year fixed rate rising to 3.5%, its two-year fixed rate will jump to 3.75%.
Cash ISAs will all see a 0.9 point uplift, so the new rates become:
Standard rate loyalty ISA - 2.1%
Other loyalty ISA - 2.3%
Advance loyalty ISA - 2.3%
Premier loyalty ISA - 2.5%
HSBC easy access savings accounts are also rising, but by a smaller amount. Its premier savings and flexible saver accounts will increase from 0.5% to 0.65%.
Meanwhile, its children's savings accounts (MySavings and Premier MySavings) will increase from 3.5% to 3.75% for balances under £3,000. Savings above this level will have an interest rate rise from 1% to 1.25%.
Are these HSBC rate hikes a good deal for savers?
Anna Bowes at the savings platform Savings Champion says that while the rate hike on the regular saver account from 1% to 5% seems big, she is not "particularly excited" about HSBC's announcement.
She is critical of the bank's easy access flexible saver account, which pays just 0.5%, and will only nudge up to 0.65% from December. Many customers will have cash sitting in this account, and due to inertia will not bother looking for a higher-paying alternative.
Furthermore, savers who take out the regular saver will also have their money transferred to the flexible saver account after the 12-month period, and receive a miserly 0.65%.
In terms of the 5% regular saver, Bowes tells The Money Edit: "HSBC has increased the rate on the regular saver from very poor to competitive, but it's not the best. NatWest & RBS are paying 5.12% on their Digital Regular Saver, while the Monmouthshire Building Society is paying 5.5% on its Christmas Saver Bond Issue 5.
"And because the amount that can be deposited is restricted to a fairly small amount, HSBC can afford to offer a headline-grabbing rate. Plus you need to have a current account with the bank in order to access this Regular Saver."
Bowes was more positive about the decision to remove early withdrawal fees on fixed-rate accounts. "It's unusual for a savings provider to offer any early access, even with a fee, so this is a nice feature. However, once again the HSBC rates are disappointing – at the moment the one-year account is paying 2.25% [increasing to 3.5% next month] while the best rate on the market is 4.36%."
What are other banks doing?
Interest rates are at their highest level for 14 years, with the Bank of England hiking rates to 3% earlier this month.
Several banks and building societies have tweaked rates and improved their perks recently.
Halifax has unveiled a new offer of £175 cash for customers switching from another bank to a Reward Current Account or Ultimate Reward Current Account. But you'll need to be quick, as the offer ends on 19 December.
HSBC and Nationwide Building Society offer a £200 switching bonus for customers switching their current accounts to them.
Last week, Santander unveiled its new Edge current account, which offers cashback on debit card spending and direct debits, with up to £20 cashback each month.
It has a linked easy access savings account, which pays 4% on balances of up to £4,000, including a 0.5% bonus rate for the first 12 months.
How are banks supporting customers during the cost of living crisis?
HSBC says it has a raft of support to help customers struggling with financial pressures. For example, it offers a £500 overdraft buffer. This means there is no interest on the first £500 of a customer's arranged overdraft for 12 months.
To benefit from this support, customers must complete an online form via the HSBC UK website before 31 March 2023.
The bank has also launched a subscription management tool, where customers can see and cancel their recurring card payments like on-demand TV subscription services. HSBC says its customers have cancelled more than 2 million subscriptions so far this year.
We outline what other banks and building societies are doing to support customers who are struggling to pay their bills.
Ruth Emery is contributing editor at The Money Edit. Ruth is passionate about helping people feel more confident about their finances. She was previously editor of Times Money Mentor, and prior to that was deputy Money editor at The Sunday Times. A multi-award winning journalist, Ruth started her career on a pensions magazine at the FT Group, and has also worked at Money Observer and Money Advice Service. Outside of work, she is a mum to two young children, a magistrate and an NHS volunteer.