10 ways to give to charity
Looking to give to charity? Here's how to make the most of your donation this Giving Tuesday 2021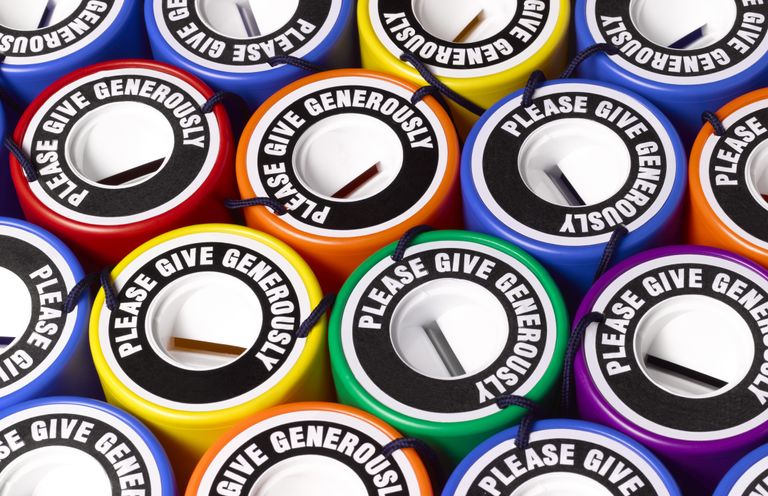 (Image credit: Getty Images)
By Ruth Emery
If you're looking to give to charity, there are things you can do to make your money go further to help causes close to your heart.
The pandemic has had a big impact on the charity sector. According to the Charities Aid Foundation (CAF), more than half the charities it spoke to in 2020 had seen a drop in donations. At the same time, 39% of the charities it surveyed reported increased demand for help from those in need.
As we approach Giving Tuesday 2021 (30 November), we outline some of the ways in which you can support the good causes, from responding to emergency appeals and giving at Christmas to boosting your donations by 25% (and claiming tax relief for yourself). We also take a look at giving through your payslip, volunteering and leaving a legacy in a will.
Give to charity - Emergency appeals
One of the most shocking crises of 2021 was the Taliban seizing power in Afghanistan. It prompted a global response, ranging from countries opening their borders to accept refugees to local communities organising donation drives.
If you're donating items, check for any guidance on what is actually needed. For example, toys and toddler clothes might be in high demand, or kitchen equipment like microwaves. Make sure what you're donating is in good condition (would you be comfortable giving it to a friend or relative? If not, it might be better to recycle it instead).
Charities often set up emergency appeals where the money goes directly to helping those affected by a crisis (or crises). Save the Children has an emergency fund which helps it respond quickly to events like the Afghan conflict or Haiti earthquake, while the British Red Cross has a crisis appeal that helps fund its health centres in Afghanistan, and deliver basic supplies to those in need.
There are numerous appeals to help those whose lives have been affected by Covid, including Christian Aid and MND (motor neurone disease) association.
You can also support big annual events like Comic Relief and BBC Children in Need, either by donating cash, fund-raising, or buying merchandise where the proceeds go to charity.
Longer-term charity support
Setting up a regular payment to a charity means you can help support long-term projects, as well as knowing that a proportion of your income is helping those who are less fortunate than you. There are several hassle-free ways to do this.
Setting up a direct debit is easy to do on most charity websites; you can pick an amount that suits your budget and it'll come out of your bank account each month.
You can also give to charity via text message, and at many ATMs.
If your employer offers a payroll giving scheme, you can donate from your pre-tax salary and benefit from income tax relief. So if you give £1, it'll actually only cost you 80p (for basic-rate taxpayers) or 60p (for higher-rate taxpayers) - but the charity gets the full amount.
How does Gift Aid help when you give to charity?
You've probably heard of Gift Aid, but may not be entirely sure how it works. For example, you may have been asked if you want to use Gift Aid when buying tickets to a zoo or museum.
Essentially, the government allows you to donate cash to charity before being taxed. It means charities and community amateur sports clubs can claim an extra 25p for every £1 you give. It will not cost you any extra - but you do have to be a UK taxpayer.
So, if you give £10, it'll actually cost you £8, as the charity will claim £2 of it via tax relief.
Higher-rate and additional-rate taxpayers get an extra perk because they can claim a further 20% and 25% tax relief respectively, as they pay more tax than basic-rate taxpayers. This can be done on a self-assessment tax return: their basic-rate tax band is extended by the gross charitable donation, which increases the proportion of their income taxed at the lower rate.
Leaving a legacy in your will
Leaving a charitable gift in your will is a lovely way to make a difference after your lifetime. According to the National Council for Voluntary Organisations, legacies account for 16% of all fundraised income for charities (around £3.4 billion in 2019).
There are three types of gift: a share of your estate (known as a residuary gift), a fixed amount of money (pecuniary gift) and a particular item (specific gift).
A solicitor can help you set it up. You can also write or update a will free of charge in March and October (as part of Free Wills Month). There is no catch, although it is hoped you may leave a gift to one of the Free Wills Month charities, which include Mind, RNLI (Royal National Lifeboat Institution), and Marie Curie.
The government has a few tax sweeteners to encourage charitable giving in wills. First, gifts to charity are exempt from inheritance tax (IHT). Second, where 10% of someone's net estate is left to charity, the rate of IHT falls from 40% to 36%.
Donating items to charity
Donating items is a simple and effective way to help those in need. You could say it's a triple win. You get to have a clear-out, you avoid landfill and help the planet, and someone else gets to benefit from the item.
There's been a big surge in people donating to charity shops during the pandemic. Jonathan Mail, head of public affairs at the Charity Retail Association, comments: "The generosity of the public in donating items to charity has been fantastic. Our members are very positive about the volume of donations received and this is a major factor behind weekly charity shop sales currently trending above 2019 levels. Charity shops have generally managed well with high donation levels by putting new processes in place."
As mentioned earlier, make sure any items you donate are in good condition. Clothes with holes or stains, for example, can be taken to a textile recycling bin.
If you have large items, such as furniture, check with the charity shop to see if they have space to accept them. They may also offer to collect the item for you (British Heart Foundation offers a free collection service).
As well as high-street charity shops, there are lots of other charities that can help with more unusual donations. For example, Re-Cycle takes bikes, Computer Aid takes computers, and Tools for Self Reliance takes tools.
For non-perishable foods, as well as toiletries and cleaning products, don't forget your local food bank.
Donating your time to charity
There are plenty of ways to support a charity by donating your time. Volunteering is great for meeting new people and learning new skills - and it can really boost your CV.
Organisations that can often use an extra pair of hands include soup kitchens, homeless shelters, animal sanctuaries and food banks. For vacancies in your local community, look at Volunteering Matters. The NHS is also seeking people to help with the Covid vaccine rollout.
Meanwhile, charity shops are desperate for volunteers. "A lack of volunteers continues to be a major challenge for the sector," says Mail. "We estimate numbers are around 20% below pre-pandemic levels, which would suggest a drop in volunteers of around 45,000." Volunteer roles include sorting donations, visual merchandising, listing items online, marketing and supporting home collections.
There is also a shortage of foster carers. If you're over 21, have a spare bedroom, and the time to dedicate to looking after children, check out TACT, the UK's largest dedicated fostering charity.
Organising events or challenges for charity
Organising a cake sale in your office or school, hosting a quiz or arranging a fancy dress day at work can be fun, sociable ways to raise cash for a good cause. Participating (or sponsoring a friend!) in a charity challenge like a cycle ride or long-distance trek are also great for raising money.
Some companies match any money raised by an employee, so speak to your HR department if you are planning any events or challenges - you could double the amount you raise!
Donating old coins
Research by trade body UK Finance shows that people have held onto cash for three times longer than before, due to the Covid lockdowns.
"Putting your pennies in a charity box is a great way to help those in need," comments Eric Leenders, managing director of personal finance at UK Finance. "The public has stored over £50 million of loose change over the course of the pandemic and as the UK is opening up post-lockdown every pound and penny that can be spared for worthy causes will make a tremendous difference."
Charity buckets have returned to the high streets, and you can also donate through coin-cashing machines often found at supermarkets.
For foreign coins and notes, you may be able to donate them via a charity shop, bank or bureau de change. Or you can post them off to a company like Leftover Currency, which then gives them to your chosen charity.
Gifting shares
As well as time and money, you can donate other things like shares. Giving shares to charity could lower your income tax and capital gains tax bill. The shares must be listed on a recognised UK or foreign stock exchange, or in authorised unit trusts.
You can either donate the shares to ShareGift, which supports 3,218 charities, or via a CAF account. Alternatively, contact your chosen charity directly to see if it can accept shares.
Give to charity at Christmas
Christmas is a time of giving, and there are numerous ways to give to those in need. Instead of asking for traditional presents, you could ask your loved ones to make a donation to your favourite charity.
Buy charity Christmas cards, or ditch the Christmas cards altogether and send virtual cards and make a donation of what you would have spent on the cards.
Arrange a charity shop secret Santa at work. You get to support a cause, and you'll receive an unusual and unique gift.
If you've got kids, look out for collection tins at Santa's grottos - it's even better if you give the money to your child to pop into the tin, and explain to them where the money goes. You can also get the children involved with the spirit of giving by asking them to choose a gift to donate to a Christmas present appeal, like The Salvation Army's one. Parents can also consider using the NSPCC's Letter to Santa initiative.