First Direct regular saver doubles interest rate from 3.5% to 7% - here's how to get it
The rate hike takes the First Direct regular saver straight to the top of the best-buy tables. We explain what you need to know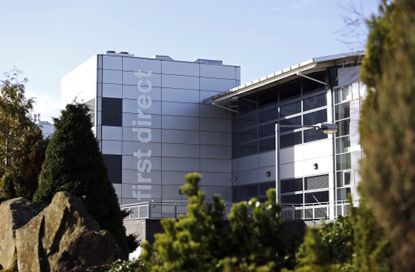 (Image credit: Bloomberg / Getty images)
The First Direct regular saver is doubling its interest rate from 3.5% to 7% on 1 December.
The move will benefit new customers opening a current account with the bank who will get access to the regular saver, as well as existing savers who will see their interest rate automatically increase.
The announcement follows a series of rate hikes by its sister bank HSBC which also come into effect from 1 December.
But, this big rate rise is much more generous, and is likely to be the first time savers have seen such a high-interest rate in a decade.
Chris Pitt, chief executive of First Direct, said: "We are committed to giving savers a good return on their money, particularly in the context of the increases in the cost of living and the current high inflation environment.
"Our Regular Saver account allows customers to build up a savings pot gradually while receiving a market-leading 7% return."
First Direct is raising rates across its entire savings range - we outline the other changes at the end of this article.
First Direct regular saver doubles interest to 7% - how to get it
How can I get a First Direct regular saver account?
The First Direct regular saver account lasts for 12 months from when you open it, and the interest is paid in one go at the end of the 12-month period.
You must deposit between £25 and £300 each month by standing order. You're not allowed to skip months, so you must make sure you deposit at least £25 a month.
The account doesn't allow any withdrawals. If you want to access your money before the year is up, you'll have to close the account. If that happens, you'll only get interest equivalent to First Direct's easy-access savings account (which pays 0.65% from 1 December).
You'll need to have a First Direct current account to open the regular saver account.
If you already bank with First Direct, you can open the Regular Saver now, and you'll get the new rate from 1 December.
If not, you can switch to a First Direct current account easily online.
---

First Direct | £175 switching bonus
Switch to the First Direct 1st Account and you'll receive £175. To qualify, you must use the Current Account Switch Service and pay in at least £1,000 within the first three months. First Direct consistently ranks best of the major banks for service.*
Open a First Direct Account and within three months switch another account into it, plus pay in £1,000 or more. The £175 bonus is then paid within 28 days. You can request the switch online or by phone.
Eligibility: only available to customers who are new to First Direct, or HSBC customers who haven't opened an account since 1 Jan 2019.
Linked savings: 7% regular saver from 1 December 2022)
Minimum pay-in: none
Arranged overdrafts up to £250: 0% EAR variable - subject to status
Arranged overdrafts over £250: 39.9% EAR variable - subject to status
Unarranged overdrafts: 39.9% EAR variable (max £20 per month)
If you're not eligible for the First Direct switching bonus but are still keen on changing banks, earning some free cash, and getting a decent regular savings account, you could consider moving to HSBC.
HSBC pays a £200 switching bonus to new customers, and its linked regular saver pays 1% on up to £250 a month, increasing to 5% from 1 December.
How First Direct's Regular Saver account works
Regular savings accounts are a good option if you want to put money away each month. It's not possible to deposit a large lump sum at the start and just leave it; instead, you need to regularly pay cash in, as the name suggests.
You'll need to have a First Direct current account
You'll need to pay in between £25 and £300 each month by standing order
You'll need to lock the money away for 12 months to get the headline 7% interest rate
Interest rates are usually fixed for the term of a regular savings account. However, First Direct says anyone who already has a Regular Saver will also benefit from the new 7% rate. Customers do not need to do anything, it will be updated automatically.
The bank says it is doing this to "help customers with the increased cost of living". The interest won't be backdated, so the higher rate will only apply from 1 December until the end of your account's term.
HSBC made a similar announcement yesterday, hiking its regular savings rate from 1% to 5% for new and existing customers.
First Direct's 7% rate catapults it straight to the top of the regular saver best buys. The next best rate is the Lloyds Bank Club Monthly Saver, paying 5.25%.
You can compare more savings rates in our handy round-up of top savings accounts.
What about First Direct's other savings accounts?
First Direct is increasing the rates on all of its savings accounts, although it's the Regular Saver that is seeing the biggest uplift. The rate changes will apply from 1 December.
Its easy-access Savings account will nudge up from 0.5% to 0.65%
The three interest rates on its Bonus Savings account will increase to 2.6% (paid on balances of up to £25,000 including bonus), 1% (on balances greater than £25,000 including bonus) and 0.65% (excluding bonus).
The First Direct cash ISA will rise from 1.4% to 2.3%
The one-year Fixed Rate Saver will jump from 2.25% to 3.5%
Related articles
Look After My Bills Newsletter
Get the best money-saving tips, tricks and deals sent straight to your inbox every week. Make sense of your money in partnership with The Money Edit.
Ruth Emery is contributing editor at The Money Edit. Ruth is passionate about helping people feel more confident about their finances. She was previously editor of Times Money Mentor, and prior to that was deputy Money editor at The Sunday Times. A multi-award winning journalist, Ruth started her career on a pensions magazine at the FT Group, and has also worked at Money Observer and Money Advice Service. Outside of work, she is a mum to two young children, a magistrate and an NHS volunteer.