Average easy access ISA pays seven times the typical rate offered a year ago
Savers rejoice! The average cash ISA now pays around seven times the interest rate offered a year ago - while top one-year fixed ISAs now pay more than four times respectively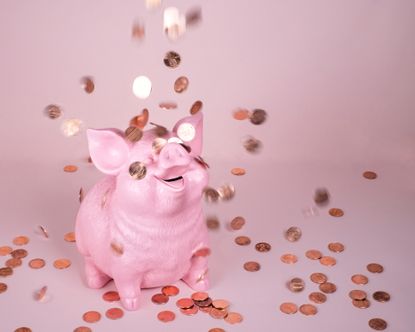 (Image credit: Getty images)
The average cash ISA now pays around seven times the interest rate offered a year ago - at 1.85% compared with 0.26% in February 2022.
Savers can even get a rate as high as 3.05%, according to data analyst Moneyfacts.
A year ago, the best easy-access cash ISA was 0.61%, from Shawbrook Bank.
Meanwhile, savers who are happy to lock their cash away will be happy to learn that top one-year fixed-rate ISAs now pay more than four times the interest rate offered a year ago.
These savers can get a rate as high as 4.25% from a one-year fixed rate with Virgin Money.
A year ago, the top rate for a one-year fixed-rate ISA was just 1.00%, from Coventry Building Society.
Savings rates generally have been improving following a string of Bank of England base rate hikes over the past year.
For those who are happy to lock their cash away for longer the average five-year fixed rate-ISA pays 3.68% interest - up from 1.40% a year ago - with rates as high as 4.46% currently available, according to Moneyfacts.
Rachel Springall, a finance expert at Moneyfacts.co.uk, said: "Savers have just a couple of months left until the new tax year begins (on April 6), so time is ticking for them to utilise their current Isa allowance (of £20,000).
"Thankfully, the run-up to Isa season is looking bright as rates are much more favourable than they were a year ago. Consumers who prefer a longer-term fixed Isa will be pleased to see much higher rates when they come off their current deal this year."
In recent years, Isa seasons have been lacklustre as the base rate has been held at low levels.
Where should I put my savings when inflation is so high?
If you are looking to build a savings pot, then deciding where to save your money is an important decision.
While savings rates have improved, they will only partially offset the eroding effects of inflation on the real value of your cash, with consumer prices index (CPI) inflation running at 10.5% in December.
Still, it's best to mitigate the effect of inflation by putting your savings in the account that offers the highest interest rate.
You may want to consider ISAs next to savings accounts.
See our top listings for the best cash ISA rates and the best savings accounts.
And don't forget to consider Premium Bonds for your savings too.
Read more
Look After My Bills Newsletter
Get the best money-saving tips, tricks and deals sent straight to your inbox every week. Make sense of your money in partnership with The Money Edit.
Katie is staff writer at The Money Edit. She was the former staff writer at The Times and The Sunday Times. Her experience includes writing about personal finance, culture, travel and interviews celebrities. Her investigative work on financial abuse resulted in a number of mortgage prisoners being set free - and a nomination for the Best Personal Finance Story of the Year in the Headlinemoney awards 2021.