Two in three UK crypto owners borrowed money to invest
Consumers who borrowed money to buy crypto coins are left with devastating losses and debt after the coins crash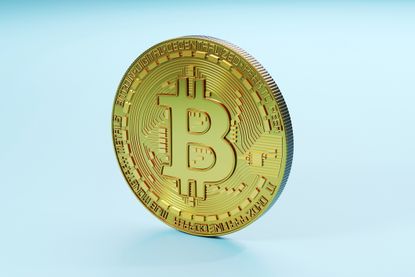 (Image credit: getty images)
Two-thirds of UK cryptocurrency investors borrowed money to make their purchases and now face tumbling crypto prices.
A study by KIS Finance found that 64% of crypto investors used one or more credit facilities to purchase crypto coins such as Bitcoin, Ethereum and Dogecoin, rather than using income or savings.
Over a third (35.5%) of all UK investors made their investment using a credit card. Almost a fifth (19.3%) funded the purchase out of their overdraft.
See more: Crypto scams to look out for
Prices of the main cryptocurrencies have fallen by as much as approaching 50% in the last 7 days, leaving many facing huge losses while saddled with the cost of repaying their original borrowing.
The NFT market too has shrunk in size and value in recent weeks.
Cryptocurrencies are highly volatile and a risky investment strategy. There was a massive increase in crypto prices in November last year, with Bitcoin hitting its highest ever price. But since then, cryptos have been on the decline.
If you invested in Bitcoins in in February 2011 or Ethereum in 2016 when they were worth just $1, then you would still be making an enormous return. But if you invested in Bitcoin or Ethereum in the last few weeks you would have lost around a third of your investment if you sold now.
Holly Andrews, managing director at KIS Finance said: "It's concerning to see that so many people have turned to borrowed funds to purchase cryptocurrencies as they are extremely unpredictable and offer no guarantees that the money invested will be returned. So, if people are investing money that isn't theirs and subsequently losing it, this could cause some serious financial challenges later down the line.
"The biggest concern is those who don't have the means to pay the money back, especially if their original plan was to repay their loans with the profits made from their investment. With a very strong possibility of losing the money for good, people may be left severely out of pocket and racking up interest on their credit cards and overdrafts. Also, some credit card providers will view this type of transaction as a cash advance, meaning a cash advance fee and higher interest rate will be applied.
"So, if you are thinking of making an investment into cryptocurrencies, you should only invest an amount of money that you can afford to lose and it should be funded through income and/or savings rather than credit.
"Borrowing money to invest in cryptos can become a very vicious cycle that's difficult to break. Once you start losing money, it can be very tempting to invest more to make the money back; especially if you don't have other means of repaying the funds," she added.
"Those aged between 18 and 24 were the age group most likely to use borrowed funds to make their investment, with a significant drop of borrowers in the two highest age groups.
It comes as households face a cost of living crisis, with rising bills and costs cutting deeper into peoples' wallets. Millions of people fear falling into debt over the coming months, according to Jubilee Debt Campaign.
Look After My Bills Newsletter
Get the best money-saving tips, tricks and deals sent straight to your inbox every week. Make sense of your money in partnership with The Money Edit.
Tom Higgins is a journalist covering all aspects of the financial world, from investing and sustainability to pensions and personal finance. He graduated from Goldsmiths, University of London in June 2020 and has since written online and in print for the Financial Times group, New Statesman media group, numerous trade magazines, and has worked with Bloomberg on social media projects. He has a deep interest in environmentalism, social change, and data-driven storytelling. He can be found tweeting at @tomhuwhig.