Clear your Christmas debt: how to recover from a festive financial hangover
Top tips to help you clear your Christmas debt and get your finances back on track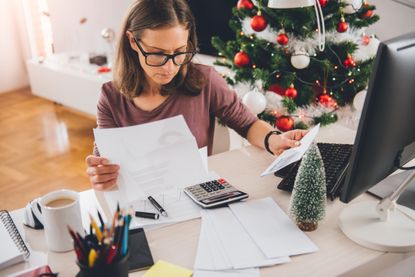 (Image credit: Getty)
Thousands of people will go into the New Year with Christmas debt after spending more than what they could afford.
Last year, the average UK family set aside £350 to spend on presents, food and decorations over the festive period. Yet almost two-thirds overspent by up to £250, or 70%, according to Money Helper.
And according to Monva, a fifth of us dipped into our savings to fund the festive break, while 7% used 'buy now, pay later' - this figured doubled for 18-34 year olds.
If you're starting the New Year with a financial hangover, then here's how to manage your debt and get your finances back on track.
1. Tackle your Christmas debt with an emergency budget
According to the charity StepChange, the average Brit won't fully pay off all their festive spending bill until a full seven months after the big day. But don't wait until the summer to be Christmas debt free - put in an emergency budget now to help your manage your spending.
Look over your bank statements to help you work out what is coming in and going out of your account and think about making cuts so that you can put money towards paying off debts.
To help you make cuts and tighten your spending habits, start with the Money Helper's budget planner.
Budgeting apps like Money Dashboard can also help you keep track of your spending. The app is free to download on the App store or Google Play.
2. Use your banking app to help you save
If you aren't already using your bank's app, then it's worth downloading. Many bank apps have tools to help you budget and reach your savings goals.
Some also categorise your spending, so that you can see where your money leaks may be and allow you set spending limits. If you think you spend too easily on contactless, then you can also set a limit on how much you can spend via the apps.
3. Unsubscribe
If you signed up to marketing emails, maybe to take advantage of discount codes, then now is the time to hit unsubscribe and remove any saved payment details too.
Remember that this doesn't have to be forever, the aim here is to get your finances back on track and you don't want to be distracted by marketing emails making you part with your money.
Another big spend is takeaways and successive lockdowns haven't helped. According to KPMG, the average amount each of us spent on takeaways rose 42% in two years, from £452 in 2019 to £641 in 2021. Meal planning, cooking in bulk at home and then freezing the leftovers will save hundreds each year.
4. No spend week
One fast way to save some cash is to have a no spend week. Try this once a month, where you don't spend money on anything - except for bills and food of course.
Think of it like a detox where you remove all alcohol and junk food from your diet, to give your body a bit of a break. Only here, it is your wallet that is getting the break.
A no-spend week is great but a whole month would be even better. The Money Edit's Katie Binns tried this trick one January and saved over £1,000 to pay for a holiday.
"I set myself a weekly budget and found myself being really resourceful, like using up food in the freezer, going to free comedy gigs, inviting friends round for drinks instead of going our and so on," she says.
"The whole month was a useful exercise in living well on less and learning how much I really needed to maintain my desired lifestyle. And it wasn't that hard. When friends learned what I was doing they were really supportive."
For some inspiration and ideas, take a look at Michelle McGagh's The No Spend Year book - which of course you can read for free at the library.
5. Speak to your family
"Whether it's sharing budgeting tips with friends, or discussing household bills with someone in your family, having a good relationship with your finances starts with being able to talk about them," Andy Shaw, debt advice policy officer, StepChange.
Just like a diet, it's so much easier when you have the support and understanding of those around you. Your friends and family may also want to cut back too after Christmas or have some great ideas that they could share with you. Make it a challenge to think of all the fun activities that you can do together that are free, such as museums, art galleries, parks and gardens.
This could also be a great way, if you have kids, to teach them about money and savings during this time and get them to help.
6. Sell unwanted stuff
Last year saw over two million listings go onto eBay on Boxing Day alone - which is the official day when people realise the dent Christmas spending has made on their bank balance and look to replenish their wallets.
Give yourself an income boost by selling any unwanted gifts as well as other unwanted stuff from your house - whether that's old phones or items from your wardrobe, for example.
For most items, eBay, Gumtree or Facebook Marketplace are the sites to visit. Deepop and Vinted are great for clothes, while MusicMagpie is ideal for old tech.
7. Get a balance transfer credit card
If you put Christmas on plastic this year, then moving the debt onto a 0% balance transfer card could save you hundreds of pounds. With these credit cards, you will be offered a set period of time during which you do not have to pay any expensive interest on the money you owe on the card. It is a sensible way to pay off your debt quicker as long as you pay the minimum each month and have a plan to pay back the whole amount by the end of the 0% term, or it can become very costly.
Current top 0% deals include: Santander, at 31 months 0% with a 2.75% fee or Virgin Money, which has 28 months at a 1% fee.
Make sure you use ask the provider for what is known as a 'soft search', which will show whether you are likely to be accepted for the card. You will need a strong credit score to get the top 0% deal.
8. Switch your bank account
"For a quick win," says Chris Gowland, at Lloyds Bank, "many banks offer money just for switching to them. Check the terms and conditions first and if they work for you then you could pocket a decent sum without leaving your laptop."
At the moment HSBC are offering a £150 bonus and a £10 donation to homeless charity Shelter, while switching to a new Halifax Reward account could pocket you £125, plus monthly rewards.
Only do this if you were thinking of switching anyway because money isn't everything when it comes to finding the right account for you and if you are happy where you are, it might be best to stay put.
9. Don't be afraid to ask for help
"If you are worried about your money and not sure how to make ends meet, it's important to contact your bank. The sooner you let them know, the quicker they can help and get you back on track," says Gowland.
Don't forget, there are also a number of charities who offer free debt advice such as Citizens Advice, StepChange and Turn2Us. It can feel lonely when you're worrying about money but there is free, confidential advice out there.
Look After My Bills Newsletter
Get the best money-saving tips, tricks and deals sent straight to your inbox every week. Make sense of your money in partnership with The Money Edit.
Georgie is a multi award-winning financial broadcaster and journalist. She is a trusted voice on all matters personal finance and consumer affairs, hosting a number of money podcasts and appearing regularly on TV, radio and in print. Georgie speaks with both authority and personal experience. Before moving into money journalism, Georgie spent a decade traveling around the country as a BBC sports broadcaster, however a spinal injury changed that. Georgie's journey into and out of debt due to her injury sparked a deep interest in consumer rights, financial education and social mobility, which drives much of her work today.