How to check your state pension
Not sure what your state pension is worth? We show you how to check your state pension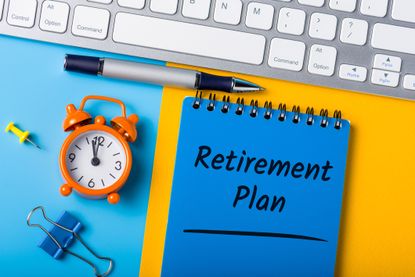 (Image credit: getty images)
There's a lot to think about when it comes to pensions. When thinking about your retirement income the chances are the state pension will play a big role, so it is important to know how much you are going to get.
The average pensioner has a retirement income of £28,808, according to the latest government figures. With the full state pension currently worth £9,628.50 that means for most of us the benefit will make up around a third of our retirement income.
SEE MORE: State pension increases by 3.1%
But you don't automatically get the full state pension. Your state pension entitlement is based on how many years of National Insurance Contributions (NICs) you have made. So, it is important to check your state pension as part of your retirement planning.
"The state pension forms the very backbone of many people's retirement," says Helen Morrissey, senior pension and retirement analyst at Hargreaves Lansdown. "Once you know how much you are likely to get it forms the foundation of your retirement income planning."
"Knowing what you will get from the state will help you decide how much you need to save yourself, whether through the workplace – where you benefit from matched employer contributions as well as tax relief – or in a SIPP [self-invested personal pension]," says Tom Selby, head of retirement policy, at AJ Bell.
Most people do not know how much state pension they will receive, but it is easy to check. Here's what you need to know.
How to check your state pension
You can check your state pension entitlement at Gov.uk (opens in new tab). You'll need a Government Gateway ID or Gov.uk verify account. If you don't already have one, you'll need an email address to register.
Then you can get your state pension forecast. This will tell you when you are due to start receiving your state pension, how much state pension you have currently built up, and how much you are forecast to receive when you retire.
Alternatively, you can call the government's Future Pension Centre (opens in new tab) on 0800 731 0175 and they will check your state pension for you.
In 2023 the government's much anticipated Pension Dashboard is due to launch meaning you will be able to view your state pension forecast on the dashboard alongside your other pension pots. But for now, this service is not available.
How to check your state pension age
You can check your state pension age via the government site gov.uk (opens in new tab). All you need to do is tap in your date of birth then you'll see when you can start collecting your state pension.
As well as knowing how much state pension you will receive when you retire you also need to know when you will get it to help you plan your retirement. The state pension age is steadily rising so when you will be able to collect your state pension could be different to what you expect.
The state pension age is gradually increasing so it will be 67 for everyone in 2028. It is then expected to rise to 68 by the mid-2030 and 69 by the late 2040s.
How much state pension will I get?
The amount of state pension you will receive will depend on how many years of NICs you have made.
"The state pension system had a shake-up in 2016, and you now need 35 years of National Insurance to get the full state pension of £179.60 a week," says Sarah Pennells, consumer finance specialist at Royal London. "If you don't have a full National Insurance record, you'll get less than that."
You pay National Insurance through your taxes when you are working. If you are unemployed, claiming Child Benefit and not working or, in some circumstances, caring for someone you can get National Insurance Credits so that you continue to build your state pension entitlement.
"If you've got gaps in your National Insurance record, you may be able to go back and pay voluntary National Insurance to fill them in," says Pennells. "However, there are time limits on this and there's no one-size fits all approach as to whether paying voluntary National Insurance is good value. It will depend on your individual circumstances."
Can I boost my state pension?
If you have checked your state pension and aren't due to receive as much as you had hoped there are ways you can boost your state pension.
One option, as mentioned above, is to make voluntary NICs to get you up to the full state pension entitlement. Buying a year's NICs costs around £800. Just be aware that once you have reached the 35 years needed for full state pension you can't boost your entitlement any further.
Another option is to defer receiving the state pension. For every nine weeks you delay receiving your state pension you'll get a 1% increase to what you get. It amounts to just under a 5.8% increase for every full year you defer. But you need to consider if you will live long enough to get back what you missed out on by delaying taking your state pension.
"The payback period is approximately 17 years," says Pennells. "Based on current life expectancy – people may not live long enough to see the benefit."
Personal finance journalist
Ruth is a personal finance journalist with 17 years' experience writing about everything from pensions to pet insurance. Ruth started her career as a staff writer for MoneyWeek and she continues to edit their personal finance section. Ruth also writes for numerous national publications including The Sunday Times, The Times, The Mail on Sunday and Good Housekeeping. Ruth is passionate about ethical investing and encouraging people to take control of their finances and not be put off by jargon.