Best Junior ISAs and Junior stocks and shares ISAs
The best Junior ISAs by the interest rate they pay and the best Junior stocks and shares ISAs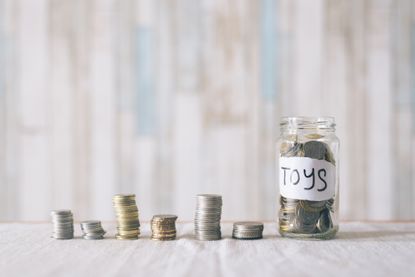 (Image credit: Getty images)
The best Junior ISAs can be a great product to use when saving for a child's future. The money can be built up gradually over time and can then be used when they turn 18 for anything from university fees, a gap year, or a house deposit.
The money is locked away until the child turns 18. You can choose from a cash ISA which pays interest or a stocks and shares account which is invested in the stock market.
Here we take a look at the best accounts available, for both types of Junior ISA.
Best Junior ISAs
Why you can trust The Money Edit Our experts spend hours analysing and reviewing products and services to help you find what's best for you. Find out more about how we analyse.
What is a Junior ISA?
A Junior ISA is a tax-free account which you can use to save for a child's future, up to a yearly limit (currently £9,000). This annual allowance can be split between a cash or a stocks and shares Junior ISA.
The money can't be touched and when the child turns 16 they can manage the account and when they turn 18 it becomes a standard ISA in their name. The money is then theirs to use as they wish.
Junior cash ISA vs Junior stocks and shares ISA - what's the difference?
There are two different Junior ISAs to choose from, or you could open one of each as each child is allowed one cash and one stocks and shares ISA.
Cash: You'll be paid a fixed or variable amount of interest
Stocks and shares: Money is invested in the stock market and returns depend on how your investments perform
There are pros and cons with each type of Junior ISA so think carefully about which might be right for you and your family.
Rachel Springall, finance expert for Moneyfacts, said: "Building a savings pot for a child's future can help towards paying for university fees or building a fund to get them on the property ladder.
"Savers can choose a cash interest option or stocks and shares, which in the long-term, may well outperform the interest rates on offer today.
"The issue with a parent saving any cash for a child's future outside of a JISA is the temptation to dip into the pot in emergencies. A JISA removes that option. If parents would like to keep the cash untouched by their children, say until they turn 21, they could approach a solicitor to discuss the options of locking any savings or potential inheritance money into a trust."
The best Junior cash ISAs

Skipton Building Society | 3.75% | minimum deposit: £1
You can open this market-leading junior ISA in a Skipton branch or by post and it pays interest on an annual basis. Based on a £1,000 deposit, you would earn £37 in interest. The interest rate is variable, so it may go up or down. Transfers are allowed from other Junior ISAs but not from Child Trust funds.
Swipe to scroll horizontally
| Provider | Rate (AER) | Minimum deposit | Annual or monthly interest? | Transfers in allowed | How to open |
| --- | --- | --- | --- | --- | --- |
| Skipton BS | 3.75% | £1 | Annually | Yes, but not from a Child Trust Fund | Post or branch |
| Beverley BS | 3.45% | £1 | Annually | Yes | Post or branch |
| Coventry BS | 3.10% | £1 | Annually | Yes | Post or phone |
| Monmouthshire BS | 3.00% | £10 | Annually | Yes, but not from a Child Trust Fund | Branch |
| Dudley BS | 2.95% | £2,500 | Annually | Yes (if from a Child Trust Fund this must be done when you apply) | Branch or by post |
| NS&I | 2.70% | £1 | Annually | Yes | Online |
All junior ISA accounts listed in the table are correct as of 24 November 2022, the information is supplied by Moneyfacts.co.uk.
Junior stocks and shares ISAs
When picking a Junior stocks and shares ISA you need to keep an eye on several factors including the minimum deposit needed, both monthly or as a lump sum, and the fees.
Investment companies usually charge an annual fee based on the amount of money held within an account. But other charges to watch out for include a fee for buying and selling shares and funds, withdrawals, and foreign exchange charges if a provider converts dividends or payments into sterling.

Fidelity International | No annual charge
You must be the child's parent or guardian to open the Junior ISA, but once it is opened, anyone can pay in. All you need to do is start a regular savings plan from £25, or invest a lump sum from a minimum of £1,000. Uniquely Fidelity does not charge a service fee on its junior accounts.
Capital at risk. The value of your investments can go down as well as up.
In the table below we've included and ranked the accounts by the annual charge but there can be other fees applied.
Swipe to scroll horizontally
Provider
Minimum deposit
Fees
User app rating (out of 5)
How to open
Fidelity International
£25/mth or £500 lump sum
No fee
4.6 Apple /
4.3 Android
Online or phone
Vanguard
£100/mth or £500 lump sum
0.15% per year
4.7 Apple
Online
Bestinvest
£100/mth or lump sum
0.20% up to £500,000
NA
Online
AJ Bell
£25/mth or £500 lump sum
0.25% per year (capped at £30 per year)
4.7 Apple /
4.2 Android
Online
Nutmeg
£100 lump sum
0.45% up to £100k, 0.25% beyond
4.8 Apple /
4.4 Nutmeg
Onlien or in-app
Hargreaves Lansdown
£25/mth or £100 lump sum
0.45% per year (capped at £45 per year)
4.7 Apple /
4.4 Android
Online
Moneybox
£1/mth or lump sum
£1 monthly fee (free for first three months), 0.45% platform fee (charged monthly)
4.8 Apple /
4.8 Android
App only
Wealthify
£1 lump sum
0.60% per year (minus £10 top-up in year one)
4.5 Apple /
3.4 Android
Online or in-app
One Family
£10/mth
1.5% per year
N/A
Online or phone
interactive investor
£25/mth or £100 lump sum
Must open an ISA or Trading Account (£9.99/mth) before opening a Junior ISA.
4.4 Apple /
1.8 Android
Online
Other Best Buys
Freelance personal finance journalist
Rebecca Goodman is a freelance personal finance journalist, regularly writing for The Independent, The Guardian, The Sun and a range of specialist publications. Covering all aspects of finance, Rebecca has worked in the sector for the last decade and specialises in insurance, household finance and consumer issues.