April 2023 premium bond winners revealed - are you a millionaire?
This month's Premium Bond millionaires come from Somerset and Croydon. Find out how to check if you're a winner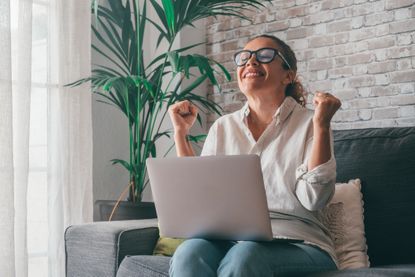 (Image credit: Getty images)
Two premium bond holders have won the £1 million jackpot prize this month, according to National Savings & Investments.
The bond holders are based in Somerset and Croydon. The Somerset-based winner holds £50,000 in premium bonds and purchased their winning bond 236TZ340702 in December 2014.
The new Croydon-based millionaire holds £25,000 in premium bonds and purchased their winning bond 503VL397852 in June 2022 - just a mere 10 months ago.
Other premium bond holders could still have a chance of winning prizes starting from £25 up to £100,000.
A total of 5,018,744 prizes worth £331,237,050 will be paid out in the April 2023 prize draw, and there were 120,449,834,442 bond numbers eligible for the draw.
There are 62 winners of £100,000 each, 125 winners of £50,000, 249 winners of £25,000 and 622 winners of £10,000. Here are the number of winners for other prizes:
1,246 winners of £5,000
13,248 winners of £1,000
39,744 winners of £500
1,409,059 winners of £50
2,145,328 winners of £25
NS&I retail director Jill Waters said: "One of this month's winners has won £1 million with Premium Bonds after just ten months, whilst the other waited nearly ten years to hit the jackpot. This just goes to show that, whether it is months or years, customers up and down the country can win big and feel the magic of Premium Bonds."
How to check if you are a premium bond winner
From Tuesday 4 April you can use NS&I's online prize checker or check the Prize checker app to check if you have won anything in this month's draw. You can also backdate to previous months to make sure you haven't missed a winning.
You will need your premium bonds number to use the website and your NS&I number or holder's number to check via the prize checker app. You can also ask your Amazon Alexa by saying your NS&I number out loud.
You should receive an email to let you know if you've won a prize. If you are not registered online, you should receive a letter through the post from NS&I.
Another way to access your account is by calling NS&I on 08085 007 007.
You can also use NS&I's tracing service or the My Lost Account website to find your premium bonds.
What are premium bonds?
Premium bonds are one of the nation's most popular savings products. By investing as little as £25, people can begin their premium bonds journey. Customers have the chance to win one of over five million prizes.
By topping up regularly each month, you get a higher chance of winning in the monthly prize draws. Make a bank transfer, pay online, or set up a standing order into your premium bonds here.
Look After My Bills Newsletter
Get the best money-saving tips, tricks and deals sent straight to your inbox every week. Make sense of your money in partnership with The Money Edit.