AJ Bell launches low-cost investing app Dodl for first-time investors
New app targets first-time investors. We explain how it compares to other providers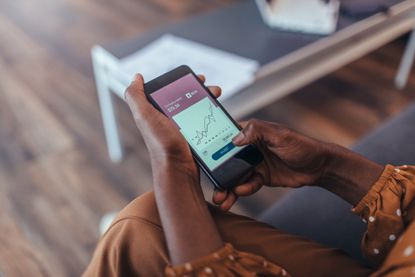 (Image credit: getty images)
Look After My Bills Newsletter
Get the best money-saving tips, tricks and deals sent straight to your inbox every week. Make sense of your money in partnership with The Money Edit.
Thank you for signing up to The Money Edit. You will receive a verification email shortly.
There was a problem. Please refresh the page and try again.
Investment platform AJ Bell has launched a low-cost app called Dodl that aims to make investing easier and accessible to everyone, including savers who have never invested before.
About 8.6m adults in the UK have more than £10,000 of savings in cash, according to the Financial Conduct Authority - some of whom could benefit from investing.
While it is a good idea to have some cash savings for emergencies and short term goals, investing means your money can potentially keep up with living costs by earning you higher returns.
The financial regulator is hoping to reduce the number of people who are missing out on investment returns by 2025.
Research by AJ Bell shows that 37% of people are put off investing because they don't know where to start while 18% think it is too complicated. Almost half (48%) say being able to choose from a narrow list of investments would encourage them to start investing.
Dodl, seemingly-named to suggest investing is a doddle, has just 80 funds and shares for investors to choose from. This compares to more than 8,000 funds and shares on the full AJ Bell Youinvest platform.
The new app is also cheaper than investing on the AJ Bell Youinvest. Dodl charges no fee to set up the account (which could be an ISA, Lifetime ISA, pension or general investment account), and there are no fees for buying and selling investments. The annual fee is 0.15% of the amount invested.
The app features 'friendly monster characters' and is designed to appeal to new investors who are disappointed with long-term low returns on cash savings.
Is Dodl the cheapest way to start investing?
There are plenty of other investing apps on the market that may appeal to novice investors.
Simon Jones of the financial comparison website InvestingReviews, said the UK investment and money app market was at 'sappturation point', making it difficult for users to work out which one was best for them.
He added: "It's hard to keep up with the proliferation of apps targeting millennials and other demographics, with Dodl one of the latest to enter the fray. Cutting through the noise in such a furiously competitive space is no doddle at all."
Dodl claims to be one of the cheapest investment apps or platforms. Its 0.15% annual fee puts it on a par with Vanguard, which has the same annual charge. For an investor with £20,000 in a Vanguard or Dodl account, the annual cost is £30.
The investing app Freetrade charges £3 a month, which works out at £36 a year. Moneybox charges 0.45% a year plus £1 per month, giving a total annual cost of £102 based on a £20,000 investment.
Hargreaves Lansdown charges 0.45% a year (£90 annual cost for a £20,000 investment) while Interactive Investor levies a £9.99 monthly fee (£119.88 annual cost).
As well as these annual costs, some platforms and apps charge fees every time investors buy and sell investments.
Always make sure you fully understand the fees you need to pay before you start investing. High charges can significantly eat into any profits you make. Read how Amir Nooriala cut fees from 1.5% to 0.8% when investing for his daughters.
Which app has the best investment range?
Some platforms offer investors a huge choice of thousands of funds, shares and investment trusts, while others have a more slimmed-down range. It depends if you want a full range; if you'd feel overwhelmed by that, a smaller selection may be more appropriate.
Dodl offers investors a choice of 30 funds and 50 UK shares. It says it will add US shares soon.
The funds include ready-made multi-asset funds based on an investor's risk profile, funds that invest in global stock markets, and ones that focus on themes such as technology, healthcare and property.
Vanguard has a similar number of investments, with more than 70 Vanguard funds to pick from, including ready-made multi-asset funds and low-cost tracker funds. It does not offer shares.
Other apps offer a much wider choice of investments. For example, Freetrade has access to more than 6,000 shares, exchange traded funds and investment funds.
Meanwhile, Nutmeg offers ready-made investment portfolios based on customers' risk tolerance and preference (such as socially responsible), rather than individual shares and funds to choose from.
Which investing app or platform is right for you will depend on how much choice you want. Read why Natasha Evita started investing with the Moneybox app.
The advantages of investing
Investing can be a better way of growing your money than leaving it in a low-interest savings account that will see its value eroded by inflation.
According to a long-running study by Barclays, the stock market has outperformed cash in 91% of 10-year time periods since 1899.
If you're new to investing, remember that there are risks: your money can go up as well as down. Try and invest with a time frame of at least five years to give your investments the chance to ride out any stock market volatility.
Before you invest, aim to clear any debts and make sure you have some emergency savings, which should be around three to six months' income, set aside too.
Look After My Bills Newsletter
Get the best money-saving tips, tricks and deals sent straight to your inbox every week. Make sense of your money in partnership with The Money Edit.
Katie is staff writer at The Money Edit. She was the former staff writer at The Times and The Sunday Times. Her experience includes writing about personal finance, culture, travel and interviews celebrities. Her investigative work on financial abuse resulted in a number of mortgage prisoners being set free - and a nomination for the Best Personal Finance Story of the Year in the Headlinemoney awards 2021.