£1.4 billion worth of old bank notes and coins are still in circulation - here's how to make them spendable again
If you find out of circulation bank notes or coins, all is not lost. You could still turn them into legal tender. Here's how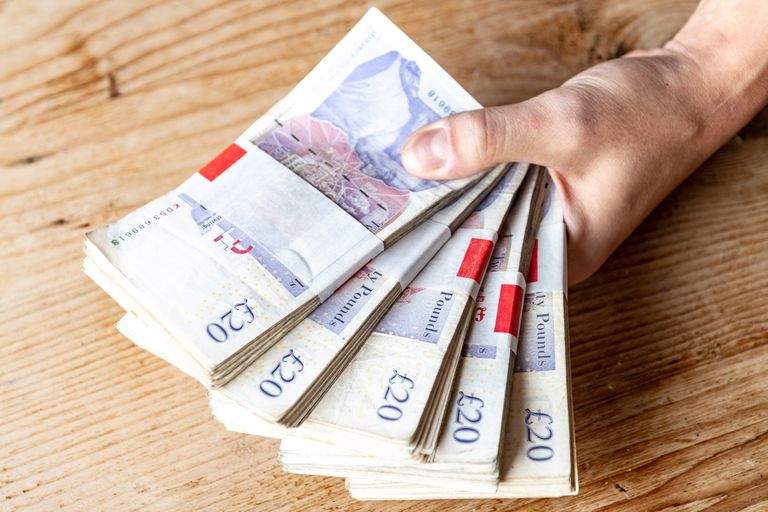 (Image credit: Getty images)
A whopping £1.4 billion of old £5, £10 notes and old 'round' £1 coins continue to be in circulation, despite no longer being a legal tender. Could you be holding onto some of it?
With the cost of living going up, such as an increase in energy prices and rocketing fuel costs, now is the time to dig out old cash and make it spendable again.
Latest stats from the Bank of England (released March 2022) show that £1.29 billion of old £5 and £10 notes are still out there. The Royal Mint says £109m of old round coins are still out in circulation.
Whilst banknotes and coins don't come with a sell by date printed on them, if the Bank of England withdraws them from circulation, you can no longer pay with them.
The Bank of England says there are nearly two hundred million paper £5 and £10 notes kicking around, that went out of everyday use back in May 2017 and March 2018 respectively.
How can I tell if I have old bank notes?
All UK bank notes are now produced in plastic, after the introduction of the new £50 polymer note last year.
Paper notes have been or, in the case of paper £20 and £50 notes, are being phased out.
Now is the perfect time to check money boxes, old wallets, purses and bags and even down the back of the sofa to see if you have any old paper notes or coins. If so, you can follow our tips to turn it into usable tender.
If you're not sure if your bank note is still classed as legal tender, you can check out the Bank of England website.
How much paper money is lying around?
There is a huge amount of paper money in the form of out of date banknotes that have been withdrawn from circulation, or those, like the paper £20 and £50 notes, that are soon to be withdrawn and yet to be spent or paid into bank accounts.
According to the Bank of England there is a total of 113 million paper £5 notes, worth £566 million, and 73 million £10 paper notes, worth £726 million sloshing round out there.
Which paper notes can I still spend?
While the old paper £5 and £10 bank notes are no longer legal tender, you can still pay with the paper versions of both the £20 and £50 notes until 30 September 2022. After this date, they will no longer be classed as legal tender.
Currently, there are 360 million £20 paper notes and 209 million £50 paper notes that are still in circulation.
Find out more about when old £20 notes expire with this handy article from our sister brand GoodtoKnow.
I've found some out of date notes and coins - can I still spend them?
While there's no law to say you can't keep old banknotes as souvenirs, you can no longer spend them in shops, restaurants or to pay for services once they are not legal tender.
Take them to your bank
If you have old paper notes that are no longer in circulation, your bank may exchange these for you, for a limited time, however this is down to the banks' discretion.
Some banks may insist you have an account there to do this, or impose a time limit on swapping notes, or only allow you to pay old notes into accounts you hold with them.
When it comes to old coinage, some banks will accept them. However in most cases you will need to pay them into an account, rather than swap them. And banks may impose a timescale on this.
Exchange them through the Bank of England
There is no time limit when it comes to exchanging old banknotes through the Bank of England.
You can do this in person if you go along between 9.30am – 3pm on weekdays (if you happen to be in London) or you can send your notes to the bank.
Remember: sending banknotes by post is done at your own risk, and there is a chance they could not arrive at their destination. If you do send them in the post, do make sure you send them by Recorded or Special Delivery.
While the Bank of England will exchange bank notes indefinitely, it won't swap coins.
Take them to the Post Office
You can deposit out of date banknotes or coins into your bank account through your local Post Office indefinitely.
Give your coins to charity
Many charities will accept foreign currency coinage, however some like the Royal National Institute of Blind People will also accept coins that have gone out of circulation too.
What if I've got damaged bank notes?
If you have a genuine Bank of England bank note that has been torn or damaged, while the Bank won't give you a 'replacement', it may reimburse you, with any payment made direct to your bank account.
In most cases, you will need at least half of the damaged banknote to make a claim, and complete the Bank of England's 'damaged banknote application form'.
You should then send this, along with what's left of your banknote to the address listed on the form.
As part of the application process, you need to put in the serial numbers of any 'part notes' you are claiming for. Sending banknotes by post is done at your own risk, so it may be worth considering sending by Special Delivery.
For claims of £1,000 or more, you will also need to provide proof of ID and your address.
Sue Hayward is a personal finance and consumer journalist, broadcaster and author who regularly chats on TV and Radio on ways to get more power for your pound. Sue's written for a wide range of publications including the Guardian, i Paper, Good Housekeeping, Lovemoney and My Weekly. Cats, cheese and travel are Sue's passions away from her desk!