Time is running out to spend paper £20 and £50 bank notes
There's just a few days left to pay with old style paper £20 and £50 bank notes – as the last day to spend them is 30 September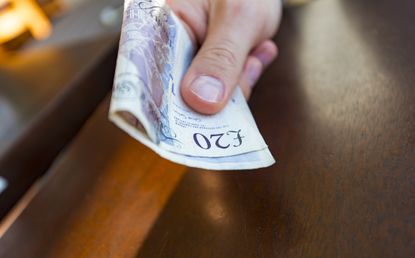 (Image credit: getty images)
Time is rapidly running out as you only have until 30 September to spend or bank old style paper £20 and £50 bank notes. After this date, they will no longer have a legal tender status – so we explain what you need to do to cash in.
Even if you've already checked your purse and wallet - it's worth searching the house including the kids' money boxes and going through pockets of Winter coats and jackets to check if you have any.
There are a whopping £6 billion worth of £20 paper bank notes and over £8 billion worth of paper £50 notes in our pockets, piggy banks and wallets, according to the Bank of England.
This works out at 300 million individual £20 notes and 160 million paper £50 notes.
While bank notes and coins don't come with a sell by date printed on them – if the Bank of England withdraws them from circulation, you can no longer spend them.
However, in most cases, beyond this date it's not worthless cash as you can still pay old notes into your bank account or at some Post Office branches.
The Post Office has said it is preparing for a "last minute" rush in paper £20 and £50 banknote deposits before they can no longer be used to pay in shops or businesses.
Or if you fancy a trip to the Bank of England you can even swap your old notes in person.
The Bank of England's chief cashier Sarah John said: "Changing our banknotes from paper to polymer over recent years has been an important development, because it makes them more difficult to counterfeit, and means they are more durable.
"The majority of paper banknotes have now been taken out of circulation, but a significant number remain in the economy, so we're asking you to check if you have any at home.
Below we explain how to identify the old notes and how to exchange them.
HOW CAN I TELL IF I HAVE OLD BANK NOTES?
All UK bank notes are now produced in plastic, after the introduction of the new £50 polymer note last year.
Paper notes have been or, in the case of paper £20 and £50 notes, are being phased out.
The old £20 notes have an image of Adam Smith featured on them and the old £50 notes have Boulton and Watt.
Now is the perfect time to check money boxes, old wallets, purses and bags to see if you have any old paper notes or coins. If so, you can follow our tips to turn it into usable tender.
If you're not sure if your bank note is still classed as legal tender, you can check out the Bank of England website (opens in new tab).
WHICH PAPER NOTES CAN I STILL SPEND?
While the old paper £5 and £10 bank notes are no longer legal tender, you can still pay with the paper versions of both the £20 and £50 notes until 30 September 2022. After this date, they will no longer be classed as legal tender.
As well as not being able to spend them after this date – it's worth checking your change or any cash you're given as payment after this date. In the event someone tries to give you one of the paper £20 or £50 notes after 30 September – you should refuse it.
If you accept it – it means you will have to do the legwork as far as trying to exchange it.
However even after notes are no longer legal tender they don't just disappear. According to the Bank of England (opens in new tab) there is a total of 113 million paper £5 notes, worth £566 million, and 73 million £10 paper notes, worth £726 million sloshing round out there.
I'VE FOUND SOME OLD NOTES AND COINS - CAN I STILL SPEND THEM?
While there's no law to say you can't keep old banknotes as souvenirs, you can no longer spend them in shops, restaurants or to pay for services once they are not legal tender. But you do have options to make them spendable again.
Take them to your bank
If you have old paper notes that are no longer in circulation, your bank may exchange these for you. However this is down to the banks' discretion after 30 September. They can only be exchanged at UK banks.
Some banks may insist you have an account there to do this, or impose a time limit on swapping notes, or only allow you to pay old notes into accounts you hold with them.
When it comes to old coinage, some banks will accept them. However in most cases you will need to pay them into an account, rather than swap them. And banks may impose a timescale on this.
Exchange them through the Bank of England
There is no time limit when it comes to exchanging old banknotes through the Bank of England.
You can do this in person if you go along between 9.30am – 3pm on weekdays (if you happen to be in London) or you can send your notes to the bank (opens in new tab).
However the Bank of England's website is currently warning of long queues and "waiting times in excess of two hours". It also warns that, "if you arrive after 1pm it is possible you may not get served before we close".
You may also be asked to complete a form and provide two documents to verify your identity. One of which must be photo ID and one for proof of address.
While you can also send banknotes by post – this is done at your own risk, and there is a chance they could not arrive at their destination. If you do send them in the post, do make sure you send them by Recorded or Special Delivery.
While the Bank of England will exchange bank notes indefinitely, it won't swap coins.
If you've still got questions about what to do with your old bank notes - you can contact the Bank of England by calling them on 0203 461 5994.
Phone lines are open between Monday – Friday from 9am – midday. However they say that they expect to be very busy with questions over the coming weeks and suggest emailing them at exchanges@bankofengland.co.uk
Take them to the Post Office
You can deposit out of date banknotes or coins into your bank account through some local Post Offices from 15 September up to the value of £300.
So far this month, over £100 million-worth of the notes have been deposited at Post Office branches.
The Bank of England say you will need to produce at least one form of photo ID to do this. This could be for example a passport or driving licence. And you can ask for a straight swap – so if you hand over an old paper £20 you can ask for a new one if they have one.
Here are all the branches where you can exchange old notes, according to the Bank of England.
London
-Golders Green Post Office
- High Holborn Post Office
- Moorgate Post Office
- The City of London Post Office
- Regent Street St. James's Post Office
North East
- Middlesbrough Post Office
- Newcastle Upon Tyne Post Office
North West
- Carlisle Post Office, Cumbria, CA3 8JY
- Manchester Post Office, Greater Manchester, M2 1BB
- Breck Road Post Office, Merseyside, L5 6SW
- Sheffield City Post Office, South Yorkshire, S1 2AX
- York Post Office, North Yorkshire, YO1 9QL
- The Markets Post Office, West Yorkshire, LS2 7DZ
Birmingham Post Office, B2 4AA
Nottingham Post Office, NG1 3QD
Cambridge City Post Office, CB2 3BZ
Norwich Post Office, NR1 3QP
South West
- Bournemouth Post Office, BH1 1DY
- Bristol Post Office, City Of Bristol, BS1 3XB
- Mutley Post Office, Devon, PL4 6LL
- Oxford Post Office, Oxfordshire, OX1 1ZZ
- Melville Road Post Office, East Sussex, BN3 1UB
- Portsmouth Post Office, Hampshire, PO1 1AB
- Wrexham Post Office, Clwyd, LL11 1BE
- Cardiff Post Office, South Glamorgan, CF10 2NX
- Belfast City Post Office, County Antrim, BT1 1LT
- Londonderry Post Office, County Londonderry, BT48 6AA
- Edinburgh City Post Office, Midlothian, EH1 1BQ
- Glasgow Post Office, Strathclyde, G1 2RD
- Inverness Post Office, Inverness-shire, IV1 1AX
You can also give you old notes to charity. Many charities will accept foreign currency coinage, however some like the Royal National Institute of Blind People will also accept coins that have gone out of circulation too.
WHAT IF I'VE GOT DAMAGED BANK NOTES?
If you have a genuine Bank of England bank note that has been torn or damaged, while the Bank won't give you a 'replacement', it may reimburse you, with any payment made direct to your bank account.
In most cases, you will need at least half of the damaged banknote to make a claim, and complete the Bank of England's 'damaged banknote application form (opens in new tab)'.
You should then send this, along with what's left of your banknote to the address listed on the form.
As part of the application process, you need to put in the serial numbers of any 'part notes' you are claiming for. Sending banknotes by post is done at your own risk, so it may be worth considering sending by Special Delivery.
For claims of £1,000 or more, you will also need to provide proof of ID and your address.
When will we see new notes and coins with King Charles III?
Following the death of Queen Elizabeth II on 8 September, it is expected we will at some point in the future see the face of King Charles III on our coins and banknotes.
The Bank of England has said that "current banknotes featuring the image of HM Queen Elizabeth II continue to be legal tender".
"A further announcement regarding existing Bank of England banknotes will be made shortly".
Sue Hayward is a personal finance and consumer journalist, broadcaster and author who regularly chats on TV and Radio on ways to get more power for your pound. Sue's written for a wide range of publications including the Guardian, i Paper, Good Housekeeping, Lovemoney and My Weekly. Cats, cheese and travel are Sue's passions away from her desk!