Which Nationwide branches are closing in 2023? A full list of closures
Add Nationwide branches to the long list of banks disappearing from high streets - here's the full list of closures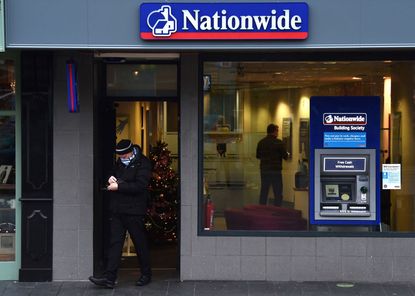 (Image credit: Nathan Stirk)
Here's thethe full list of 10 Nationwide branch closures in the past year and in 2023, but it isn't as drastic as other high-street banks.
Lloyds and Halifax have already announced 40 more branch closures, Barclays are to close 15 branches this year, Natwest is closing 43 more branches and HSBC is saying goodbye to a quarter of its branches.
Nationwide is also set for branch closures in 2023. We give you the full list of closures from 2022 and the planned closures for 2023.
Which branches are Nationwide closing?
Here is the full list of Nationwide branches that have closed in 2022, so far in 2023 and what branches are set to close in 2023.
Swipe to scroll horizontally
| Branch | Closure |
| --- | --- |
| Hampstead, London | Closed in August 2022 |
| Golders Green, London | Closed in August 2022 |
| Cricklewood, London | Closed in August 2022 |
| Fulham, London | Closed in October 2022 |
| Mill Hill, London | Closed October 2022 |
| Slough Farnham, London | Closed October 2022 |
| Willow Parade, Langley | Closed October 2022 |
| Kingswood, Gloucestershire | Closed January 2023 |
| Portman Square, London | Closing 23 February 2023 |
The only Nationwide branch closure set for the rest of the year is the Portman Square branch based in Marylebone, London which closes on 23 February.
It's good news for Nationwide customers as the bank has made a promise to its customers that all other branches will remain until at least 2024, so there will be no further Nationwide branch closures apart from Portman Square.
Nationwide's CEO Debbie Crosbie confirmed this to the public in early June last year. She said: "Supporting members through the cost-of-living crisis is my immediate priority. That's why I've decided to extend our Promise to keep branches on the high street."
2022 did see a number of sudden branch closures including five in London, one in Gloucestershire and one closure in Langley.
A Nationwide spokesperson said it was down to sustainability reasons. "For example where one requires significant investment and where there are modern branches nearby, we need to determine whether it makes more sense to use that money to improve and retain branches elsewhere in our network, particularly in areas where there is lower provision," they said.
The closure of the Hampstead branch was down to a drop in customers. Nationwide told Ham High (opens in new tab): "And only 1% of Hampstead members are using their respective branches exclusively and frequently."
Nationwide says if a branch near you has closed, you can go into another branch to seek support or call 0345 2660 268 to talk through your options.
Alternative ways to access cash if your branch has closed
If you are affected by the closures, here are some alternative ways you can access cash.
ATM for withdrawals. If you want to withdraw cash, you can go to any free ATM to get cash. If you are withdrawing from a current account, the maximum you can withdraw per day at an ATM is £300. If you hold a premier or platinum account, you can withdraw up to £1,000 per day.
Post office. For those of you that prefer to go in and get cash, the Post Office (opens in new tab) is your next best option. You can withdraw cash, but Nationwide customers can't yet pay in cash or cheques. Check where your closest Post Office is using their branch finder (opens in new tab) by entering your postcode.
Cashback options. You can kill two birds with one stone when doing your shopping and asking for cashback at a supermarket. The same goes for convenience stores and newsagents. They usually offer up to £100 cashback. You can use the Link Locator (opens in new tab) which will tell you the closest place you can get cashback.
Related articles
Vaishali graduated in journalism from Leeds University. She has gained experience writing local stories around Leeds and Leicester, which includes writing for a university publication and Leicester Mercury.
She has also done some marketing and copywriting for businesses.
When she is not writing about personal finance, Vaishali likes to travel and she's a foodie.