Interest rates rise to 3% - what it means for your mortgage, borrowing and savings
The Bank of England has hiked rates by 0.75 percentage points, the biggest jump for three decades. We explain what this means for your money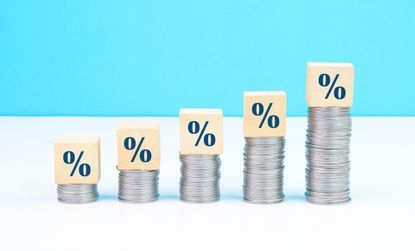 (Image credit: Getty images)
The Bank of England has raised interest rates from 2.25% to 3%, marking the single biggest increase since 1989.
Rates are now at their highest level for 14 years. The sharp increase is the eighth interest rate rise in a row, and means rates have rocketed from 0.1% to 3% in less than a year.
The move will pile more pressure on millions of households already struggling with the soaring cost of living. This includes homeowners with variable-rate mortgages or those with fixed rates about to expire, first-time buyers, and those who have borrowed money on credit cards or loans.
The decision to raise rates is an attempt to slow inflation, which is currently running at 10.1% - five times the Bank of England's 2% target.
The 0.75 percentage point hike follows huge economic turmoil under Liz Truss's government, and comes ahead of the Autumn Statement to be delivered by chancellor Jeremy Hunt on 17 November.
Victoria Scholar, head of investment at the online platform interactive investor, says interest rates are now at their highest level since the start of the 2008 global financial crisis, and the large increase signals "how concerned Bank of England policymakers are about inflation versus a recession as it looks to curtail further price rises without inadvertently causing unnecessary economic pain".
She adds that another 0.5 percentage increase next month looks likely, when the Bank of England meets again on 15 December, but next year interest rate rises may slow "depending on the path of inflation. Expectations are for the Bank rate to reach a high somewhere around 4.75% next summer."
While the rate hike will cause considerable pain for many people, the news will be welcomed by savers, as interest rates on savings accounts and cash ISAs should go up too. This is unlikely to happen immediately though, as banks and building societies are often slow to pass on rate rises.
We explain how the rate hike will impact your household finances, whether you have a mortgage, savings, borrowing or pension.
WHY HAS THE BANK OF ENGLAND INCREASED INTEREST RATES?
"The Bank of England uses the base rate as a tool to control inflation." Tom Watts, investment analyst at abrdn explains.
"The theory is that the higher the base rate, the more incentive individuals and businesses have to save rather than borrow money: they'll be getting higher returns from their savings but have to pay more for any loans.
"So if inflation gets too high, the Bank of England is likely to increase the base rate to encourage us all to spend less and to save more. In turn, it hopes this will help to bring price rises – inflation – back under control."
IMPACT OF RISING INTEREST RATES ON MORTGAGES
An estimated 2m homeowners are on a variable-rate mortgage, such as a tracker mortgage, or a standard variable rate (SVR).
These rates will go up as a result of the interest rate rise, pushing up customers' monthly payments.
If a mortgage lender passed the 0.75 percentage point rise in full onto someone with £250,000 borrowing, their monthly mortgage bill could increase by £100, or £1,200 a year, according to the investment platform AJ Bell.
For a £400,000 home the extra cost could be £160 a month, or more than £1,900 a year.
While tracker mortgages often rise overnight following a Bank rate increase, SVRs do not usually change quite as fast.
Laura Suter, head of personal finance at AJ Bell, explains: "An SVR (also called a reversion rate) is the highest rate from a mortgage lender and is what you'll fall onto once your fixed-rate deal is up. These generally go up as Bank rate rises, but not as quickly as with a tracker rate. The mortgage lender will decide whether to increase these rates and will give notice before they do."
This means you may have a small window of opportunity to protect your finances by locking into a fixed-rate deal.
However, homeowners should brace themselves for steep fixed-rate products. The mortgage market has been in turmoil following the mini-Budget, although it has since calmed down a little. The average two-year fix and five-year fix are both above 6%.
Suter notes that the biggest shock will be for homeowners coming off a fixed-rate deal. More than 3m homeowners have a fixed mortgage rate that will expire within the next two years. "Some homeowners took out a mortgage at 1% a couple of years ago and will be re-fixing at 6%. That increase on £250,000 of borrowing is almost £10,000 a year more. And at £400,000 that's almost £16,000 a year more," says Suter.
IMPACT OF RISING INTEREST RATES ON SAVINGS
Savers may be cheering another interest rate hike, and looking forward to receiving a higher return on their cash.
However, banks and building societies do not have to raise their rates immediately - and even then it could be a much smaller uplift than the full 0.75 points.
Having said that, there are plenty of good deals around at the moment. The average easy-access savings rate is now 1.16% according to Moneyfacts, while the average one-year fixed rate pays 3.31%.
Take a look at the best savings accounts in our article.
Some of the best rates on offer are from building societies and smaller banks - so don't stick with a big bank out of loyalty. Compare rates and be prepared to move your money to get the best deal.
"If you leave your money in an old savings account, your bank might increase your rates slightly but you'll be getting far less interest than the market-leading account," says Suter.
She adds: "Fixed-rate savings accounts will usually pay a higher interest rate than easy-access, as the bank will pay a premium in return for knowing that it will have your savings for longer. But if interest rates are still rising you need to be a bit cautious about locking away your savings, as you could miss out on future rate rises."
IMPACT OF RISING INTEREST RATES ON BORROWING
An interest rate hike means the cost of any borrowing on a credit card or loan may also rise.
However, Suter points out that lenders factor other things into their decision on whether to raise rates, "such as competition in the market or whether they want more of a certain type of borrower", so for this reason rates won't rise directly in step with the Bank rate.
In terms of overdrafts, rates are generally capped at 40% following rules introduced a few years ago to simplify overdraft fees. This means you're unlikely to see a big hike in the cost of your overdraft.
Suter adds: "Anyone with a 0% arranged overdraft won't see any change in their costs so long as that 0% deal remains."
IMPACT OF RISING INTEREST RATES ON PENSION ANNUITIES
Along with savers, those looking to buy an annuity with their pension may also be pleased to see the Bank of England's latest announcement.
Tom Selby, head of retirement policy at AJ Bell, comments: "It's good news for anyone planning to turn a portion of their pension pot into a guaranteed income for life by purchasing an annuity.
"Annuity rates have increased by 40-50% this year, meaning for many people they will be a consideration today in a way they probably haven't been for the past decade or so."
For more on annuities and whether buying one is right for you, read our article on annuity rates hitting a 14-year high.
Ruth Emery is contributing editor at The Money Edit. Ruth is passionate about helping people feel more confident about their finances. She was previously editor of Times Money Mentor, and prior to that was deputy Money editor at The Sunday Times. A multi-award winning journalist, Ruth started her career on a pensions magazine at the FT Group, and has also worked at Money Observer and Money Advice Service. Outside of work, she is a mum to two young children, a magistrate and an NHS volunteer.