Interest rates rise again - here's what it means for you
As interest rates go up again, we look at what this means for your mortgage, savings, and other household finances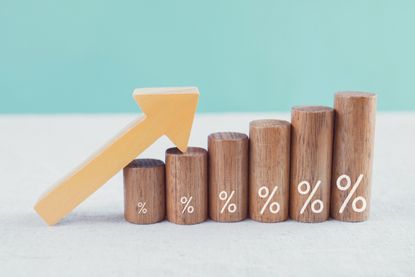 (Image credit: Getty images)
The Bank of England has increased interest rates from 0.5% to 0.75% in a bid to combat rising inflation, which continues to squeeze household finances.
This is the third time in four months the Bank has raised rates.
Inflation is currently running at 5.5%, with big price increases seen at the petrol pump, in the supermarket and on many people's energy bills.
The Bank has warned that inflation could hit 8% in the coming months - and that more rate rises may be needed.
It said the blow from rocketing energy costs to household finances – and the knock-on effect on economic activity – is set to be bigger than first feared.
Interest rates are now at their highest since the outbreak of the pandemic almost two years ago.
We look at how higher interest rates will affect those with mortgages, savings, loans and annuities.
What impact will the interest rate rise have on mortgages?
The Bank of England announcement will be disappointing news for homeowners who aren't locked into a fixed rate.
For anyone who is on a fixed-rate mortgage, there is no change in your payments until the fixed-rate deal comes to an end, after which it's likely you will be moved to a higher rate.
If you are on a standard variable rate (SVR) or tracker deal then your payments will go up, in which case it is worth checking to see if you can switch to a better deal.
There are about 1.1 million homeowners on standard variable rates (SVRs) and 850,000 on tracker deals, and lenders will be quick to pass the rate rise onto them.
We have asked lenders how and when they are changing their mortgage rates. We currently have limited details and will update this page once we have more.
This is what we know so far:
Metro Bank - Tracker rates have increased by 0.25% - this applies immediately
Nationwide Building Society - rates on tracker mortgages held by existing members automatically increase when the Bank rate rises. These will increase by 0.25% from 1 May 2022
Lloyds Bank - rates on tracker mortgages will go up by 0.25% on 1 May 2022. It is still considering the changes for customers on SVR.
TSB - 0.25% increase on all variable rate mortgages, effective from 4 April for new business and 16 April for existing customers
Yorkshire Building Society - 0.25% increase on all of its variable rate and tracker mortgages, effective from 10 April
According to investment services firm Interactive Investor, homeowners on an average SVR face paying an extra £32 a month in repayments.
"For homeowners with an 80% loan to value capital repayment mortgage over 25 years on a property valued at £278,123 - the average UK house price - the 0.25% increase in the base rate to 0.75% means that the typical two-year tracker mortgage customer is likely to pay £27 a month more. Those on the average SVR face an additional cost burden of £32 a month," says Myron Jobson, personal finance analyst at Interactive Investor.
Rachel Springall, finance expert at the financial website Moneyfacts.co.uk, said it was "imperative" for consumers to assess their current deal to see if they can switch to save some cash.
"The desire to fix for longer may well be in the mindset of borrowers who are conscious that rates are expected to climb even further and there are even 10-year fixed mortgages to take into consideration."
According to analysis by Moneyfacts, by switching to a fixed rate, homeowners could save thousands of pounds. The average SVR is 4.61% while the average two-year fixed-rate is 2.65%. By transferring to the two-year fixed, customers could save about £5,182 over two years. This is based on a £200,000 repayment mortgage over a 25-year term.
Average fixed-rate mortgages will inevitably rise as a result of the Bank rate hike, so if your fix is coming to an end this year it's worth starting to look at your options. You can lock in a new deal up to six months before your fixed rate finishes.
To see if you can get a better deal, take a look at comparison sites such as our sister site GoCompare.com, confused.com, or moneysupermarket.com.
It is also worth speaking to a mortgage broker, as they will have access to the best deals suitable for you. Find one at unbiased.co.uk or vouchedfor.co.uk.
Will the interest rate mean I get more on my savings?
Savers will be crossing their fingers that the rate rise gets passed onto them - but there is no guarantee that banks and building societies will do this. How much they increase interest rates, and when, is entirely down to them.
"As we have seen time and time again, there is no guarantee savings providers will boost their rates because of a Bank rate rise and even if they do it could take a few months to trickle through to customers," notes Springall.
If someone received the full 0.25% interest rate increase on their savings account, this would equate to £50 more a year in interest based on a £20,000 deposit.
She adds that challenger banks and building societies often offer some of the best easy-access accounts, whereas high-street banks can pay as little as 0.01%.
"Shopping around is essential and even if a brand is unfamiliar, so long as they have the same protections in place as a high-street bank, there is little reason to overlook them."
Yorkshire Building Society has already announced that it will add up to 0.65% to its variable-rate savings accounts following the Bank of England rate increase.
The rates on unrestricted access accounts will rise to at least 0.85% while restricted accounts will increase to 0.9%. However, the change won't be instant: savers will have to wait until 12 April for it to kick in.
We have asked other savings providers if they are increasing the rates on any of their accounts, and will update this page once we have details.
Bear in mind that even with the best savings deal on the market, it will still fall short of the high inflation rate (currently 5.5%). If you already have a decent-sized cash buffer and are happy to take on some risk, consider investing. A diverse investment portfolio has a better chance of beating inflation.
The impact of the interest rate rise on loans and credit cards
Anyone with debt will feel the pinch, as higher interest rates will push up the cost of borrowing on credit cards and personal loans.
Average overdraft interest rates rose in January to 20.83%, according to official data, while new personal loan rates are around 6.21%. Meanwhile, the cost of credit card borrowing was 18.28%.
"Anyone with debt needs to work out if they can switch it to cheaper borrowing, and get in quick before rates rise," says Laura Suter, head of personal finance at the investment platform AJ Bell. "Look at whether you can transfer credit card borrowing to a 0% balance transfer deal or see if you're eligible for an interest-free overdraft."
She recommends people list out their debt from the most expensive to the cheapest, regardless of the amount owed on each one, and prioritise paying off the most expensive before moving down the list.
The impact on annuity rates
The rate rise could spell better news for retirees planning to buy an annuity with their pension. An annuity is an insurance product that provides a guaranteed income for life.
"Interest rate increases push up the gilt yields used to determine annuity rates, so we could get another bump in rates," explains Helen Morrissey, senior pensions and retirement analyst at the investment platform Hargreaves Lansdown.
A 65-year-old man retiring with a £100,000 pension today can generate around £500 more a year from an annuity than he would have done at the start of the pandemic.
Morrissey adds that annuity rates are still low by historical standards though. "Once an annuity is bought it can't be unwound and so people will be wary of locking into low rates. Rather than annuitising your whole pension on one day it can be a good idea to buy annuities in slices throughout your retirement. This enables you to take advantage of higher rates as they become available."
Look After My Bills Newsletter
Get the best money-saving tips, tricks and deals sent straight to your inbox every week. Make sense of your money in partnership with The Money Edit.
Ruth Emery is contributing editor at The Money Edit. Ruth is passionate about helping people feel more confident about their finances. She was previously editor of Times Money Mentor, and prior to that was deputy Money editor at The Sunday Times. A multi-award winning journalist, Ruth started her career on a pensions magazine at the FT Group, and has also worked at Money Observer and Money Advice Service. Outside of work, she is a mum to two young children, a magistrate and an NHS volunteer.