Interest rates hit 1.75% - the highest level since December 2008
The Bank of England hikes rates from 1.25% to 1.75%. We explain what this means for your money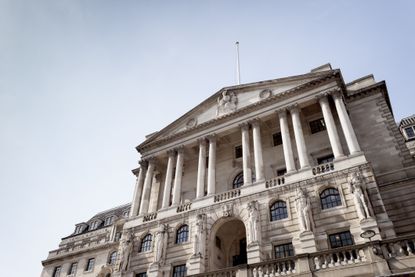 (Image credit: Getty images)
The Bank of England has raised interest rates for the sixth time in a row, increasing them from 1.25% to 1.75%.
The new rate puts interest rates at their highest level since December 2008. The 0.5 percentage point rise also marks the largest jump in interest rates since 1995.
The big rise will hit many consumers hard, especially homeowners with variable-rate mortgages or those with fixed rates that are about to expire, who will see a sharp increase in monthly payments.
Kalpana Fitzpatrick, editor of The Money Edit and author of Invest Now, said:
"A 1.75% increase is a pretty big deal - especially for borrowers who will see the extra cost added to their payments almost immediately.
"For savers, it is in theory good news, but in reality, the higher rates could take weeks, or even months, to filter through to saving accounts."
The decision to raise rates is an attempt to cool inflation, which is running at a 40-year high. The Bank of England will be hoping to bring inflation down from its current level of 9.4% back towards its 2% target.
But what does the rate hike mean for the pound in your pocket? We explain how it will affect you if you have a mortgage or savings.
INTEREST RATE RISE: THE IMPACT ON VARIABLE-RATE MORTGAGES
The interest rate rise will have a big impact on customers with variable-rate mortgages, who will see their monthly payments go up.
Around 2 million homeowners - about a quarter of all mortgage holders - are on a variable rate: either a tracker deal, or a standard variable rate (SVR), which tends to be the highest rate charged by a lender.
The interest rate hike will push mortgage payments for the average home up by £52 a month, or £624 a year, according to the credit broker TotallyMoney.
This assumes an outstanding mortgage balance of about £203,000.
For larger mortgage balances, say £400,000 of borrowing, monthly payments on a variable-rate deal will rise by £99 - equivalent to £1,188 a year.
Most lenders are usually quick to raise variable mortgage rates following any increase by the Bank of England, but this isn't always immediate. This means you may have a small window of opportunity to protect your household finances by locking into a fixed-rate deal.
It could be possible to move to a better rate with your current lender, or you could use a comparison site to get a sense of the best rates on the market.
If you need some advice, or your situation is complicated (such as you're self-employed, or you're planning to move house), use a mortgage broker to assess your options. You can find one at unbiased.co.uk or vouchedfor.co.uk.
INTEREST RATE RISE: THE IMPACT ON FIXED-RATE MORTGAGES
If you've got a mortgage and are already locked into a fixed-rate deal then today's announcement by the Bank of England won't immediately affect you.
However, once your fixed rate finishes, you may find the next deal you get is a lot more expensive.
According to TotallyMoney, about a third of borrowers with a fixed-rate deal are heading for a payment shock as their current offer expires within the next two years.
Alastair Douglas, chief executive of TotallyMoney, says those homeowners should start planning ahead; they will need to find a new deal (which will likely be higher than their current rate), or face being put on their lender's SVR.
He said: "Not only are SVRs rising, but new deals are also getting more expensive. Either way, you're likely to be paying more, so it's worth looking at your options in advance."
Andrew Hagger, personal finance expert at the financial website Moneycomms, added: "Customers on a fixed rate will avoid immediate financial pain, but for many a triple-digit increase is inevitable next time their mortgage deal comes up for renewal."
Someone who fixed their mortgage two years ago with £200,000 of borrowing who is now remortgaging faces a massive £2,100 a year rise in costs, according to calculations by the investment platform AJ Bell. Those coming off a five-year fix could see an extra £1,368 in annual costs.
If your mortgage deal is coming to an end within the next six months, bear in mind that you can normally lock in a new deal three to six months before your current one finishes.
Homeowners with a bit of spare cash should also consider overpaying their mortgage in order to bring it down a loan-to-value bracket, such as from 75% to 70%, before they remortgage, as this could get them a better rate.
INTEREST RATE RISE: THE IMPACT ON SAVINGS
In theory, an interest rate rise by the Bank of England should also mean a rate increase for savers, giving them a higher return on their cash.
However, banks and building societies do not have to do this immediately, and it can take a while for a rate rise to be passed onto savers - and even then it may only be a 0.1% or 0.25% uplift, rather than the full 0.5%.
Fitzpatrick said: "If you have cash savings, keep an eye out for interest rate increases on products to make sure you make the most of your money."
You can find the best savings accounts in our article.
She continued: "With that in mind, it is also worth noting that you may want to hold off locking into a fixed-rate account right now, as higher rates may be on the way, but we do not know when banks will increase rates or indeed if they will pass the rate increase on to savers.
"If you have savings that you are putting away for the long term, then investing the money could potentially give you better returns than cash savings and help you beat high inflation. However, you should only invest money once you have paid off any debts and put some emergency savings (which should be at least six months' income) aside to pay for unexpected costs."
HOW HIGH COULD INTEREST RATES GO?
According to analysts, households should get ready for further interest rate rises. The consultancy Capital Economics says it believes rates could reach 3% by next May, if not before.
The Bank of England painted a gloomy picture as it unveiled its decision to hike interest rates by their biggest amount since February 1995. It said it expects inflation to continue to rise, peaking at just over 13% in the last few months of 2022, meaning more rate rises are increasingly likely.
At the same time, economic growth is slowing. This means the country is going through a period of stagflation.
Look After My Bills Newsletter
Get the best money-saving tips, tricks and deals sent straight to your inbox every week. Make sense of your money in partnership with The Money Edit.
Ruth Emery is contributing editor at The Money Edit. Ruth is passionate about helping people feel more confident about their finances. She was previously editor of Times Money Mentor, and prior to that was deputy Money editor at The Sunday Times. A multi-award winning journalist, Ruth started her career on a pensions magazine at the FT Group, and has also worked at Money Observer and Money Advice Service. Outside of work, she is a mum to two young children, a magistrate and an NHS volunteer.