How to pay off debt
Making ends meet is increasingly difficult in a cost-of-living crisis – where can you get debt help and how can you pay it off?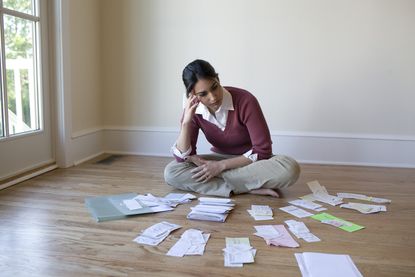 (Image credit: Getty images)
Searches for debt consolidation loans jumped by 29% in January compared to the same month last year, according to Experian.
The increase in searches suggests some people are looking for ways to make their debt repayments more affordable or simplify their repayments by bringing their debts together.
It coincides with a rise in credit card borrowing: the Bank of England credit and money report shows an annual growth rate of 12.4% in December compared to 12.2% in November. Meanwhile the annual growth rate of other forms of consumer credit (such as car dealership finance and personal loans) increased from 4.8% in November to 5.0% in December.
With inflation at a 41-year high and mortgages, energy bills and food shopping all extraordinarily high right now, knowing how to pay off debt can save you some money and stress.
James Jones, head of consumer affairs at Experian, said: "Our data suggests that people are looking at ways to take control of their finances and ease the squeeze on their purse strings.
"Those aged 40 to 60 in particular are increasingly searching for debt consolidation products. They often have families or dependants and are looking for ways to better manage their money by switching to products with a simplified payment plan and lower interest rate."
Here we explain where you can get debt help and how to pay off debt.
How to pay off debt
Where can I go if I need debt help?
If you're really struggling – and no amount of cutting back and switching to cheaper cards, overdrafts or low-cost consolidation loans can help, you need to speak to a specialist debt advisor.
You can get free help and practical advice from organisations including Citizens Advice, StepChange and National Debtline.
In some cases – more drastic solutions may be needed to pay off your debts – for example setting up a Debt Management Plan or Individual Voluntary Arrangement or even bankruptcy.
These aren't steps to take lightly as they can have repercussions on your finances for years to come and affect your credit record so it is essential you seek specialist advice.
Can you cut back and use savings?
If you owe money across a mix of credit and store cards, buy now pay later, overdrafts and loans and don't know where to start:
How to pay off credit cards
If you're struggling to clear a credit card balance and only making the minimum monthly repayment it can really cost you.
For example, making the minimum repayment on a £3,000 credit card debt with a 22% APR (with no further spending on the card) will take 28 years to clear AND cost you an extra £4,750 in interest.
So the key thing is to pay off as much as you can each month.
If you're racking up interest on credit card debts you can get financial breathing space with a 0% balance transfer deal.

This kind of card allows you to switch across the debt.
Some of the longest 0% deals last up to 34 months. In some cases you'll pay a balance transfer fee of 1–3%. Some cards don't charge balance transfer fees but the 0% period may be shorter – up to around 22 months.
If you can get one of these cards - try and pay off as much as you can each month to clear the balance before the 0% deal runs out – or apply for another 0% card and shift the debt again.
You will need to stick to the rules – which means making payments on time.
If you can't get a 0% card – for example, because you have a poor credit score – then go for the longest lowest interest rate you can and, once again, pay off as much as you can afford each month.
Store cards tend to charge much higher rates of interest than credit cards, up to around 35% interest. For example, Argos charges 34.9% on its store card but you can still switch any outstanding store card balance to a 0% balance transfer credit card.
When is it worth considering a consolidation loan for debts?
If you're paying off high interest debts on credit and store cards as well as overdrafts – debt consolidation can be a cheaper and easier way to manage and clear your debts.
This means taking out one single loan – on a much lower interest rate - to repay your debts instead of making separate monthly repayments to everyone you owe money to.
As a general rule personal loans charge much lower rates of interest than cards and overdrafts – with the lowest rates starting from under 5%.
Paying off mortgage debt
If you're struggling to meet your monthly mortgage payments and falling into arrears – speak to your lender.
Lenders have a responsibility to try and find ways to help you if you're in financial difficulties. This can include switching to a cheaper deal, allowing you to take a temporary mortgage payment holiday, switching from repayment to an interest-only loan and even extending the term of your mortgage.
While some of these options may cost more in the long run – with interest and money owed added to the loan – it can make monthly payments more affordable. If at a later stage, your financial situation improves you might then be able to overpay and reduce the amount you owe.
Read more
Sue Hayward is a personal finance and consumer journalist, broadcaster and author who regularly chats on TV and Radio on ways to get more power for your pound. Sue's written for a wide range of publications including the Guardian, i Paper, Good Housekeeping, Lovemoney and My Weekly. Cats, cheese and travel are Sue's passions away from her desk!