Green your finances - here's how your savings can help fight climate change
Green your finances - with COP26 underway, here's how your money can help fight for the planet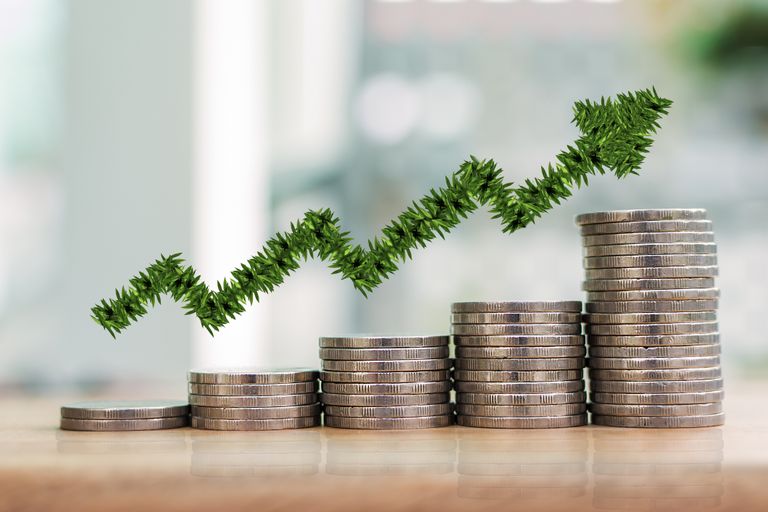 (Image credit: Getty)
By Katie Binns
Did you know you can green your finances? We're all thinking more ethically, especially since the pandemic, by shopping with brands that we feel are doing good or moving to eco alternatives where possible.
Although it helps, money is our most powerful tool. Your pension savings, money in your current account and even your investments can help fight climate change.
A recent UN report into climate change paints a catastrophic picture of the future without immediate action. As governments and corporations aim for net zero, you too can help save the planet by becoming ethical with your finances.
You should definitely continue to recycle, cut back on meat and use shampoo bars - but here's how to go big and go green with your money.
Green your finances via an ethical bank accounts
When you put money in a bank, it doesn't just sit there. Your bank will use the money to invest in various companies. But, what you may not realise is that these investments often include supporting industries that you may not be too happy about, such as fossil fuels or even the arms trade, for example.
Research shows that a shocking amount of finance for the fossil fuel industry comes from the banking sector. Between December 2015 when the Paris Agreement (an international treaty on climate change) was agreed and September 2019, nearly £150bn was invested in fossil fuels by UK banks.
See what your bank is doing with your cash on Your Ethical Money. If you're not happy, take a look at these ethical banks and switch.
Triodos is an ethical bank which invests exclusively in a wide range of impact business, from eco-tourism, social housing, organic farming to recycling and environmental technology. Its current account charges £3 a month which Triodos claims is the fairest and most honest way to bank. Even its debit card is made using recyclable plant-based materials such as leaves.
Charity bank offers savings accounts while it lends money to worthwhile causes in the UK, including loans worth over £11m to environmental projects since 2002. Choose from a 33-day notice account at 0.35% and a one-year fixed rate account at 0.47%.
Building societies are mutual organisations, meaning they are owned by their customers and not their shareholders. This means good products and service are as important as profits and while it doesn't guarantee totally ethical standards of behaviour it generally leads to better decision-making.
Coventry Building Society, for example, has a regular saver account that pays 1.05%. The Ecology Building Society also bankrolls green initiatives while offering a range of savings account: an easy access account at 0.1%, an ecology cash ISA at 0.3% and a tier 90-day notice account at 0.25%-0.55%.
It's easy to switch accounts using the Current Account Switch Service guarantee, where banks must complete a transition to a new bank for you within seven working days.
All these providers come with protection from the Financial Services Compensation Scheme (FSCS) which means the first £85,000 of your savings is guaranteed in the event that a firm fails.
Invest ethically
Investors no longer have to choose between their conscience and returns. Ethical funds perform well and there is more choice than ever.
The Baillie Gifford Positive Change fund, for example, has returned 131% over three years and is the third best performing of all global funds monitored by the trade body Investment Association. The fund invests in firms that deliver 'positive change' in four areas: social inclusion and education, environment and resource needs, healthcare and the needs of the planet's poorest people.
However, what constitutes green - or Environmental, Social and Governance (ESG) - is subjective when it comes to investing. The way different ratings agencies and indices judge ESG is not uniform.
"There is currently no official way to compare the ethical credentials of companies or funds so prepare to do the research," Justin Modray, an independent financial adviser, says.
If you want to avoid fossil fuels, oil giants will clearly be a no-go, but what if those companies are investing heavily in renewable energy? British Petroleum, for example, aims to install 70,000 electrical car chargers by 2030.
The FTSE4Good index, which contains companies that supposedly meet ESG criteria, includes 38 oil and gas companies. Oil giant Shell, for example, is on the list because of its renewable energy division and plan to become a net-zero emissions energy business by 2050.
"I understand why some people choose to avoid fossil fuels but if you want to drive change in companies the most effective way to do this is by investing in those big companies that are driving change and have the money to do that," explains ethical investor advisor Claire Walsh.
What can you do to get started with ethical investing?
Familiarise yourself with the jargon - everything from ESG, thematic and impact.
Decide what you want to invest in and what your red lines are
Always check a fund's entire portfolio - not just the top 10 holdings
Research the fund manager's website - what is their approach to ESG?
Platforms like Good With Money offers details on top ethical funds
See guidance from a financial adviser who can sort the green from the greenwash (when a company attempts to make you believe that it is doing more to protect the environment than it really is.)
"Take the time to read about a fund's approach to ESG and how strictly it adopts ESG criteria to be confident it matches what you are looking for," says Modray.
If you have never invested, it's easy to get started with robo-advisers - these digital providers pick funds for you depending on your goals and attitude to risk.
Recently launched Clim8, for example, only offers ethical funds which are managed by a team of in-house fund managers. Other robo-advisers that offer ethical options include Wealthify and Nutmeg, for example.
It's important to note that although ethical funds do well, like any other investments, the value of your fund can go up as well as down.
Opt for an Innovative Finance ISA
Innovative Finance ISAs (IFISAs) allow investors to earn tax-free interest by lending directly to individuals and businesses on peer-to-peer lending platforms. Some ethical money platforms such as Triodos offer the opportunity to invest in green initiatives such as solar power farms, recycling projects and ethical food retailers via IFISAs. The amount you invest will be counted towards the £20,000 annual ISA allowance.
If you invest through these peer-to-peer loan schemes you get your money back when your loan is repaid - with interest.
However, unlike a cash or stocks and shares ISA, IFISAs are not covered by the FSCS so your money could be at risk if you don't thoroughly research green projects at an early stage. Because if a firm goes bankrupt or a borrower refuses to repay a loan there is no guarantee you will get your money back.
The collapse in 2019 of Lendy and Funding Secure, two big peer-to-peer lenders is an example of this.
Change your pension
The average UK pension scheme unwittingly finances an average of 23 tons of CO2 emissions every year through the businesses it invests in, according to pension provider Cushon.
The good news is that you can take action. David Hayman, campaign director at Make My Money Matter, says: "Making your money matter is 21 times more powerful at cutting your carbon footprint than giving up flying, going veggie and switching energy provider combined. That's why we believe it's so important that everyone in the UK has a green pension."
Most workplace pensions should offer an "ethical" option which you can easily switch to. If not, speak to the pension provider and find out what funds they may be able to offer. Campaign group Make My Money Matter has a template email to encourage pension providers to move to net zero.
If necessary, ask your employer about adding ethical funds - use this Make My Money Matter template to help you. Employers are not legally required to provide ethical pension options, but public opinion and upcoming government policy continues to add pressure. The UK government announced in June that pension scheme trustees will soon be required to report on the risks of climate change to their investments.
If you're a member of a defined benefit pension, contact the pension trustees to find out where the funds are invested. You can't take money out of these, but you can let the trustees know how you feel. If you have old workplace pensions, look at what options are available within these plans and consider consolidating them so you have more control over how they are invested, as long as you are not giving up any guaranteed benefits within these pots.
It is always a good idea to speak to a financial advisor before you move any money around to make sure you are on track for your retirement goal.
Green mortgage
High street banks like Barclays and NatWest have been offering green mortgages for several years but it is only now that they are coming into their own. These are mortgage deals available to people who buy environmentally-friendly homes or make energy-efficient home improvements to their property.
The good news is that green mortgages usually offer cheaper rates when the property conforms to a specific energy standard - usually an energy performance certificate (EPC) rating of A or B.
Green mortgages are usually more readily available on new-builds - but they can be available to older properties that have been renovated.
There are 26 green mortgages on the market, according to Defaqto, that are split into three types:
Mortgage deals that offer a lower rate for energy-efficient properties
Mortgage deals that offer cashback to people who buy energy-efficient properties
Mortgage deals that offer cheaper rates or cashback when owners make green home improvements
This is an area to watch as it is highly likely that green mortgages will become more mainstream.
ESG terms explained
ESG – stands for Environmental, Social and Governance and involves evaluating investments performance against certain metrics under these umbrella headings
Socially Responsible / Responsible investing – describe investments that use ESG factors to select the underlying investments
Sustainable investments – should indicate that the investments are positively contributing to sustainability – whether that be through the products or services that they offer or the impact on their communities and workforce.
Impact investments – investments made with specific intent of generating a positive and measurable impact whether that be to environment or human rights or sustainability
Thematic – this refers to the type of investment – for example clean tech or healthcare or gender equality
Green – investments that try to have a positive environmental impact such as tackling climate change or biodiversity loss
Ethical – investing in line with values or principals which can be used as an umbrella term for all of the above