FSCS protection explained - are your savings protected?
FSCS protection means if your bank or building society goes bust some or all of your money is protected. We explain how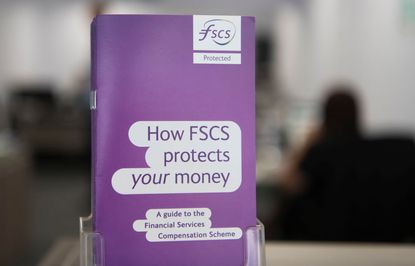 (Image credit: Matthew Horwood / Getty images)
The Financial Services Compensation Scheme (FSCS) means cash held in banks, building societies and credit unions is protected, up to a certain amount.
Big name banks and building societies going bust is rare – but over the last year a total of 66 financial firms have gone bust and the FSCS returned more than £584 million to more than 108,000 customers.
Here we explain how FSCS protection works, and how to find out if your savings are protected.
What is the Financial Services Compensation Scheme (FSCS)?
The Financial Services Compensation Scheme is funded by the financial services industry and protects savers from losing their money if their bank or building society goes out of business.
The FSCS applies to money held in organisations that are regulated by the Financial Conduct Authority (FCA). It includes money in a UK registered bank, building society or credit union.
You don't need to actually live in the UK to qualify for the protection – just providing the organisation is UK registered.
It's not only savings accounts that are protected under the FSCS – other accounts are covered including current accounts, cash ISAs, small business accounts and some guaranteed equity bonds.
But the FSCS isn't a blanket cover for all financial losses because there are some things the FSCS won't cover, including investment losses, Christmas hamper savings clubs and cash in your PayPal account or held on a prepaid card.
What is the FSCS compensation limit?
As a general rule any money or savings you hold are protected up to a maximum limit of £85,000. This applies per person - and per bank, building society or credit union. In the case of joint accounts the limit is £170,000.
When the Financial Services Compensation Scheme was first launched in 2001 - the protection limit was just £31,700. This gradually increased to £85,000 at the end of 2010 – although it briefly dipped to £75,000 during 2016 due to the sterling to euro exchange rate.
If you have money in different accounts spread across banks that are part of the same banking group – and share a banking licence – this £85,000 limit will usually apply to the total amount across all your accounts.
For example – Halifax and Bank of Scotland are part of Lloyds Banking Group. This means if you've got money in both Halifax and Bank of Scotland – you will only be covered up to an overall limit of £85,000 – rather than up to £85,000 each for both Halifax and Bank of Scotland.
Many of us don't have savings anywhere near the £85,000 limit – and if this is the case - even if you hold multiple accounts – then regardless of who owns the bank or building society – your money is safe.
How can I protect my savings over £85,000?
There may be times when you need a safe haven for sums over £85,000 – or £170,000 in the case of a couple.
If, for example, you've just sold your house, got a divorce settlement or received an inheritance – you might have a larger than usual balance in your bank account.
Under FSCS t rules in place there is temporary protection for larger sums beyond the usual limits. It means balances up to £1 million are covered for up to six months and applies from the date of deposit.
In this instance there's no need to inform the relevant financial organisation about the higher balance on your account. But in the event the financial organisation goes bust – if you have more than £85,000 (or £170,000 for couples) deposited – the FSCS can ask you to supply proof of the extra money, for example by showing a court order or will.
You could also consider a National Savings and Investments saving product. A big selling point is funds held in any NS&I account are 100% backed by HM Treasury.
Anna Bowes of Savings Champion says this unique protection is a real benefit of NS&I. "All banks and building societies are covered by the Financial Services Compensation Scheme – which protects up to £85,000 per person, per provider, should the worst happen," she explains, "Because NS&I is backed by HM Treasury, 100% of all the money deposited with the provider is guarantee."
Which banking groups own which banks?
You can use the bank and building society savings checker tool (opens in new tab) on the FSCS website to see how much of your money is protected depending on where you have accounts.
Here is a table we've compiled to show which banks are part of the same brand.
Swipe to scroll horizontally
Source – Table compiled from data available from Moneyfacts & Moneysavingexpert.com
Banking brand
Banks in the same group
Bank of Ireland (UK) Plc
Post Office
Bank of Ireland UK
Lloyds Banking Group
Lloyds Bank
Halifax
Bank of Scotland
Birmingham Midshires
HSBC
First Direct
Santander
Cahoot
Natwest Group
Natwest Bank
Royal Bank of Scotland
Ulster Bank
Virgin Money UK Plc
Clydesdale Bank
Yorkshire Bank
Yorkshire Building Society
Chelsea Building Society
Norwich & Peterborough Building Society
How do I claim my money back with FSCS?
If your bank, building society or credit union does go out of business – and is covered by the FSCS - you don't need to do anything.
In the event the relevant financial organisation doesn't have sufficient funds to repay any money you held with it – the FSCS will step in and automatically repay you.
In practical terms this means you can expect payment from the FSCS within seven days – which will usually be made by cheque.
Related articles:
Sue Hayward is a personal finance and consumer journalist, broadcaster and author who regularly chats on TV and Radio on ways to get more power for your pound. Sue's written for a wide range of publications including the Guardian, i Paper, Good Housekeeping, Lovemoney and My Weekly. Cats, cheese and travel are Sue's passions away from her desk!