Surge in people searching for debt consolidation loans - could it help you?
Data shows people have started the new year with debt consolidation loans on their mind and are looking for ways to make repayments more affordable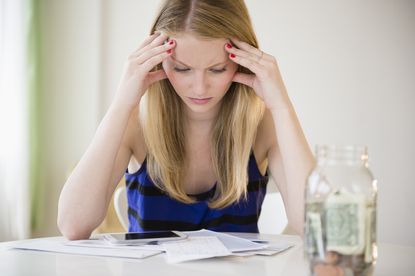 (Image credit: Getty images)
Searches for debt consolidation loans jumped by 29% in January compared to the same month last year.
The data from credit information company Experian suggests some people are looking for ways to make their debt repayments more affordable or simplify their repayments by bringing their debts together.
Just over a fifth (21%) of debt consolidation loan searches on Experian relate to people in their 30s.
The data also recorded jumps in people in their 40s and 50s looking for such loans.
James Jones, head of consumer affairs at Experian, said: "Our data suggests that people are looking at ways to take control of their finances and ease the squeeze on their purse strings.
"Those aged 40 to 60 in particular are increasingly searching for debt consolidation products. They often have families or dependants and are looking for ways to better manage their money by switching to products with a simplified payment plan and lower interest rate."
How to tackle debt
It's certainly not easy but there are ways to pay off debt and get support.
Mr Jones suggested 0% interest balance transfer cards can be a good option for people looking to make more affordable repayments.
He said: "People can reduce the amount they spend on interest by switching debts from existing cards. While there's often a fee associated with the switch, you won't need to pay interest for a set period, potentially as long as two years, meaning every penny goes towards lessening what you owe.
"If you're struggling to repay credit or other bills, we recommend contacting a free debt advice service such as National Debtline (opens in new tab), Citizens Advice (opens in new tab) or StepChange (opens in new tab). The sooner you seek help the better, and talking to a debt adviser will not affect your credit score."
When is it worth considering a debt consolidation loan?
If you're paying off several high-interest debts on credit cards, store cards and overdrafts then debt consolidation can be a cheaper way to clear your debts - and has the added benefit of feeling a bit less overwhelming.
It involves taking out a single loan on a lower interest rate to repay your debts and means you don't have to make separate monthly repayments to lots of companies you owe money to.
Our sister site Go.Compare allows you to compare debt consolidation loans (opens in new tab).
You should always use an eligibility checker first to see if you'll be accepted. This is important as any loan application will appear on your credit record, so making multiple applications could end up damaging your credit score.
Read more
Katie is staff writer at The Money Edit. She was the former staff writer at The Times and The Sunday Times. Her experience includes writing about personal finance, culture, travel and interviews celebrities. Her investigative work on financial abuse resulted in a number of mortgage prisoners being set free - and a nomination for the Best Personal Finance Story of the Year in the Headlinemoney awards 2021.