Market-leading NatWest 33-month balance transfer card now available for new customers
New and existing customers can now apply for NatWest 33-month balance transfer card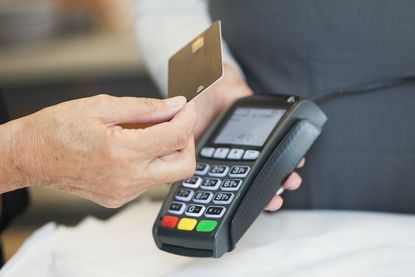 (Image credit: Getty images)
New customers can now cut the cost of their credit card debt with the NatWest 33-month balance transfer card
The best 0% balance transfer cards can help you dramatically cut the cost of your credit card debt.
Research by TotallyMoney found a 33-month 0% interest credit card can save you £1,266 in interest payments while repaying a £2,532 credit card balance.
With many households in deeper debt after Christmas, a BBC poll revealing a third of respondents used credit to help with the cost of festivities. Here's what you need to know about shifting your credit card debt to a balance transfer card.
Remember to always check your eligibility with a soft check before you apply for a credit card.
NatWest 33-month balance transfer card
How to apply for the Natwest balance transfer credit card
You can apply for the top 33-month 0% balance transfer credit card Natwest is offering so you're not paying extra on your debt with interest.
The good thing about this credit card is it isn't an 'up to' rate so if you are accepted, you get the full 33 months.
Note, there is a 2.9% transfer fee and it's 22.9% APR (variable) after the 0% period ends.
If you don't want to pay a transfer fee, Natwest also offers the top no-fee balance transfer credit card with 22 months at 0%.
This card has no transfer fee and after the 0% period has ended, you pay 21.9% APR (variable).
On both balance transfer cards, you also get 3 months 0% on purchases, but you must also pay that balance off within those three months.
Check your eligibility
You should always check your eligibility before you apply. But it's important you check it so it does not affect your credit score.
You can use the Go Compare eligibility checker for free to see if you for the Natwest credit card, and if you don't qualify, this won't go on record.
You can also check our best 0% balance transfer credit cards on the market as you might qualify for a shorter 0% period.
Other things you can check to improve your eligibility are:
Check your credit score which is free to do, so you can dispute anything that is incorrect.
Manage existing payments if you already own a credit card by making sure payments are always made on time. Paying a bit over the minimum amount is also favourable.
Get your name on the electoral register so lenders can see where you live and how long you have lived at the same property- the longer the better as it can make you seem more settled.
Check our full guide on how you can improve your credit score.
Vaishali graduated in journalism from Leeds University. She has gained experience writing local stories around Leeds and Leicester, which includes writing for a university publication and Leicester Mercury.
She has also done some marketing and copywriting for businesses.
When she is not writing about personal finance, Vaishali likes to travel and she's a foodie.