Credit cards: how do they work?
Everything you need to know about taking out a credit card, from the types available, benefits you could enjoy and pitfalls to look out for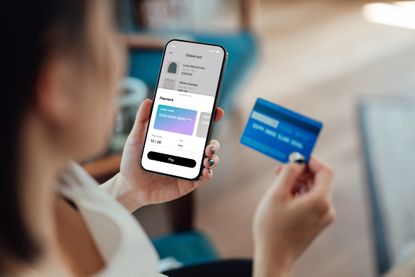 (Image credit: Getty images)
A credit card is a type of borrowing, which lets you pay for things, such as booking a holiday online, or buying lunch in a café.
They can be a handy way to spread the cost of a big purchase - but they can also prove costly and land you in debt.
There are several types of credit cards, with dozens of lenders offering deals. Some are interest-free for a set number of months (so-called 0% interest credit cards), some can help repair a damaged credit rating, while others offer perks like air miles or cashback.
Credit card borrowing has grown recently, possibly as a result of the cost of living crisis. According to the Bank of England (opens in new tab), borrowing has increased 6.2% - or by £100m - over the past year.
We explain how credit cards work, how to get one and the pitfalls to watch out for.
How to get the best credit card
Whether you're after a 0% interest credit card, want cashback on your spending, or just want to build up your credit score - it's important to shop around.
To help you find the best credit card, take a look at our sister site GoCompare to compare credit card deals and check your eligibility (opens in new tab).
Simply use the drop down menu for the type of credit card you want to compare to find the deals and then answer a few questions to assess your eligibility.
You can also try other comparison sites like Uswitch or Moneyfacts.co.uk to compare cards.
To help you decide which credit card might be best for you, and help you understand how they work, read the rest of our guide to understand how credit cards work.
How do credit cards work?
In short, a credit card gives you instant access to a pre-arranged amount of money that you can spend as you like, but must pay back. It works just like a debit card, with a chip and Pin.
If you pay off your bill in full each month, you'll pay no interest. If you only pay the minimum each month, the remainder will be subject to interest.
Failing to pay anything at all has serious consequences. You'll be hit with a late fee, and you'll be marked as having missed a payment, which could stay on your credit report for six years. You'll be charged interest on the whole balance too.
The fees and interest will depend on the card you have. Every card comes with an APR, which stands for annual percentage rate. This is the interest you pay on purchases if you don't pay off the full balance each month.
For example, say you spend £500 on a credit card with an 18.9% APR, and you repay £125 each month. The interest will cost you £19 in total, and it'll take you five months to repay the debt.
Bear in mind that APRs can vary depending on your credit score. Not everyone receives the advertised APR - those with a poor credit score may have to pay a higher rate of interest.
HOW DO I PAY OFF MY CREDIT CARD?
Payments can be made via online transfer from your current account, over the phone, by cheque or via direct debit.
You can usually set up a monthly direct debit to pay off either the minimum amount or the full balance. This is a good way to ensure you never miss a payment. Just make sure you have enough in your current account to cover the amount, especially if you've spent a lot on your credit card recently and you've set the direct debit to repay the entire balance.
If you don't think you will be able to pay off any of the balance, contact your provider immediately. It can help you come up with alternative arrangements, such as a different repayment plan, and may even agree to waive some of the interest or fees. If you completely forgot to make a payment - perhaps you were moving house or having a baby - it's worth calling your provider to see if it's possible to cancel any late-payment fees.
Know your credit limit
When you apply for the card you'll be given a credit limit, which is determined by various factors, such as your earnings, debts and credit record.
This is the maximum amount you can borrow on the card at any one time. It will normally be shown on your monthly statement and online account.
If you make a purchase that pushes you over your credit card limit, the lender may decline the purchase. However, on some occasions it may let it go through.
If this happens, you'll normally be charged a fee and it could also damage your credit rating.
So make sure you know your limit and respect it!
If you need to borrow more money, consider taking out another credit card, or use an overdraft or personal loan. Try to use any borrowing responsibly: shop around for the lowest interest rate and pay off at least the minimum amount each month.
What type of credit card should I get?
Credit cards fall into four broad categories: interest-free (for both purchases and balance transfers), rewards, credit builder and travel. Credit builder cards are sometimes called "bad credit credit cards" and come with a high APR and low credit limit. As the name suggests, they are useful for people who have a bad credit score, are often turned down by lenders, and want to rebuild their credit score. If you apply for one of these cards you are more likely to be accepted.
Meanwhile, travel credit cards are great for taking abroad with you, as they offer competitive exchange rates and no or low fees. As long as you repay the balance in full, they are much cheaper than most debit cards. Top travel credit cards include Barclaycard Rewards and Halifax Clarity.
Interest-free purchase cards
These cards offer long interest-free periods, which can be as much as 24 months.
They can be useful if you're planning on making a big purchase as you can then spread the cost over a number of months, interest-free.
But remember, you must always repay the minimum amount each month to avoid incurring late fees and a mark on your credit report. The full balance will also need to be cleared by the end of the 0% period - when a high APR typically kicks in - otherwise you'll start accruing interest.
Balance transfer cards
Balance transfer cards are only useful for people who already have a credit card with debt on it. In this instance, you can shift the balance of one card onto another (usually for a small fee – around 3% of the balance), and then enjoy an extended interest-free period. This can be for months or even years - the best deal at the moment comes with a 35-month 0% period, almost three years!
If you have a large credit card balance that you're paying interest on, switching to a 0% balance transfer card can save you a lot of money. The trick is to weigh up how much any fee will cost you versus how much interest you're currently paying, and to make sure you have a plan in place to repay the full balance when the 0% period ends.
A handful of balance transfer cards have no fees, and shorter 0% periods than those that do have fees.
Some of the best deals are restricted to the lender's current customers, for example you may need a current account with the bank to apply.
The interest-free period you're offered may depend on your credit score, so don't assume you'll get the full 0% period when you apply. You also may not get the advertised APR - it could be higher.
Be aware that these cards should not usually be used for new shopping, as the interest rate can be very high.
And don't think you can continually "bump" your balance from one card to another to avoid paying interest. This may seem like a smart way to manage the debt - but companies are clocking on to repeat offenders, which can limit your chances of getting a new card.
It's much better to pay off the debt as soon as you can, rather than shift it around.
Credit card rewards
Reward credit cards give you cashback, air miles or loyalty points when you spend on them. As long as you're confident you can repay the full balance each month, they are a good way of getting a freebie.
Cashback credit cards offer a percentage of your monthly or annual spend as cashback, which can provide a decent bonus if you're a regular spender. Bear in mind that sometimes this is only applicable to certain retailers, or is capped at a particular limit.
Some cards offer air miles – redeemable for free flights – in line with a certain amount spent or frequency of spending.
Shopping/points reward cards offer a number of incentives for shopping with a particular store, such as discounts or points which can be redeemed for goods and services.
Don't be tempted to withdraw cash on reward cards; it's expensive and there's normally no reward.
Here are our four top tips to maximise the rewards and avoid paying any money for the privilege: Stick your regular spending on it, don't use it as an excuse to over-spend, pay it off in full every month, and don't go over your credit limit.
SECTION 75 PROTECTION
Spending with a credit card offers shoppers protection in case something goes wrong. You may have heard of Section 75. In a nutshell, anything you buy on a credit card that costs between £100 and £30,000 is given Section 75 protection, which means the card provider is jointly liable with the retailer if say the item is faulty or you ordered it online and it never turns up.
This can be a powerful lifeline if the retailer goes bust or won't play fair.
Ruth Emery is contributing editor at The Money Edit. Ruth is passionate about helping people feel more confident about their finances. She was previously editor of Times Money Mentor, and prior to that was deputy Money editor at The Sunday Times. A multi-award winning journalist, Ruth started her career on a pensions magazine at the FT Group, and has also worked at Money Observer and Money Advice Service. Outside of work, she is a mum to two young children, a magistrate and an NHS volunteer.