How do credit cards work?
What you need to know about how credit cards work, from the types available, benefits you could enjoy and pitfalls to look out for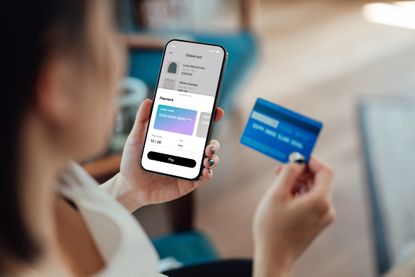 (Image credit: Getty images)
Knowing how credit cards work can offer a convenient way of borrowing money and can come with lots of benefits. But if not used carefully, credit cards can cost you a fortune in interest charges and fees.
They can be a handy way to spread the cost of a big-ticket purchase or an easy way to clear debts. Some offer you the chance to earn rewards or cashback when you spend, while others help you boost your credit score if you've had debt problems in the past.
The key is to find the right plastic for your needs, and to use it wisely, so as to take advantage of the perks without falling for any of the pitfalls.
There are several types of credit cards, with dozens of lenders offering deals. Some are interest-free for a set number of months (so-called 0% interest credit cards), some can help repair a damaged credit rating, while others offer perks like air miles or cashback.
Rates (known as the 'annual percentage rate' or APR) may be on the up, but there are still some great deals to be found. Here's how to use credit cards to your advantage.
How do credit cards work?
The amount you can get will depend on your personal circumstances and your credit score.
The rate offered by the provider will determine how much you need to pay to borrow that money.
Remember that when you borrow on a piece of plastic, this will need to be repaid at some point. Matt Sanders, money spokesperson at Go.Compare said: "If you can, don't just make the minimum repayment. Interest is added to any outstanding balance, so the longer you take to repay the debt, the more money you will owe."
The different types of credit cards
Finding the right card may feel confusing, with so many to choose from. So here's our breakdown of the different types on offer:
Balance transfer card – shift existing debts to an interest-free balance transfer card to help you clear what you owe more quickly. Many come with lengthy 0% periods – some are almost three years. During the interest-free period, all your payments go towards reducing your debt, saving you thousands of pounds in interest.
Purchase card – with a 0% card, you can buy goods or services, without having to pay interest, at least for a period. This can help make big purchases – such as furnishing a new home – more manageable.
Rewards card – if you always pay off your card in full, you could look at a card which offers cashback as you spend. Keep an eye out for annual charges, though. Other rewards cards allow you to earn points as you shop. These can be exchanged for perks such as flights, hotels or days out.
Credit-builder card – if you have a poor credit score, this type of card can help you boost your credit rating. Cards typically come with a lower spending limit. The key is to make the full repayments each month to build up your track record. It will take time to repair your score but should mean you will eventually be eligible for mainstream cards.
Travel credit card – if you spend lots of time overseas, one of these cards could save you money, as they don't charge for use abroad. Some also allow you to make cheaper cash withdrawals.
All-rounder card – certain cards offer a combination of different benefits, such as a 0% deal both on balance transfers and purchases.
How to get a credit card
Whether you're after a 0% interest credit card, want cashback on your spending, or just want to build up your credit score - it's important to shop around.
To help you find the best credit card, take a look at our sister site GoCompare to compare credit card deals and check your eligibility. Simply use the drop down menu for the type of credit card you want to compare to find the deals and then answer a few questions to assess your eligibility.
You can also try other comparison sites like Uswitch or Moneyfacts.co.uk to compare cards.
To help you decide which credit card might be best for you, and help you understand how they work, read the rest of our guide to understand how credit cards work.
How do I pay off a credit card?
Payments can be made via online transfer from your current account, over the phone, by cheque or via direct debit.
You can usually set up a monthly direct debit to pay off either the minimum amount or the full balance. This is a good way to ensure you never miss a payment. Just make sure you have enough in your current account to cover the amount, especially if you've spent a lot on your credit card recently and you've set the direct debit to repay the entire balance.
If you don't think you will be able to pay off any of the balance, contact your provider immediately. It can help you come up with alternative arrangements, such as a different repayment plan, and may even agree to waive some of the interest or fees. If you completely forgot to make a payment - perhaps you were moving house or having a baby - it's worth calling your provider to see if it's possible to cancel any late-payment fees.
You can use section 75 protection to get refunds
Spending with a credit card offers shoppers protection in case something goes wrong. You might have heard of Section 75 protection.
In a nutshell, anything you buy on a credit card that costs between £100 and £30,000 is given Section 75 protection, which means the card provider is jointly liable with the retailer if say the item is faulty or you ordered it online and it never turns up.
This can be a powerful lifeline if the retailer goes bust or won't play fair.
Tips to help you use your credit card wisely
Always make at least the minimum repayments. All cards come with a 'minimum payment' which you must make each month. This is set by your provider and you can find the details on your card statement. The best approach is to set up a monthly direct debit so your card gets repaid automatically.
Try and clear your whole balance if you can. While it can be tempting to pay just the minimum, try and get into good habits and clear the card in full if you can. That way, you can avoid racking up hefty interest charges on your outstanding balance. It will also mean your debt goes down a lot sooner. If you're in danger of failing to fully repay your plastic, think about cutting down on spending in other areas to help free up some cash.
Be sure to pay your card bill on time. Take care to make your card payments on time to avoid late penalties. As well as facing a charge of around £12, making a late payment could also impact on your credit rating – meaning it will be harder to get other forms of credit, such as cards, loans and mortgages, in the future.
Stay well within your credit limit. Your credit limit is the maximum amount you can spend on your plastic. If you breach this, you will face an automatic penalty charge, typically £12. You could also find your provider increases your APR. Ideally, try to use no more than 25%-30% of your credit limit each month. Using too much could be seen as a sign that you are having financial difficulties. This could have an impact on future applications for credit.
Always clear your balance on a cashback card. If you want to benefit from cashback on your plastic, be diligent about paying off your card's full statement balance each month. If not, the interest charges can soon wipe out any benefits you've earned. The same applies to rewards cards.
Note down when any interest-free period ends. Be sure to make a note in a diary or calendar of when the promotional 0% period on your card is due to end. Do all you can to pay off what you owe by that date, or costs could soar. If you're unable to clear your debt in time, be prepared to arrange another transfer to avoid hefty interest charges.
Don't forget to factor in balance transfer fees. These can be up to 3% of the balance you want to move. For a debt of £4,000, it could cost you £120 to transfer. One way to avoid this charge is with a card with zero balance transfer fees. But note that interest-free periods on these cards tend to be shorter. The key is to do your sums.
Avoid using your credit card to make a cash withdrawal. While cash withdrawals on a debit card are usually free, this is not the case with a credit card. You will be charged interest from day one, and may also face a withdrawal fee to boot. Avoid at all costs.
Play your cards right overseas. When you're abroad, always try to use a dedicated travel credit card. If you spend or make withdrawals on a card designed to be used at home, you could end up paying through the nose for fees and charges.
Don't make multiple applications for credit. Before making a formal application for any new card, always make use of an eligibility calculator. This will use a 'soft search' to show your likelihood of getting accepted, without leaving a mark on your credit file. Lots of providers and comparison sites, such as MoneySavingExpert and MoneySuperMarket offer tools so you can see your chances of success.
Improve your credit rating. The higher your credit score, the better your chance of getting accepted for the very best card deals. There are lots of simple steps you can take to boost your rating, including getting registered on the electoral roll, making all bill payments on time, and paying down debts. Read more here.
Related articles
Esther Shaw is an award-winning consumer, financial and property journalist, who was formerly Money Editor at the Sunday Express, and Deputy Money Editor at both the Independent and Independent on Sunday. As a freelancer, she has spent the past two decades writing for the money pages of just about every UK national newspaper, as well as a wide variety of websites and magazines.
With contributions from