Credit card borrowing hits £1.5 billion as cost of living squeeze bites
Bank of England data reveals a 275% jump in borrowing last month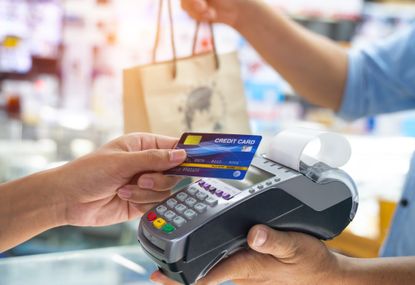 (Image credit: Getty Images)
Credit card borrowing rocketed to £1.5 billion last month, up from £400 million in January, as the cost of living crunch started to bite and consumers increasingly turned to credit cards to pay for essential purchases.
The 275% leap in borrowing, as recorded by the Bank of England, represents the biggest monthly hike in card borrowing for at least 30 years.
Overall, consumer credit borrowing - which includes products like personal loans and store cards as well as credit cards - increased by more than 200% month-on-month, hitting a pre-pandemic high of £1.9 billion.
"The days of people putting record amounts into savings and paying down debts seen during the depths of the pandemic appear well and truly over, and borrowing has made a swift return," said David Gibb, a chartered financial planner at the wealth management firm Quilter.
"Given the precarious fiscal circumstances we are currently in, it is not surprising that more Brits are having to make a return to spending on the plastic."
Spending to exceed income for more households
A cost of living squeeze is putting enormous pressure on household budgets: inflation is running at a 30-year high, with fuel and food prices soaring, and already-expensive energy bills are set to rise further next month for millions of people when the energy price cap increases by 54%.
Research from the Money Advice Trust, a charity, shows that one in four UK adults have used credit to pay for bills or essentials including food, water, rent, council tax and energy in the past three months.
Joanna Elson, chief executive of the Money Advice Trust, commented: "The [Bank of England] figures, showing a jump in consumer credit borrowing, provide an indicator of the underlying challenges households face in meeting the growing cost of living. Our concern is that more people will be pushed to credit to cover rising bills, which could be storing up problems further down the line when repayments are due."
Experts expect the borrowing figure to keep climbing in the next few months as more households see their spending exceed their income.
However, with interest rates rising, borrowing is becoming more costly. Bank rate increased to 0.75% this month, and with inflation expected to rise further still, additional interest rate hikes are expected, which will have a knock-on effect on the cost of borrowing.
The Bank of England figures do not cover the buy now, pay later market, which has boomed in recent years. This means the overall debt figure of £1.9 billion will be much higher in reality, as shoppers choose to defer paying for items they can't afford today.
What about savings and mortgages?
The data also looked at mortgage borrowing and savings levels across the UK. It found that the amount of cash that savers are squirrelling away has fallen, with £4 billion put into savings accounts in February, compared to £7.2 billion in January.
Meanwhile, net borrowing of mortgage debt decreased to £4.7 billion in February, from £5.9 billion in January.
Gibb said: "The mortgage data shows that the astronomic housing market is finally coming back to earth after being supercharged by various measures brought in such as the stamp duty holiday and changes of behaviour due to the pandemic restrictions. While £4.7 billion remains above the pre-pandemic average of £4.3 billion in the 12 months up to February 2020, it still signals that the froth is very much coming out of the housing market as we head into spring."
While approvals for new mortgages fell last month, approvals for remortgaging with a different lender rose, as homeowners rushed to remortgage and lock into a fixed-rate deal before interest rates inevitably rise further. Remortgaging numbers reached 48,200 in February, according to the Bank of England report, the highest number since February 2020.
Look After My Bills Newsletter
Get the best money-saving tips, tricks and deals sent straight to your inbox every week. Make sense of your money in partnership with The Money Edit.
Ruth Emery is contributing editor at The Money Edit. Ruth is passionate about helping people feel more confident about their finances. She was previously editor of Times Money Mentor, and prior to that was deputy Money editor at The Sunday Times. A multi-award winning journalist, Ruth started her career on a pensions magazine at the FT Group, and has also worked at Money Observer and Money Advice Service. Outside of work, she is a mum to two young children, a magistrate and an NHS volunteer.