Credit card balances jumped by 10.1% in October
Outstanding credit card balances have grown by 10.1% while credit card spending is 15% higher than the previous October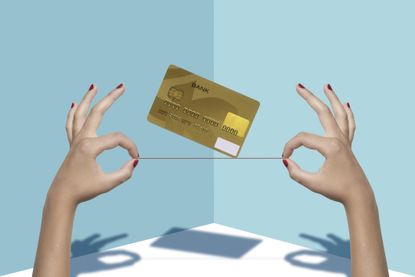 (Image credit: Getty images)
The outstanding credit card balances belonging to UK cardholders jumped by 10.1% in total in the 12 months to October 2022, amid warnings to households to limit the amount of debt.
In total, £59.7 billion in credit card balances was outstanding in October 2022, according to UK Finance.
There were 354.6 million credit card transactions in October, 11.3% more than in October 2021.
And the total spend of £19.2 billion on credit cards was 15% higher than in October 2021.
UK Finance said 51.2% of outstanding credit card balances incurred interest, compared with 53.7% 12 months earlier.
It comes amid credit card interest rates hitting a 24-year high. Credit card holders can cut the cost of their debt with a top balance transfer card - though interest-free periods are shrinking.
There were also 2.2 billion debit card transactions in October, 12.4% more than in October 2021. The total debit card spend of £66.6 billion was 9.1% higher than in October 2021.
UK Finance cautioned that annual data comparisons are impacted upon by the reduction of spending due to various lockdown restrictions and the economy re-opening, resulting in large percentage variations when compared with 2021.
Helen Morrissey, senior pensions and retirement analyst at Hargreaves Lansdown, said: "These figures could either be a sign of early Christmas cheer as people started shopping - or more depressingly show just how much the price of our day-to-day items have risen".
She added: "If balances aren't cleared in full every month, there's the worry they accumulate and become an increasing financial burden to people who are already struggling."
Office for National Statistics (ONS) figures released on Wednesday showed that the rate of Consumer Prices Index (CPI) inflation slowed to 10.5% in December, from 10.7%, in a further sign that the cost-of-living crisis may have passed its peak.
While prices are still rising more slowly than was previously the case, 10.5% is still one of the highest inflation figures seen in the last four decades.
Food and drink inflation jumped to 16.8% in December, up from 16.4% in November, marking the highest level since September 1977.
Ms Morrissey added: "Prices of essentials like food and energy remain eye-wateringly high, which means there's little respite to the squeeze in our budgets for the foreseeable future."
Read more
Look After My Bills Newsletter
Get the best money-saving tips, tricks and deals sent straight to your inbox every week. Make sense of your money in partnership with The Money Edit.
Katie is staff writer at The Money Edit. She was the former staff writer at The Times and The Sunday Times. Her experience includes writing about personal finance, culture, travel and interviews celebrities. Her investigative work on financial abuse resulted in a number of mortgage prisoners being set free - and a nomination for the Best Personal Finance Story of the Year in the Headlinemoney awards 2021.