How to get a credit card if you have a low credit score
Here's how to get a credit card if you have a bad credit score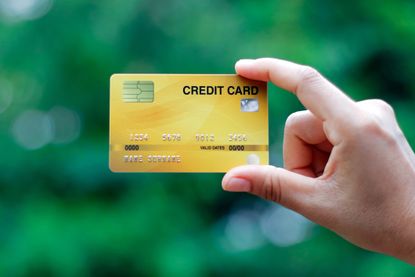 (Image credit: Getty images)
If you have a low credit score, you might struggle to get a mainstream credit card. But this doesn't mean you'll be completely locked out of the credit card market, as you can apply for a credit card for bad credit.
Spending on credit cards looks set to rise as households grapple with the cost of living crisis and increasing food and energy bills.
According to UK Finance, there were 317 million credit card transactions in October 2021 (the latest figures available). UK consumers spent a total of £16.7bn on credit cards in the month.
Andrew Hagger, personal finance expert from Moneycomms.co.uk, says: "The crippling increase in fuel, energy and food costs means more people will be forced to take on debt to pay for essentials and to balance the household budget.
"If you've got an imperfect credit record your choice of products is far more limited, but credit builder type credit cards are an option, but only if used sensibly."
If your credit score is bad, then here is what you need to think about before applying for a credit card.
What is bad credit?
'Bad credit' is a term used to describe people with a poor credit score. The UK has three credit reference agencies - Experian, Equifax, and TransUnion - and they all use different scoring systems.
A low score with Equifax is 379 or below (out of 700). With Experian it's 720 or below (out of 999) and with Transunion it's below 565 (out of a maximum score of 710).
You might have bad credit if you have failed to make payments on past credit agreements on time, or if you have fallen into arrears on household bills or your mortgage. A county court judgement (CCJ) or bankruptcy will also affect your credit score.
What is a credit card for bad credit?
A credit card for bad credit is designed for borrowers with a low credit score. Used correctly, this type of credit card can help improve your credit score.
These cards are sometimes called 'credit builder credit cards' or 'bad credit credit cards' and come with a high APR and low credit limit. If you apply for one of these cards you are less likely than usual to be rejected because of your credit history.
To use this type of credit card to improve your credit score you should borrow a small amount of money each month and pay off your balance in full each month (so you avoid paying interest).
Brean Horne, personal finance expert at NerdWallet, says: "Whilst many people still view debt as taboo, taking on such manageable debt can help people to gradually strengthen their credit scores. This is because such credit cards usually set lower, manageable spending limits so that the cardholder does not take on more debt than they can handle."
Richard Jones, money expert at GoCompare, says: "It's important to note that this type of card isn't intended to be used for ongoing spending as the cost of debt is high for these products. To see any benefit from this, the balance must be paid off in full each month."
Who can get a credit card for bad credit?
To get a credit card for bad credit you'll need to be resident in the UK and be aged over 18. Some cards might also require you to be employed.
As well as people with a bad track record with credit, credit cards for bad credit are often used by young people to build up their credit history if they haven't borrowed money before. The same goes for people new to the UK who don't have a credit record in this country.
Where can I get a credit card for bad credit?
Some credit card companies and lenders specialise in credit cards for bad credit. These include Vanquis, Fluid, Ocean Finance, Marbles, Aqua and 118 188 Money.
Mainstream credit card firms that also offer these cards include the Post Office, Tesco Bank, Zopa and Capital One.
You can search for credit cards for bad credit on price comparison sites such as MoneySuperMarket, ComparetheMarket or Uswitch. You can also apply directly to providers.
How can I apply for a bad credit credit card?
It's a good idea to compare credit cards for bad credit to make sure you get the right one for your needs. Some have higher interest rates than other cards, while some other cashback.
Before applying for a credit card, you should use an online credit card eligibility checker.
Jones says: "This means you can check what products are available and what rates you may be charged before you apply and the likelihood of you being accepted if you decide to apply, without impacting your credit score.
"You might even see that you're pre-approved for some products, but if you do apply, you will be subject to further checks by the lender, so make sure you provide accurate information and this will probably result in a hard credit search appearing on your credit file."
Once you've found the right credit card for your needs you can click through to the provider to complete your application.
What should I think about before I get a credit card?
This type of credit card comes with a very high APR, often twice standard credit card rates.
So, you should only get this type of credit card if you are disciplined enough to pay off the balance in full each month – this will mean you don't pay any interest. Don't borrow more than you can afford to pay back.
Hagger says: "The advertised representative APR tends to be around 30% to 35%, however depending on the state of your credit record, rates can be as high as 59.9% APR in some cases.
"If you know you can pay your statement balance in full each month then the interest rate is irrelevant as you won't incur charges – however if you carry a balance over by making only part repayments, the high interest charges can soon mount up and see your debt problems spiral out of control."
If you fail to make at least the minimum payment on your credit card each month, you could be charged a late penalty fee of £12. Your credit card provider will inform the credit reference agencies about any missed payments, and this could mean your credit score will go down.
Look After My Bills Newsletter
Get the best money-saving tips, tricks and deals sent straight to your inbox every week. Make sense of your money in partnership with The Money Edit.
Emma Lunn is an award-winning freelance financial journalist who specialises in money and consumer affairs. She has more than 17 years' experience writing for national newspapers, trade and consumer magazines, and specialist websites. She has a particular interest in writing about property and mortgages, and enjoys explaining complex issues in an easy-to-understand way.