Buy now, pay later firms face new, stricter rules – what it means for shoppers
The government has laid out further plans to tighten up rules on buy now, pay later to protect up to 10 million shoppers from being "exposed to financial harm"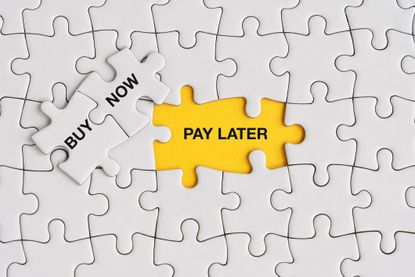 (Image credit: Getty images)
Around 10m people will be impacted by long-awaited government plans to regulate buy now, pay later (BNPL) firms, as it vows to stop people from being "exposed to financial harm".
An eight-week consultation is launching today on how BNPL firms can implement the proposed rules.
The new rules that are being considered include:
BNPL firms need to be approved by the Financial Conduct Authority (FCA)
Lenders will have to ensure loans are affordable
Lenders will have to put details of repayments clearly and upfront on products
Consumers will be able to complain about BNPL firms to the Financial Ombudsman
Customers will face "affordability checks" and a form of "soft" credit check
BNPL allows you to buy goods on credit and pay for them later. You pay the BNPL provider back over several weeks or months. Providers include Clearpay, Klarna (opens in new tab), Laybuy and Openpay.
There is usually no interest or fees to pay - as long as you make your repayments on time.
But there have been concerns about the ease at which people can build up significant amounts of debt relatively easily, with many BNPL products appearing at online shopping checkouts. Some people end up borrowing more than they can comfortably afford to repay - and fees and a black mark on your credit report can be incurred if you're late with payments.
Tighter rules are welcome news
Many shoppers are unaware of the risks, and do not realise they are taking on debt, according to consumer group Which?
A recent report by the personal finance experts at NerdWallet revealed that as many as one in six (15%) UK consumer currently in debt owe money to BNPL firms.
The government first laid out plans to tighten up regulations in February 2021, but change has been painfully slow.
In June last year, it said lenders would be required to carry out checks to make sure loans are affordable for consumers, and financial promotion rules would be amended to ensure BNPL advertisements are fair, clear and not misleading.
The boss of a BNPL firm, Zilch, Philip Belamant explained to the BBC's Today programme that customers do not currently have the same protections of a conventional credit product.
"Customers need to have the ability to complain to the Ombudsman, they need protection if they find themselves struggling to repay," he said.
He said BNPL lenders should do an affordability and credit check on customers and report the activity so borrowers cannot simply get another loan elsewhere and get further into debt - this is something Zilch started doing in January as The Money Edit reported at the time.
A summit of banks and debt charities is also being convened today in Birmingham, to help ensure that affordable credit is available to people who may struggle to access it.
Economic Secretary to the Treasury Andrew Griffith said: "People should be able to access affordable credit, but with clear protections in place. That is why these proposed regulations are so important.
"Today's summit will also help regulators and banks better understand the best ways to support people who feel boxed in by debt and open up the financial system to people who find it more difficult to access."
Read more
Katie is staff writer at The Money Edit. She was the former staff writer at The Times and The Sunday Times. Her experience includes writing about personal finance, culture, travel and interviews celebrities. Her investigative work on financial abuse resulted in a number of mortgage prisoners being set free - and a nomination for the Best Personal Finance Story of the Year in the Headlinemoney awards 2021.