Credit card borrowing grows at fastest annual rate for 17 years
Latest data shows an alarming increase in the number of households getting into debt to make ends meet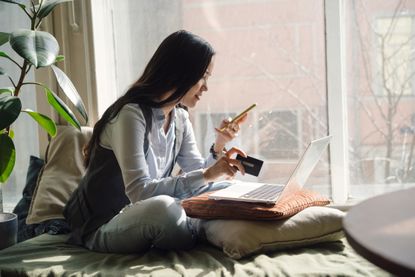 (Image credit: getty images)
Households have taken out an additional £1.4bn of credit in April, up from £1.3bn of borrowing in March. This was split between £700m extra on credit cards and £700m on other types of credit such as personal loans and car finance, according to the latest data from the Bank of England.
It reveals that in April credit card borrowing grew at the fastest annual rate since 2005 – just as high energy prices, tax rises, railcard increases, soaring petrol prices, rising mortgage costs and inflation started to hit. Figures show lower-income families are being disproportionately hit by cost increases on budget household food items such as pasta, rice and bread.
The annual growth rate for credit card borrowing hit 11.6% in April while the annual growth rate for all consumer credit ‒ which includes borrowing on credit cards, overdrafts, personal loans and car finance ‒ increased to 5.7% in April, from 5.2% in March. This was the highest rate since February 2020.
Thomas Pugh, economist at RSM UK, said the data suggested people were "increasingly borrowing more to protect their lifestyles from the surge in inflation".
What's more, the situation is likely to worsen as the cost-of-living crisis escalates, according to Alice Haine, personal finance analyst at investment platform Bestinvest, with inflation already at a 40-year high.
"The risk is that those that take on debt now may be creating a whole host of problems for themselves further down the line when costs rise even further," she added. "To put the situation into perspective, however, it's important to note that card borrowing is rising from a real low and this is more of a gentle upward trend than a sudden spike.
Meanwhile, households also significantly ramped up deposits into their current and savings accounts in April. The combined net flow into bank and building society accounts, as well as National Savings & Investments accounts, over the month was £6.3bn, compared with an average monthly net flow of £5.5bn in the 12 months leading up to February 2020.
Myron Jobson, senior personal finance analyst at Interactive Investor, noted that the nation's enthusiasm for saving had been "renewed", with base rate increases lifting interest rates on savings accounts from "rock bottom levels".
He added: "There is also a budding appreciation of the importance of building an ample cash buffer amid rising prices - three months' salary is a good rule of thumb.
How can I get help with spiralling costs?
If you are struggling, there is help with energy costs if you are unable to pay your bills. Energy suppliers are offering help to their customers via their hardship funds.
There's also government support via the £150 council tax rebate, a £400 discount off energy bills while those on low incomes will get a one-off £650 payment, pensioners to get £300 and those with disabilities will get £150.
Jobson notes that, for many people, things are likely to get worse before they get better, which is why it's important to act now to limit the impact.
He says: "Those with high levels of debt should consider what they can do now to reduce their debts as the cost of credit is only rising just as the prices of everyday essentials are flying. Those struggling to keep on top of their finances needn't suffer in silence. The key is to act swiftly and contact creditors for more support. It is worth consulting a debt advice charity such as StepChange or Turn2Us and they will go through all of your options."
Additional reporting by PA
Look After My Bills Newsletter
Get the best money-saving tips, tricks and deals sent straight to your inbox every week. Make sense of your money in partnership with The Money Edit.
Katie is staff writer at The Money Edit. She was the former staff writer at The Times and The Sunday Times. Her experience includes writing about personal finance, culture, travel and interviews celebrities. Her investigative work on financial abuse resulted in a number of mortgage prisoners being set free - and a nomination for the Best Personal Finance Story of the Year in the Headlinemoney awards 2021.