What is your bank doing to help you with the cost of living crisis?
We investigate what banks are doing to help customers as living costs soar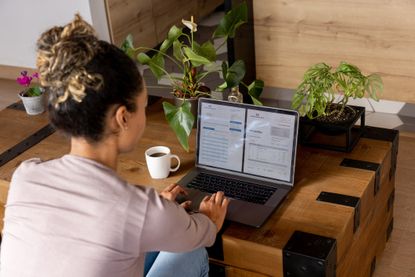 (Image credit: Getty images)
With household budgets squeezed tighter than ever as high inflation continues to bite, you may be looking to your bank for help with money.
But what are banks actually doing to help customers through these difficult times and is it enough to see us through the cost of living crisis? The Money Edit spoke to the majority of UK banks to see how they are helping customers.
Rising energy bills, high fuel costs, and rocketing rates of inflation have meant that many people are having to try to make their money stretch further. And with a possible recession on the horizon, the pressure on households is likely to intensify.
And while banks have been told to do more to help customers with the cost of living, there is no specific help package like the extra measures we saw during the pandemic. Help like mandatory overdrafts and the option of mortgage payment holidays has largely been stripped back now, even though many people face even more significant financial pressures today.
The Financial Conduct Authority, the financial regulator, has written to more than 3,500 lenders urging them to raise their game in supporting people with the cost of living.
It followed an investigation that had found some people in vulnerable circumstances were not getting the support they needed, while some financial firms were not highlighting the benefits of money guidance or free debt advice.
So what are banks actually doing to support us? We've contacted all of the main banks and building societies in the UK to get a better idea of precisely what help they are offering customers in dealing with the cost of living crisis. Here's what they told us.
Barclays
Barclays claims it is regularly contacting customers who it has identified as needing help, either immediately or in the near future. It said it assesses millions of customer accounts each month to spot anyone potentially at risk to offer them practical support. Its support includes:
Holding money management sessions with Barclays' money 'mentors' and hosting online events on how to handle the increased cost of living.
It says it has trained staff to support vulnerable customers and there is a dedicated team in place to support people finding it difficult to manage their money. This team can offer tailored support to help them get back on track.
It has built a 'money worries hub' in response to customer feedback, which it says offers simple advice on coping with financial pressures.
Barclays' also highlighted the tools within its app, like card controls, for getting money management sorted. You can also sign up for SMS alerts to update them on what's happening with their payments.
Barclays said it is also signposting people to Citizens Advice, StepChange and National Debtline.
Co-operative Bank
Co-operative Bank told us it 'has always had measures in place' to support those in financial difficulty, emphasising that customers should contact the bank as soon as possible if they need help.
Its financial support team is specially trained in supporting those in financial difficulties with support, guidance and a range of forbearance options.
There is also dedicated support for vulnerable customers, ranging from help with day-to-day finances to specific help with mortgage repayments.
The Co-op has partnerships with StepChange and Citizens Advice and can signpost customers towards the charities when appropriate.
HSBC Group (HSBC and First Direct)
Both HSBC and First Direct are part of the HSBC Group - here's what they told us they offer:
First Direct
First Direct is one of the few banks to provide an interest-free overdraft worth £250 and customers can opt to increase this for £500 for 12 months.; although this is not a specific cost of living measure, it may help some people who need an overdraft buffer each month.
First Direct has also launched a 'money worries' page on its website, which provides budgeting tips and contact details for anyone with concerns about the cost of living crisis. Its customers can speak directly with trained First Direct staff who can provide support and guidance.
The bank has a team in place to specifically handle in depth financial conversations with you if you're facing difficulties or who want to learn more about building financial resilience.
First Direct has also partnered with the housing charity Shelter to support renters who are struggling. The collaboration means increased access to Helpline plus for First Direct customers who are facing eviction, worried about losing their home, or living in substandard conditions.
The bank has also partnered with StepChange debt charity to improve its staff's training
First Direct told The Money Edit that it is exploring a range of other cost of living support measures which it intends to launch later this year - we will update you as soon as we know more.
HSBC
HSBC has similar cost of living measures in place. For example it has a 'rising cost of living' content hub on its website, which includes tips on saving money and where to get additional help if you're struggling, as well as a 'money worries hub'. It has also:
Offered all customers the chance to increase their interest-free overdraft limit from £25 to £500. The interest-free extension is available for a 12-month period. To get this support, customers must apply through their bank account by Wednesday, 10 May
Launched a subscription management tool to all customers on mobile, allowing them to see and cancel recurring card payments for things like TV subscription services. It says that during the first quarter of the year it led to customers dumping around 200,000 subscriptions.
There is also a 'financial fitness score tool'. This can analyse your money habits and signpost you towards ways to improve your financial health. This may include joining one of the financial education webinars run by the bank, or having a 'financial health check' with a member of staff.
Lloyds Banking Group (Lloyds, Halifax, Bank of Scotland)
Lloyds Banking Group includes the likes of Lloyds, Halifax and Bank of Scotland. It told us that around 130,000 regular overdraft users have been offered a £500 interest-free buffer for six months.
Customers struggling with loan, credit card or overdraft payments can request help through online banking or their bank's app. This could result in a new payment plan, as well as providing money management tips. You can also fill in a form to ask for support with mortgage payments. Other help includes:
You can book a 'helping hand' appointment to review your finances with a banking consultant in branch.
You can use the bank's apps to manage and cancel subscriptions with ease, without having to contact individual providers. The apps include other money management features like the ability to freeze certain types of transactions, controls on gambling, and a 'spending insights' function to assist with budgeting.
The banks signpost third party organisations which can provide independent help and advice on your money worries. These include: PayPlan, StepChange debt charity, National Debtline, Turn2Us, MoneyHelper, Citizens Advice, Mental Health and Money Advice, and Shelter.
A series of guides and tools are also available on the banks' websites which its says will help with bills and money management.
Metro Bank
Metro Bank encourages you to use the 'insights' feature on its mobile app to get detailed breakdowns on how you are spending your money. You can set balance alerts so that you are notified when your balance drops below a certain level
If you have problems with repayments on credit cards, loans or overdrafts, it says you to get in touch with its team in branch or over the phone.
It signposts those looking for additional help to third parties like MoneyHelper, StepChange and Citizens Advice.
Monzo
Monzo says it has specialist teams in place to assist customers who have money worries. Other help includes:
The bank has a dedicated channel called 'Share with us', which you can use to share information directly with these teams, on things like financial difficulties, disabilities or addiction. The team will then work with you, and may point you to external organisations for further help.
These third parties include the mental health charity Rethink, Carers UK, Turn2Us, StepChange Debt Charity and Money Advice Trust.
Monzo has put together a range of guidance pieces on its blog designed to help customers get more out of their money and from the Monzo app.
The Monzo app allows you to set spending limits on things like ATM withdrawals, bank transfers and card payments to assist with budgeting.
Nationwide Building Society
Nationwide says its website details tips on how you can better manage your debts, such as loans, credit cards, mortgages and overdrafts. Other help includes:
Nationwide is holding a series of 'Money Matters with Nationwide' events, aimed at helping members develop a better relationship with their money.
If you're struggling to pay your mortgage, Nationwide highlights options which could help you, such as underpayments, cancelling overpayments, increasing your mortgage term or taking a payment holiday.
Nationwide members can get a free six month membership with energy switching service Switchd ‒ not much use at the moment given the limited options when it comes to moving suppliers, but it might be helpful in the future it says.
Nationwide directs members with debts with other financial firms to free debt advice providers Payplan and StepChange.
It also signposts those whose money worries are impacting their mental health to Mind, the mental health charity.
NatWest and Royal Bank of Scotland
Both banks are part of the NatWest banking group, and so the support measures in place are essentially identical across both. This includes:
NatWest and Royal Bank of Scotland have put together content detailing tips which can help you save money, such as reviewing your bills, switching suppliers and creating a budget.
Customers can book a video chat with a senior banker to go through their personal situation, goals and get some guidance.
The banks has a 'spending tracker' tool, which logs spending into 12 categories and pulls out personal insights based on your individual money habits to help you budget.
The banks' websites signpost customers towards getting further help from third party organisations including PayPlan, Citizens Advice, StepChange Debt Charity and National Energy Action.
Santander
Santander says that over the last year it has recruited and trained several hundred colleagues as part of its financial care teams, to support struggling customers.
It says it has identified customers who may be starting to feel the squeeze, and has provided them with targeted messages and signposts to support either through the Santander website or with third party debt organisations like Payplan. It has also:
Put together online content to provide guidance and tools to customers if money is tight. These guides touch on things like budget planning, how to cut your spending, and common troubles.
The Santander app includes My Money Manager, a free feature which can alert customers when their spending or bills change, as well as helping them see where their money is going based on different categories.
Online banking customers can request emails or SMS alerts when their balance goes below a set level or when credit or debit payments are made.
Starling Bank
Starling Bank said it has updated the 'spending insights' tool in its mobile app to help users manage their money better. New spending categories have been added, to make it easier to see how you are using your money and potentially identify ways to save.
It also has a money management tip on its blog, available on the Starling website.
It has a customer service team in place to help people who are struggling to make loan payments or who need assistance in other areas.
Starling signposts customers who have money worries to third parties who can help, such as the Money Advice Trust, Debt Advice Foundation and StepChange Debt Charity.
Virgin Money
Virgin Money has partnered with benefits website Turn2Us, so that users are able to work out if they are eligible for benefits within 10 minutes using a calculator on the bank's website. It has also:
Santander has launched a basic bank account for anyone with a poor credit history get access to a bank account who may not usually be eligible for a standard bank account.
The bank said it is leading work on tackling the 'poverty premium' ‒ the extra costs that people on low incomes pay for goods and services compared to those on higher incomes. It is chairing a cross-industry group to investigate the issue, and is taking its findings to the Government.
Virgin has built a 'Brighter Money' section on its website, which includes a host of guides on how to manage your money better. There are also videos from members of its 'red team' on money subjects.
Yorkshire Building Society
Yorkshire Building Society said it encourages any struggling customers to get in touch to discuss their situation.
It works with the likes of Money Advice Trust and Citizens Advice, and can signpost customers towards them if they are having money difficulties.
Ask for help from your bank
If you have not heard form your bank and need help, the key thing is to approach them and ask for help. They may be able to provide you with bespoke help, but the onus may be on you to contact them and tell them if you need support - whether that is to manage an overdraft, your mortgage payments or keep up with bills.
You may also find some help from The Money Edit team useful:
John Fitzsimons has been writing about finance since 2007, and is a former editor of Mortgage Solutions and loveMONEY. Since going freelance in 2016 he has written for publications including The Sunday Times, The Mirror, The Sun, The Daily Mail and Forbes, and is committed to helping readers make more informed decisions about their money.