Get 2.1% interest with the new Chase savings account (plus 1% cashback)
How to get 2.1% interest on an easy-access savings account.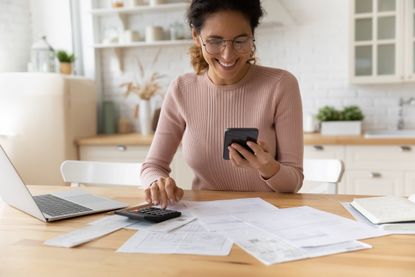 (Image credit: Getty images)
Looking for the best savings account? Take a look at how you can earn 2.1% with an easy-access savings account with Chase bank.
You can now get 2.1% interest on savings from Chase, JP Morgan's digital bank that launched last year. If you have cash savings that you want to be able to dip into easily and want to benefit from the highest rate of interest available then now could be the time to turn to Chase.
If you don't mind managing your money on an app and opening a new current account with Chase (without having to close your existing one), then you can bag a leading 2.1% interest rate on up to £250,000 of your cash savings.
All about the Chase saver account
The Chase saver account offers instant fee-free access to your savings and is available to new and existing customers.
While fixed-period savings accounts generally pay more interest, easy-access accounts have no restrictions on withdrawals. This means you can access your savings instantly if you have an emergency, or as many times as you like if you are using savings to pay for different things.
Having the option to dip into savings penalty-free could be an advantage at a time when the cost of living crisis is throwing up extra costs for households with higher energy bills, increased rail fares and more expensive everyday goods.
How to get the 2.1% interest rate with Chase
To get the 2.1% interest savings rate, you will need to have a current account with Chase. However, while it does mean opening a new account, you don't need to close your existing current account to have a Chase account and benefit from the interest rate.
There is no minimum income requirement to open a current account with Chase, nor do you need to have a minimum of two direct debits – which can often be the case when opening a new account. You can simply open a current account to get access to the savings account.
How to open an account with Chase?
You can open an account with Chase by downloading the Chase banking app. Open the app and follow the sign-up instructions for the current account. To open the saver account open up the Chase app, tap the "add" button and follow the instructions.
You can open up to 10 Chase saver accounts if you want to separately manage your savings. Each saver account has a different number and can be labelled to denote specific savings goals (such as "holiday savings" or "car repairs"). Customers can save up to £250,000 in total across all these savings accounts.
There is no limit on the number of withdrawals you can make.
Chase current account benefits
Although you may be looking to open the Chase current account to take advantage of the savings interest rates, there's another benefit to getting the current account. It gives you 1% cashback on debit card spending for the first 12 months. You then have the option of transferring the cashback you earn to your savings account to maximise the interest you could earn.
"If you have short-term cash savings then the 2.1% interest on savings, alongside the 1% cashback on spending, is an attractive offer - but these rates don't hang around for long, so if you want to maximise what you can earn on your savings, act fast," says Kalpana Fitzpatrick, editor of Money Week.
What to look out for with the Chase bank account
Be aware that you'll need to have a smartphone to open and manage the Chase current and saver accounts via the app. There is no online access or in-person branches.
If you need help with your account you have to contact Chase either via the app, by phoning 0800 376 3333 or by emailing Chase Support UK
Chase is covered by the Financial Services Compensation Scheme, meaning if the bank goes bust, then up to £85,000 of your savings are protected.
How long will the 2.1% interest rate last?
It's difficult to say how long this offer will last. It's a variable rate so it could change and go up or down in the future.
It's not unusual for banks to use incentives, such as a high interest rate, to try to drive new current account openings. Some popular savings deals have been pulled quickly in the past after a huge rush from new customers.
Look After My Bills Newsletter
Get the best money-saving tips, tricks and deals sent straight to your inbox every week. Make sense of your money in partnership with The Money Edit.
Katie is staff writer at The Money Edit. She was the former staff writer at The Times and The Sunday Times. Her experience includes writing about personal finance, culture, travel and interviews celebrities. Her investigative work on financial abuse resulted in a number of mortgage prisoners being set free - and a nomination for the Best Personal Finance Story of the Year in the Headlinemoney awards 2021.