The best robo-advisers - which ones to use to help you invest
Not sure how to start investing? Robo advisers can help. We explain what robo-advisers are and best ones worth considering. (Plus a potential £50 cashback with one provider)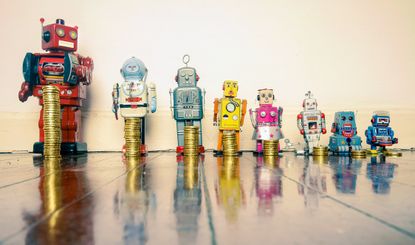 (Image credit: Getty images)
Contributions from
Best saving accounts can help you make the most of your cash savings, but investing can help your money grow more over the long-term. Robo-advisers are a good place to start. Here are the best robo-advisers worth looking at.
Robo-advisers are online investment platforms, also known as digital wealth managers that automate investing for you.
For beginners to investing, they provide an easy to access route as they will invest for you based on how you feel about risk - and costs are relatively low.
When you open an account, robo-advisers will ask you a number of questions to assess your attitude to risk and then serve up a ready-made portfolio for you to invest in.
Some also only require a small amount to get started - with some providers, you can start with £1.
Investing can help you beat inflation as your money can grow at a higher rate than cash saving accounts, but note, investing does come with risk and your investments can go down as well as up.
Below, we explain how robo-advisers work and what the rules are when it comes to investing. But if you're ready to get started, here is our pick of the best robo-advisers.
All the platforms mentioned here are regulated and come with Financial Services Compensation Scheme (opens in new tab) protection, meaning up to £85,000 of your money is protected if the company goes bust.
The best robo-advisers
Wealthify*
Wealthify (opens in new tab), which is backed by Aviva, makes investing as jargon-free as possible. You can start investing with Wealthify for as little as £1.
Minimum investment - £1 for ISA or investment accounts, or £50 for a pension account
Accounts can be an ISA, personal pension, general investment account or a Junior ISA
Fee - 0.6% (plus fund fees, which could be around 0.16%) based on your total fund value
Nutmeg
Nutmeg (opens in new tab) is one of the oldest robo-advisers in the UK, founded in 2011, but you need a bit more money to get started.
You need either a minimum £500 lump sum to open an account, or you can pay in £100 a month.
Accounts can be an ISA, a Junior ISA, a general investment account or a personal pension
Annual management fee - 0.45% to 0.75% based on your total fund value
Moneyfarm
Moneyfarm (opens in new tab) was founded in 2012 and offers a tailored approach that lets you invest towards your goals, like having a target retirement date.
Minimum investment - £500 to open an account
Accounts can be an ISA, a Junior ISA a general investment account or a personal pension
Annual management fee - from 0.35% (it has a tiered fee model structure, which means you pay lower fees the more you invest. Fees are on a sliding scale from 0.75% on accounts with investments up to £10,000 to 0.35% for accounts of more than £500,000 invested) - based on your total fund value
InvestEngine
InvestEngine (opens in new tab) will invest your money in one of three portfolios, but you can also build your own using a selection of available funds on the platform. It is one of the cheapest providers.
Minimum investment £100
Accounts can either be an ISA, a personal investment account or a business account.
Fee - 0.25% based on your total fund value
Chip
Chip (opens in new tab) is well known for automating your savings, but you can now use it to invest your money too. The investments are either 'adventurous', 'cautious' or 'balanced' - based on your attitude to how you feel about risk.
Minimum investment £1 - but then, you link your bank account to Chip, and it will automatically work out an amount to invest for you each month.
Accounts can be an ISA or general investment account
Fees - The basic plan id free, but investment fees are 0.5%.The premium plans is £3 per month for the premium subscription, plus up to 0.25% annual management fee for investment services.
How do robo-advisers work?
A robo-adviser is an automated online investment platform that will invest for you depending on your goals and attitude to risk.
When you open an account, you will be asked several questions (it is very much a gamification process) to help the platform understand how you feel about risk.
The platform will then suggest a portfolio and start investing for you.
The platform's algorithms select the investments in each portfolio, monitoring and adjusting them in response to changing market conditions, so all you have to do is pay in when you can, or a set regular monthly amount.
More confident investors can go the DIY route where you pick and manage your own investments via other what is known as 'fund supermarkets' like interactive investor (opens in new tab), AJ Bell (opens in new tab) or Fidelity (opens in new tab) for example. But if you do not want to do this or do not have enough knowledge to do this, then a robo-adviser can be a good starting point
However, as with all investing, the value of any investment can go down as well as up and you may end up with less money than you started with.
The pros and cons of robo-advisers
Pros
Robo-advisers are known for being low-cost, though the investment options are often limited.
However, they simplify the process and can be great for beginners, because once you have opened an account, you do not have to think about managing the funds - it is all done for you. All you have to do is put money into your account.
Cons
While prospective customers fill in a questionnaire to determine their investment preferences, you can still be placed in a very broad category.
While portfolios run by robo-advisors are usually considered to be quite diverse, they aren't immune from usual fluctuations that can occur in any portfolio.
Investing need to knows
Investing is for the long term, so only invest money you can lock away for a period of five years or more. The longer you invest, the better returns you can potentially get.
Do not invest money that you may need to pay bills or other short term expenses
Always have your cash emergency built first before you invest. You emergency money should be kept in an easy access savings account
Invest regularly - by drip feeding a small amount each month, you will smooth out your return, because there are times when the stock market does well and other times when it doesn't.
The value of investment can down as well as up, but if you invest for a number of years and pay in regularly, you will eventually see an upside,
Investing is not risk free. You can lose some or all of your money. Make sure you fully understand the risks before you invest.
Saloni Sardana is a web writer at MoneyWeek, The Money Edit's sister publication.
Her area of expertise is mainly in cryptocurrencies and personal finance but she covers broader financial markets stories too.
She currently focuses on longer-term personal finance stories and features to boost coverage of the UK's cost of living crisis.
She joined in March 2021 and launched MoneyWeek's first crypto newsletter.
Her work has appeared in FTAdviser, Business Insider, CityAM, The Sun Online and other trade news organisations.