Barclays to close another 14 branches in June - the full list
Barclays are closing a further 14 branches in addition to the 55 already announced this year. Here's everything you need to know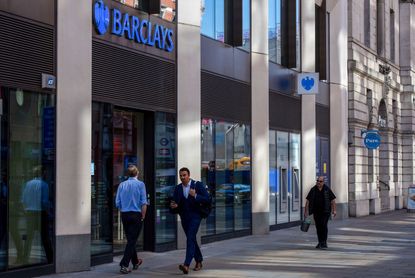 (Image credit: Bloomberg / Getty images)
Barclays is set to close branches in 14 locations in England and Wales this June, in addition to the 55 it is already due to close this year.
By the end of 2023, the bank will have closed 1,029 branches since 2015.
The major high street bank joins Lloyds and Halifax, Natwest and HSBC in closing branches this year amid falling demand for in-person services and efforts to cut costs.
Which? says 5,355 branches have been closed (opens in new tab) or are in the process of being closed since January 2015.
We explain which branches Barclays is closing, how you will be affected and how you'll need to access pop-up sites and 'banking pods' if you need in-person support.
Which Barclays Branches are closing and when?
Barclays has confirmed that the following branch closures will take place:
46, Rhosmaen Street, Llandeilo, Wales, SA19 6HF (23 June)
38/42 High St, Mold, Wales, CH7 1BB (30 June)
12 Station Street, Saltburn-by-the-Sea, England, TS12 1AB (30 June)
24 Fore Street, Tiverton, England, EX16 6LE (28 June)
106 High Street, Honiton, England, EX14 1JW (23 June)
10 The Square, Caterham, England, CR3 6XH (23 June)
112 Woodcote Road, Wallington, England, SM6 0LY (28 June)
65/67 Sandgate Road, Folkestone, England, CT20 1RY (23 June)
66 Market Place, Chippenham, England, SN15 3JA (23 June)
1 The Square, Holmes Chapel, England, CW4 7AF (27 June)
13/15 Victoria Square, Holmfirth, England, HD9 2DW (23 June)
337/339 Stanley Road, Bootle, England, L20 3EB (30 June)
207 High Road, Loughton, England, IG10 1AZ (22 June)
28 Chesterton Road, Cambridge, England, CB4 3AZ (28 June)
Alternative ways to bank with Barclays
Barclays said it plans to set up 70 pop-up banking sites across the country in addition to the 200 it has already set up.
The bank is also launching 10 new 'banking pods', which are temporary sites in shopping centres and retail parks that can be flexibly moved across the UK.
Barclays also has its own support van dotted around England and Wales to enable customers to access support or advice by making an appointment. See if there is a Barclays van near you. These are the specific topics you can get advice on in the van: Online banking, saving for the future, buying a new home and setting up a business
Nine new banking hubs are also set to open to help fill the gaps left by hundreds of branch closures by high street banks. Banking hubs allow customers from different banks to deposit and withdraw money, with a counter service provided by the Post Office. The hubs also provide dedicated rooms with bank staff on rotation, so trained specialists from different banks are available on different days.
If you want to switch to banking online or use the Barclays app, here is a guide on its website.
If you require access to a branch in your local area, then you could consider switching to a different bank that still has a branch in the area.
How can I access cash?
If you are unable to get to a bank branch, an ATM or a free-to-use ATM at Post Office branches (opens in new tab), some shops and supermarkets offer cashback with your debit card. You can find your nearest one using the search option on the Link website (opens in new tab).
There's no charge if you choose to access cash this way and you do not need to make a purchase in the shop or supermarket.

If you need to cash in a cheque
Barclays confirmed to The Money Edit that customers cash in a cheque using the alternative methods below:
On the Barclays app by clicking on 'pay and transfer' and then 'pay in a cheque'
Posting a cheque to Barclays at Barclays Bank, Leicester, LE87 2BB. Customers need to include a paying-in slip and clear instructions of their name, address, signatures and instructions on where to deposit the cheque
At a Post Office
Switch accounts
Not happy that your bank branch is closing. You could switch to another bank and even get a bonus for doing it. We explain this in our article 'free money for switching bank accounts'.
More on banking
Katie is staff writer at The Money Edit. She was the former staff writer at The Times and The Sunday Times. Her experience includes writing about personal finance, culture, travel and interviews celebrities. Her investigative work on financial abuse resulted in a number of mortgage prisoners being set free - and a nomination for the Best Personal Finance Story of the Year in the Headlinemoney awards 2021.