Barclays to close another 27 bank branches this year - how you could be affected
Barclays to close another 27 branches, bringing the total closures total 103. Here's what you need to know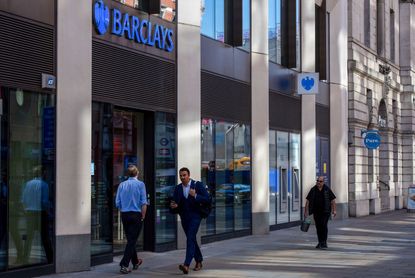 (Image credit: Bloomberg / Getty images)
Barclays bank is closing an extra 27 branches later this year, as more of its customers turn to online banking.
The bank has already closed 63 branches this year and is now set to close 40 more in June, July and August.
Barclays is just one of a number of banks reducing its high street presence. HSBC has shut one and will close 69 more. Lloyds group, which includes Lloyds Bank, Halifax and Bank of Scotland, has shut 47 and will close 88. NatWest, which includes Royal Bank of Scotland, has closed 31 and will close 24.
Santander said last month that it is reducing branch opening hours as more customers move online.
TSB has closed 39 and will shut 31 more, while Virgin Money has shut down 29 and will do so to one more branch. While Santander will not close any branches, it will reduce its opening hours.
Nationwide Building Society will close three branches after already closing four but it has extended its pledge to protect branches in cities and towns across the UK until 2024 - an extra year on its original pledge. It means the mutual lender will not leave any town or city in which it is based without a branch until at least 2024. It has 625 branches across the UK and had originally set the pledge until at least 2023.

Meanwhile, the Financial Conduct Authority has proposed new guidance for firms planning to change access to services. It wants them to prove that they've done the research: assessing usage trends over a sensible period of time, understanding the needs of customers, and examining how many vulnerable people rely on a branch. If it's not happy the firm has looked into this properly, it can ask for more work to be done, including a halt to a closure if suitable alternatives can't be set up in time.
We explain which branches Barclays is closing, how you will be affected and what you can do.
Which Barclays branches are set to close later this year?
Barclays has confirmed that the following branch closures will take place:
Swipe to scroll horizontally
| Branch | Expected closure |
| --- | --- |
| Epping | 22nd June |
| Bexhill-on-Sea | 22nd June |
| Manchester | 23rd June |
| Stow-on-the-Wold | 23rd June |
| St Austell | 24th June |
| Muswell Hill, London | 24th June |
| Pinner | 29th June |
| Rawtenstall | 29th June |
| Felixstowe | 29th June |
| Row 9 - Cell 0 | Row 9 - Cell 1 |
| Beaconsfield | 1st July |
| Surbiton | 1st July |
| Gateshead | 1st July |
| Heswall | 1st July |
| Row 14 - Cell 0 | Row 14 - Cell 1 |
| Selby | 3rd August |
| Ryde | 4th August |
| Peterborough | 5th August |
| Maldon | 5th August |
| Middleton | 5th August |
| Havant | 10th August |
| Sidcup | 10th August |
| Corby | 10th August |
| Petersfield | 12th August |
| Wells | 12th August |
| Prestwich | 12th August |
| Feltham | 12th August |
| Chester-le-Street | 12th August |
| Southgate Chase Side | 18th August |
| Sheerness | 19th August |
| Longton | 19th August |
| Dunmow | 19th August |
| Chesterfield | 19th August |
| Lampeter | 23rd August |
| Chorley | 24th August |
| Billericay | 24th August |
| Holloway | 25th August |
| Ripon | 25th August |
| Ludlow | 26th August |
| Bridgenorth | 26th August |
| Saffron Walden | 26th August |
| Alfreton | 26th August |
How can I access cash?
If you are unable to get to a bank branch, an ATM or a free-to-use ATM at Post Office branches (opens in new tab), some shops and supermarkets offer cashback with your debit card. You can find your nearest one using the search option on the Link website (opens in new tab).
There's no charge if you choose to access cash this way and you do not need to make a purchase in the shop or supermarket.

If you need to cash in a cheque
Barclays confirmed to The Money Edit that customers cash in a cheque using the alternative methods below:
- On the Barclays app by clicking on 'pay and transfer' and then 'pay in a cheque'
- Posting a cheque to Barclays at Barclays Bank, Leicester, LE87 2BB. Customers need to include a paying in slip and clear instructions of their name, address, signatures and instructions on where to deposit the cheque
- At a Post Office
Switch accounts
Not happy that your bank branch is closing. You could switch to another bank and even get a bonus for doing it. We explain this in our article 'free money for switching bank accounts'.
Katie is staff writer at The Money Edit. She was the former staff writer at The Times and The Sunday Times. Her experience includes writing about personal finance, culture, travel and interviews celebrities. Her investigative work on financial abuse resulted in a number of mortgage prisoners being set free - and a nomination for the Best Personal Finance Story of the Year in the Headlinemoney awards 2021.