Cash-dependent Scots face challenges due to increasing bank closures
Half a million Scots may struggle to access cash due to the disproportionate loss of bank branches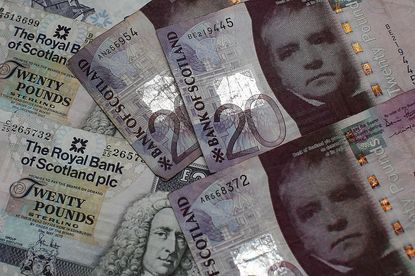 (Image credit: getty images)
Look After My Bills Newsletter
Get the best money-saving tips, tricks and deals sent straight to your inbox every week. Make sense of your money in partnership with The Money Edit.
Thank you for signing up to The Money Edit. You will receive a verification email shortly.
There was a problem. Please refresh the page and try again.
With bank branch closures becoming increasingly common, switching bank accounts could help. Scotland has seen some of the highest rate of closures, making it harder to get access to cash.
Scots could struggle to access cash due to the unprecedented rate of bank closures, MPs have warned. Scotland has the highest percentage loss of bank branches across the UK, with 53% closing since 2015, according to a report from the Scottish Affairs Committee.
While many people now have access to online banking, it is estimated around 500,000 Scots rely on cash due to difficulties adapting to digital payments or for budgeting purposes.
The findings come amid ever-rising numbers of branch closures throughout the UK from most high-street banks this year: 103 branches of Barclays, 70 branches of HSBC and 70 branches of TSB. Lloyds group, which includes Lloyds Bank, Halifax and Bank of Scotland, has shut 47 and will close 88. NatWest, which includes Royal Bank of Scotland, has closed 31 and will close 24. Meanwhile, while Santander will not close any branches, it is reducing branch opening hours as more customers move online.
Plans to introduce a Financial Services and Markets Bill, which includes added protections on access to cash, have been welcomed by the Scottish Affairs Committee that published the report. Its chair, SNP MP Pete Wishart, however, says urgent action is needed as fears grow that banks are rushing to close branches before the legislation comes into force.
He said: "What is deeply worrying is that bank branches are closing at a record rate with very limited research or thought conducted of the possible widespread implications."
"While the move to digital banking and payments has offered a method at which to do transactions that many of us enjoy, we cannot forget the 500,000 people in Scotland who rely on cash in their day-to-day lives. With the cost-of-living crisis deepening, many people are using cash for budgeting."
The report also urges the UK Government to support free access to cash through free-to-use ATMs in the most rural and deprived areas of the UK. It is currently provided by voluntary organisations such as Link's Financial Inclusion Programme.
Wishart added: "We welcome the effort taken by the banking industry to protect access to cash, although we still feel that there is a clear need for legislation. In our report today, we are calling for more research into the implications of a cashless society and more secure and longer term agreements to ensure the continued access to cash."
A final recommendation includes asking for a long-term commitment from banks to maintain appropriate services for customers using the Post Office network as Scotland faces a growing number of closures.
A government spokesman said: "We recognise that cash is vital for millions of people across the UK. That's why we are legislating to ensure people will continue to be able to access cash, and have already legislated to enable shops to offer cashback to customers, regardless of whether they make a purchase."
How can I access cash?
If you're unable to access a bank branch or an ATM, some shops and supermarkets offer cashback with your debit card. You can find your nearest one using the search option on the Link website.
It's free to access cash this way and you do not need to buy anything in the shop or supermarket.
What else can I do if my local branch is closing? Switch accounts
If you're not happy that your bank branch is closing, you could switch to another bank that does offer a local branch - and even get a bonus for doing it. We explain this in our article 'free money for switching bank accounts'.
Additional reporting from the Press Association
Look After My Bills Newsletter
Get the best money-saving tips, tricks and deals sent straight to your inbox every week. Make sense of your money in partnership with The Money Edit.
Katie is staff writer at The Money Edit. She was the former staff writer at The Times and The Sunday Times. Her experience includes writing about personal finance, culture, travel and interviews celebrities. Her investigative work on financial abuse resulted in a number of mortgage prisoners being set free - and a nomination for the Best Personal Finance Story of the Year in the Headlinemoney awards 2021.