Savings accounts for babies — starting early is the next big thing
Savings accounts for babies can be a great idea and help set your child up for the future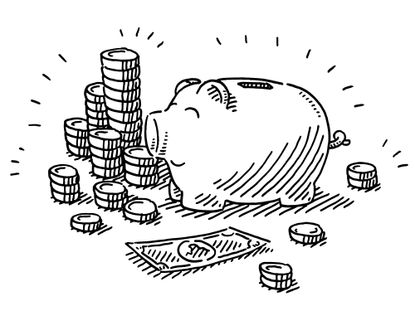 (Image credit: getty images)
Is it ever too early for a savings account for babies?
Starting a family is expensive. In fact, the cost of a raising a child from birth to 18 is now £71,611 for a couple family or £97,862 for a single parent family (excluding housing, childcare and council tax costs), according to the Child Poverty Action Group.
On top of covering the cost of everyday items such as clothes, food and toys, it's also important to plan for your child's future. To do this, it's best to open a savings account for your baby as soon as possible. It might be the last thing on your mind when you're sleep deprived, but the earlier you start saving for your baby, the longer those savings will have to grow.
(MORE: Bank accounts for kids)
How do savings account for babies work?
Savings accounts for babies work in the same way as adult accounts, but interest rates are typically more competitive.
Parents or grandparents can open a savings account with a bank or building society on the child's behalf and, depending on the account, your child may be able to start managing it themselves when they reach the age of seven. Most accounts can be opened with as little as £1.
Types of savings accounts for babies
Savings accounts for babies generally fall into two main categories - easy access savings accounts and regular savings accounts.
Easy access accounts allow you to pay in money or make withdrawals whenever you want.
Regular savings accounts, on the other hand, require you to pay in a set monthly amount and will typically only last for 12 months. After this point, the money saved will be moved to an easy access account.
Interest rates on regular savers are generally higher than for easy access accounts, but withdrawals are not usually permitted – or if they are, your interest rate will be reduced.
Another savings option is a Junior ISA. This is a tax-free savings account that allows you to pay in a certain amount each tax year. For the 2021/22 tax year you can pay in up to £9,000.
This tax-free allowance can be split between a cash Junior ISA or a stocks and shares Junior ISA. Choosing a stocks and shares ISA (or other junior investment account) for your child could result in bigger returns than cash interest – especially while interest rates are so low. Plus there's plenty of time for your investments to grow.
However, it's important to remember that investments can go down in value as well as up, so your child could get back less than invested.
Money saved in a Junior ISA will be locked away until your child turns 18, at which point the money becomes theirs. The funds saved will automatically be moved into an adult ISA.
Benefits of saving accounts for babies
There are many benefits to opening a savings account for your baby or child. For example:
Starting early allows your child's savings to grow
Interest rates on children's savings accounts are generally higher compared to adult accounts
You can take advantage of tax-efficient savings
Opening an account can encourage your child to plan ahead and save for something they really want
Your child will learn basic maths skills.
Are they a good idea?
As well as helping your child learn more about money and develop good savings habits, opening a savings account for your baby can help ensure they have funds to fall back on as they grow up.
The money saved can help pay for your child's education, enable them to put down a deposit on a house, help pay for their wedding, or even allow them to travel the world.
Look After My Bills Newsletter
Get the best money-saving tips, tricks and deals sent straight to your inbox every week. Make sense of your money in partnership with The Money Edit.
Rachel Wait is a freelance journalist. She has been writing about personal finance and consumer affairs for over a decade, covering everything from credit cards and mortgages to pensions and insurance. She has written for a range of websites and national newspapers, including Mail on Sunday, the Observer, Forbes and the Spectator.
Rachel is keen on helping consumers understand their finances.