Nationwide cashback offer: get paid for your supermarket shop
You can earn cashback on groceries with a new cashback offer from Nationwide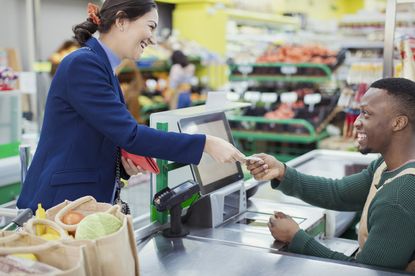 (Image credit: Getty images)
Today Nationwide has launched a £100 million supermarket cashback scheme.
With food prices going up, along with mortgages and council tax, Nationwide say its cashback deal forms part of its drive to support members during the cost of living crisis.
The high street building society is offering its current account customers the chance to earn 5% cashback on their supermarket shopping - up to £10 per month.
You'll need to spend £200 each month to be eligible for the maximum cashback of £10 per month. But if you have a joint account, you can both earn up to £10 a month across both cards.
Who can get the Nationwide cashback offer?
If you have an adult Nationwide current account and pay for your food shopping by debit card, as well as Apple Pay and Google Pay, you can get cashback.
There is no need to register or sign up to qualify for the cashback option – and any money earned will be automatically credited to your current account.
All adult current accounts qualify including FlexPlus, FlexDirect, FlexAccount, FlexStudent, FlexGraduate and FlexBasic.
Cashback is not available on the FlexOne children's account.
New customers opening one of its current accounts will also qualify for the cashback offer.
Where can you get cashback?
You can get cashback, up to a limit of £10 a month at all the major supermarkets, both online and in store.
This includes Tesco, Sainsbury's, Asda, Morrisons, Aldi, Lidl, Waitrose, Iceland and the Co-op. Other smaller outlets also include Farmfoods, McColl's, Quality Save and Snappy Shopper.
Nationwide has published a list of supermarkets and convenience stores where you can earn cashback (opens in new tab) on its website.
There are some exclusions, for example you can't earn cashback at petrol stations on either fuel or groceries. In store cafes, opticians and third party bakeries or independent outlets in store are also excluded as well as deliveries made by Deliveroo.
How much cashback can you get?
You will earn a flat 5% on your shopping and this is automatically applied with no need to opt in.
Cashback will be capped at £10 per calendar month, per card, and is available until 30 April.
But Nationwide say that in the event £99 million is paid out in cashback before this time, the cashback offer will end.
Any cashback earned will paid automatically within six weeks of the end of the calendar month in which it was accrued. Payment will be made to the same account that was used for the original purchase.
You should also get a text confirming any cashback payment, providing you have earned a minimum of £3 cashback.
Read more
Sue Hayward is a personal finance and consumer journalist, broadcaster and author who regularly chats on TV and Radio on ways to get more power for your pound. Sue's written for a wide range of publications including the Guardian, i Paper, Good Housekeeping, Lovemoney and My Weekly. Cats, cheese and travel are Sue's passions away from her desk!