Is it time to switch bank accounts for better service and a cash bonus?
Record numbers switch bank accounts – we look at why this is happening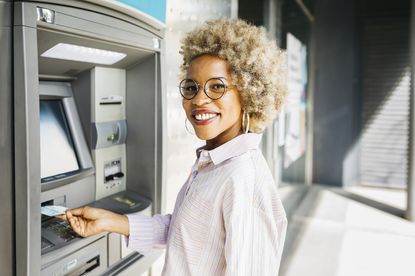 (Image credit: Getty images)
Could you switch bank accounts for better service and a cash bonus?
Record numbers of us are making the decision to switch bank accounts with 376,107 customers switching at the end of 2022.
Switching banks is much easier than it used to be since the introduction of the Current Account Switch Service (Cass) back in 2013. Since the service launched - over 8 million current accounts have been switched.
Using this free service means after opening a new account, your new bank will automatically transfer any payments, direct debits and standing orders from your old bank. It will also close down your old account and the whole process should be done in seven working days.
Cass processed a record 376,107 switches from October to December last year. This is the highest quarterly total since the service launched in September 2013.
November saw the single highest number of switches ever recorded in one month at 157,376.
Santander (opens in new tab), HSBC (opens in new tab), Starling (opens in new tab) and Monzo (opens in new tab) had the highest net switching gains between July – September 2022, among switchers using the CASS system.
Rachel Springall, a finance expert at Moneyfacts.co.uk (opens in new tab), said: "The record-breaking quarter for current account switching came at a time when several banking brands were offering a free cash sweetener amid a cost-of-living crisis".
"Those customers who decided to switch accounts during (the fourth quarter of) 2022 could well have done so for different reasons, whether that be due to a poor level or service or that their existing account was not working hard enough for them".
Banks losing the highest number of customers between July to September included Barclays, (opens in new tab) Natwest (opens in new tab) and TSB (opens in new tab).
Record numbers switch bank accounts
Why are more of us switching bank accounts?
Making the decision to switch your bank account is a personal one.
With some of the best bank account switching offers you can bag up to £200. This can provide a valuable boost to your bank account - at a time when the cost of living is piling pressure on household finances.
Cash incentives can be a welcome bonus if you're switching but it's also worth looking at the level of customer service you can expect from your new bank.
Some banks also offer other incentives including preferential savings rates for existing customers.
First Direct pay up to 7% with its regular saver account.
With many high street banks closing down branches – for those people who prefer, or need to do their banking in person, any decision to switch banks may be influenced by the availability of branches in your area.
What is the current account switch service?
The current account switch service is available to personal customers as well as small businesses and charities.
Using this service means your new bank takes responsibility for transferring all your payments, standing orders and direct debits across from your old bank.
Under the current account switch guarantee - you won't be left out of pocket if anything goes wrong with the switch. If payments are accidentally sent to your old account for example – they will be redirected to your new one.
Read more
Sue Hayward is a personal finance and consumer journalist, broadcaster and author who regularly chats on TV and Radio on ways to get more power for your pound. Sue's written for a wide range of publications including the Guardian, i Paper, Good Housekeeping, Lovemoney and My Weekly. Cats, cheese and travel are Sue's passions away from her desk!