"I made £311 switching bank account, and you could too"
How one Money Edit reader bagged free cash, better customer service and higher savings rates by switching bank accounts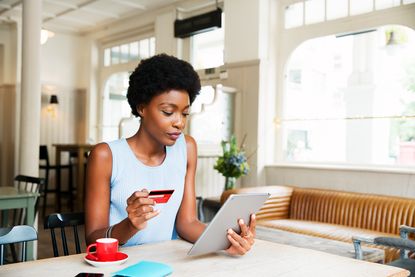 (Image credit: Getty images)
Switching bank accounts is in vogue, more than 375,000 bank accounts were switched using the current account switch service between October and December last year.
During November alone 157,376 current accounts were switched, the most in any single month since the current account switch service started in 2013.
Switching bank account
"How I bagged a £175 bonus and a 7% savings rate"
Lydia Howland, 44, from Faversham in Kent switched her personal current account from Barclays (opens in new tab) to First Direct (opens in new tab) in January.
"I opened my first current account with Barclays while I was at university because I needed somewhere to pay in my student loan".
"I've stuck with them ever since and later ended up having a joint account, savings accounts and mortgages there. I often thought about switching my current account but didn't realise all my payments would be transferred over as well as my standing orders and direct debits".
"If I'd realised that could be done, I'd have made the switch a whole lot sooner. I'd always worried about having to set up new payments for everyone I pay money to – like my cleaner and having to ask them to send me their bank details".
Why Lydia chose First Direct
Lydia chose First Direct after reading about its £175 switching bonus (opens in new tab) and 7% regular saver account and after opening an account, her switch went ahead just two weeks ago.
New switchers can get a £175 bonus with First Direct providing they pay in £1,000 within the first three months of opening the account. The £175 payment is then made within 28 days of the conditions being met.
"I've already paid in £1,000 and put a date in my diary when the £175 payment is due".
Opening a First Direct current account also means Lydia can save with its regular saver account, which pays market-leading 7% interest.
"I'm paying in the maximum I can at £300 per month – which means I'll have £3,736 in a year's time. This means I'll have made £136 in interest plus my £175 bonus – that's a total of £311 as a result of switching for very little effort".
How do I switch my bank account?
Four in ten of us have stuck with our bank for over twenty years according to the consumer group Which?.
If you're still using the same bank account you opened in your student days or when you first started work - it could be time to switch bank accounts.
Switching bank accounts is straightforward and takes just seven working days if you use the current account switch service (opens in new tab) (Cass).
The first step is finding a new bank which you can do using our best bank accounts guide or comparison sites like our sister site Go.Compare (opens in new tab).
It's important you think about what you need from a bank account. Do you want to bank mainly in branch or online? Will you need a 0% interest overdraft? Do you want a high-paying linked savings account? Will you be travelling abroad a lot and want to keep exchange fees low?
Many banks also offer free cash if you switch. This can be as much as £200.
Once you've chosen a bank you can apply to open a new account which, depending on the bank, you might be able to do in a branch, online or by phone.
As part of the application process, you'll be asked if you want to use the current account switch service.
By doing this, any payments, standing orders and direct debits will be automatically switched from your old bank to your new one and your old account closed for you.
Sue Hayward is a personal finance and consumer journalist, broadcaster and author who regularly chats on TV and Radio on ways to get more power for your pound. Sue's written for a wide range of publications including the Guardian, i Paper, Good Housekeeping, Lovemoney and My Weekly. Cats, cheese and travel are Sue's passions away from her desk!