How to open a bank account - online, over the phone, or in a branch
We explain how to open a bank account, the best way to compare accounts, what you'll need to open one, and what happens if a bank refuses your application.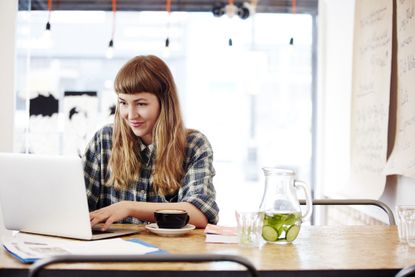 (Image credit: Getty images)
Opening a bank account is quick and easy and you can do it in around 15 minutes. Most accounts from the high street banks can be opened over the phone, in a branch, or online, depending on what works best for you.
The current account market is very competitive right now, with banks pulling out all the stops to attract new customers, and you can earn up to £200 in cash for switching. But there are other things to look at when comparing accounts including overdraft charges, accessibility, rewards such as cashback, and monthly charges where they apply.
Here we look at the different ways you can open a bank account, the best way to compare accounts, what you'll need to open one, and what happens if a bank refuses your application.
How to compare bank accounts
Picking a bank account can be a daunting task, not only are there accounts from all the high street banks to choose from, but there's also a huge range of challenger banks offering them now.
Then you need to look at the type of account on offer, is a basic account enough for you or would a packaged account be better value for money? The following key features are important to keep an eye on when picking a current account.
Switching incentives
You can earn up to £200 by switching your current account. There are rules to follow to receive the money, which include depositing a certain amount and transferring over usually two direct debits or standing orders. These are a great extra bonus, but they're only worth it if the current account has all the other features you need too.
Laura Suter, head of personal finance at AJ Bell, said: "A handy way to make money is to switch your current account to get a sign-up bonus.
"Some providers will pay you money to move to them – at the moment a few will pay £200. Some will require you to move over a certain number of direct debits or pay a certain amount each month, and you won't be able to benefit if you already have an account with the provider.
"Just check you've fulfilled any requirements – you don't want to miss out on the money because of a technicality."
Customer service
Most people only ever experience the customer service of a bank when something goes wrong. But if this does happen you want the problem to be quickly and efficiently sorted out.
Therefore, it's always worth checking what a bank's customer service is like. The Financial Ombudsman publishes bi-annual results of banking complaints and several organisations, such as Which?, regularly publish data from customers and experts on customer service from the banks.
You can also usually get an idea of how a bank treats its customers by scanning its social media feeds.
How to contact the bank
If you prefer to talk to someone in person, you will want a bank with a branch network, and a bank that you can get to.
Similarly, if you would like to do all your banking via an app or online, you don't need a bank with a branch network.
It's important to make sure your bank has the right kind of access for your needs, and you will be able to contact it if you need to.
What products it offers
There's not a lot of benefit to being loyal to one bank and instead, you should be looking for which has a product you will use.
It's all about choosing products to make managing your money easier and making it work harder for you. If you are often in credit, for example, an account that pays interest could work.
But if you need to borrow money, choosing an account with an overdraft with a low interest rate is key.
Branch network
If managing your money in a branch is important to you, you'll need to choose a bank with one.
This is easier said than done given the number of branches closing but choosing a high street bank is your best bet if you want to manage your money in person. Most (but not all) challenger banks are online or app-based.
Linked savings accounts
Several bank accounts offer special interest rates to current account customers. These savings rates are higher than non-customers could get but you can only access them if you already have an account.
Again, like with any perk, they shouldn't be the only reason you open a bank account but could be a nice bonus on top.
In-credit interest or rewards
It's possible to get paid for an in-credit balance and the rates are often higher than you'd achieve in a savings account.
If you don't often have a high credit balance, an account paying cashback or rewards on purchases might be a better option for you.
Whatever you go for, just make sure it's a perk you will actually use, and that the rest of the account's features will work for you too.
Overdraft facilities
If you know you might need to borrow money from time to time, an overdraft is one option. But, these tend to be expensive so if you do need one, pick an account with an overdraft that has a low interest rate.
Also, be aware of how much this is as you'll be charged as soon as you start using the overdraft with most banks.
Suter adds: "Overdrafts are a big factor. If you're currently paying to be in your overdraft you should hunt around to see if you can get a 0% interest deal.
"Overdraft interest is generally around 40%, meaning it can be among the most expensive debt to have. First Direct and Nationwide are among those who have 0% deals at the moment – although it depends on your credit rating whether you'd be eligible."
What you need to open a bank account
The precise details of what you need will depend on the bank and account you've chosen but usually, you'll need the following to open a new account:
Proof of your identity, you'll often need two different examples such as a passport, identity card, or driving licence
Proof of your address in the UK, this is often a council tax or utility bill, dated in the last six months
You'll also need to give details including your full name and profession
Can I open a fee-free basic bank account?
Most banks offer basic, free, current accounts. These allow you to receive money, such as your wages or benefits and withdraw money. You'll usually be given a debit card but not an overdraft with these accounts.
They won't have any of the extra perks available with some market-leading or packaged accounts such as in-credit interest, cashback or insurance policies.
However, they are a good option for those who aren't eligible for other accounts because they have a poor or no credit history.
Nine of the biggest UK banks offer these accounts, which don't charge fees for missed payments and you don't need a credit check to open one.
The pros and cons of opening an account online
Opening an account online can be done in minutes and many banks offer this service.
The pros of opening an online account include:
It's a quick, easy process
You usually won't need to see anyone
Everything can be set up automatically
The cons of opening an online account include:
If it doesn't work you may need to speak to someone on the phone or in a branch
IT problems could cause delays
You need to be comfortable setting this up on your own
The pros and cons of opening an account in a branch
If you have a local bank branch, you can visit it in person to open an account.
The pros of opening an account in a branch include:
A member of staff can guide you through the process in person
Quick and easy to set up
It can be reassuring for someone else to get you up and running with your account
The cons opening an account in a branch include:
You'll only be able to do this within banking opening hours
It may take longer than opening an account online, or via an app
You may need to make an appointment to do this
The pros and cons of opening an account on the phone
Opening an account is also possible over the phone.
The pros of opening an account on the phone include:
You can ask any questions to the staff members on the phone
The account is set up for you and someone talks you through each stage
The reassurance of knowing an account and payments are set up correctly
The cons of opening an account on the phone include:
This is usually a longer process than other methods of opening an account
You'll still need to show forms of ID and proof of address
You may need to factor in the time being on hold to the bank
Can the bank refuse to open a bank account for me?
Banks do not have to open current accounts for new customers and they do refuse to in some cases. This may be because someone is trying to open an account with an overdraft but doesn't pass a credit check or it could be because they can't show proof of address or identity.
If you're refused a current account, you should check if you're eligible for a fee-free basic bank account instead.
How to close a bank account
If you need to close a bank account, you should contact your bank and instruct it to close the account. If you're in credit or you have money borrowed in your overdraft, you'll need to transfer the money or pay this off before it can be closed.
When the account is closed you will be able to access details about your account for five years, under rules set out by the Competitions and Markets Authority (CMA).
Freelance personal finance journalist
Rebecca Goodman is a freelance personal finance journalist, regularly writing for The Independent, The Guardian, The Sun and a range of specialist publications. Covering all aspects of finance, Rebecca has worked in the sector for the last decade and specialises in insurance, household finance and consumer issues.