"We've made our family finances as green as possible"
Isabel decided to go green with her family finances, current account, ISA and pension during the first lockdown in 2020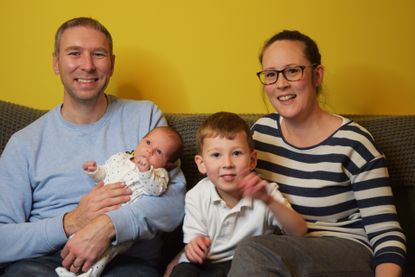 (Image credit: Isabel Mack)
The Mack family tells us how they have gone down the green family finances route to help build a better future for their children.
It was during the first lockdown of March 2020 that Isabel Mack decided to go green with her current account, stocks and shares ISA, pension and children's savings accounts. "I had been so surprised by an Instagram post explaining how a green pension is way more effective at cutting your carbon footprint than giving up flying and changing your energy provider. I had already switched my energy provider, bought an electric car and got into buying second-hand where possible so this seemed the obvious next thing to do."
While others were learning how to make sourdough bread or doing online workouts during lockdown, Isabel started researching current accounts. Banks finance climate change through the businesses they invest in: £150bn was invested in fossil fuels by UK banks between December 2015 when the Paris Agreement (an international treaty on climate change) was agreed and September 2019. Changing your current account is one way to green your finances.
"I read the ethical consumer guide on bank accounts and the SwitchIt website. I decided to make a decision based on which current accounts are rated highly and my preference to not pay a fee. I switched to Nationwide - my husband Mark was pleased as he already banked with them - and we moved our joint account to the Coop. It was easy and free to switch via the Current Account Switch Service."
The 39-year-old in Winchester decided to next cut out fossil fuels from the stocks and shares ISA and self-invested personal pension (SIPP) she holds with Hargreaves Lansdown. "I looked at the funds in my ISA and pension, their holdings and their motive. I then looked for funds with high ESG (Environmental, social, and governance) objectives and those that in particular support energy transition such as Schroder Global Energy Transition Fund."
Now about 40% of her ISA and 75% of her SIPP is held in funds with high ESG objectives or include holdings in ESG-rated companies. "My main criteria was to cut out fossil fuels and find something that satisfies my attitude to risk. My non-ESG funds have a lower risk profile and I may make further changes here in the future."
Isabel admits this research to change her ISA and pension investments took longer. "There was more research to do and it helped that my husband works in finance and has an interest in ESG. I would have considered speaking to an independent financial advisor otherwise."
Thinking about green family finances? Do some research to avoid greenwashing
It's important to do as much research as possible or seek advice from an advisor on how to spot greenwashing. This is when a fund or company claims to be more environmentally friendly than it actually is.
Isabel, who is the founder of Party Kit Network, which offers sustainable party kit hire, has recently opened green savings accounts for her three-week-old daughter Stevie and four-year-old son Harlan. "I had heard of ethical bank Triodos so did some reading about them and opted for their Right Start Saver for any birthday and Christmas money they receive."
She is open to switching her mortgage provider for a greener option. "I'm not sure how practical that would be but will consider when our current fixed term ends."
Her advice? "Start with your bank account – it's the easiest way to begin and can have a much greater impact than ethical changes to other areas of our lives."
Look After My Bills Newsletter
Get the best money-saving tips, tricks and deals sent straight to your inbox every week. Make sense of your money in partnership with The Money Edit.
Katie is staff writer at The Money Edit. She was the former staff writer at The Times and The Sunday Times. Her experience includes writing about personal finance, culture, travel and interviews celebrities. Her investigative work on financial abuse resulted in a number of mortgage prisoners being set free - and a nomination for the Best Personal Finance Story of the Year in the Headlinemoney awards 2021.