Iceland interest-free loan scheme - how does it work?
Could Iceland's interest-free prepaid cards help you?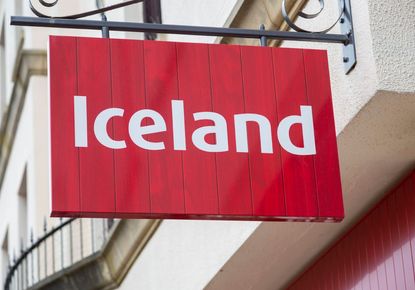 (Image credit: Geography Photos)
Iceland customers struggling with high food bills will be able to take advantage of interest-free loans to help pay for their grocery shopping, thanks to a scheme being rolled out across the UK.
Soaring inflation is eating into grocery shopping budgets, with prices of everything from bread, milk and eggs to meat, chocolate and even toothbrushes rising fast.
Saving on your supermarket food shop and making the most out of using the best supermarket loyalty cards is becoming increasingly important.
Now, working with charity-owned lender Fair for You, the frozen foods retailer has launched a Food Club card enabling financially-vulnerable customers to cover school holiday grocery bills or smooth out gaps in their income with zero-interest micro loans of between £25 and £100 to purchase items at Iceland.
Following a regional trial of more than 5,000 customers, 95% of users said they found the scheme helpful, with 71% less likely to fall behind on rent, council tax and other bills. About 92% of members said the scheme had stopped or reduced their use of food banks.
Many households are under immense financial pressure during the deepening cost of living crisis, with inflation running at a 40-year high of 10.1%.
Richard Walker, managing director of Iceland Foods, said: "More than ever, people are struggling to purchase much-needed everyday items during this relentless cost of living crisis, and fresh thinking is required by business and government to find workable solutions. "To those striving to worry less about how they will afford essential goods, this ethical credit scheme delivers real help when most needed and I believe it will make a valuable contribution to breaking the cycle of food poverty in this country."
Simon Dukes, chief executive of Fair for You, added: "Nobody should have to go hungry in order to feed their kids, or be forced into making impossible decisions between putting food on the table or having hot water. Our mission at Fair for You is to provide affordable credit to those who need it, to ensure they are not ripped off by exploitative lenders.
How does the Iceland interest-free loan scheme work?
Anyone can apply for an Iceland Food Club card, as long as you have a stable, regular income (such as from paid work or benefits) and a bank account you can make repayments from.
You can apply online by selecting an initial top-up of £25 to £75. If successful, customers receive a pre-loaded card within five to seven business days, with a £100 credit limit. The card can be used in Iceland stores and online.
The credit is completely interest-free, due to Iceland making a large investment in the scheme. Repayments are set at £10 a week. Customers can choose which day of the week they make the repayments, and are allowed to overpay if they like.
It's only possible to take out one loan at a time, during six windows in the year that coincide with school holidays.
According to Fair for You, limiting loans to these periods ensures customers only use them to smooth out incomes, rather than relying on them year-round.
Fair for You performs credit searches on applications; customers can try its eligibility checker first, which doesn't leave a footprint on credit files, to give an indication of whether they might be eligible for the card.
The Iceland Food Club originated from a taskforce of Iceland colleagues who looked at ways to support children at risk of hunger, particularly when those on free school meals were at extra risk during school holidays.
Ruth Emery is contributing editor at The Money Edit. Ruth is passionate about helping people feel more confident about their finances. She was previously editor of Times Money Mentor, and prior to that was deputy Money editor at The Sunday Times. A multi-award winning journalist, Ruth started her career on a pensions magazine at the FT Group, and has also worked at Money Observer and Money Advice Service. Outside of work, she is a mum to two young children, a magistrate and an NHS volunteer.