What are 0% interest credit cards?
If you're looking to reduce your credit card debt, then a 0% credit card can help you cut costs if used correctly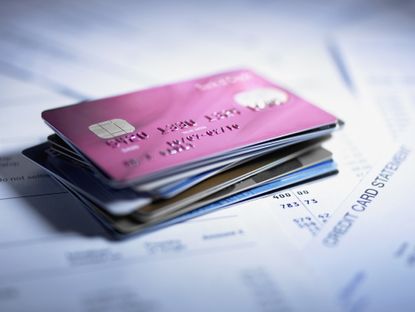 (Image credit: Getty images)
A 0% interest credit card can help you spread the cost of purchases and reduce the cost of paying off existing debts.
Used correctly, this type of credit card can be a lifesaver in an era of rising inflation and runaway prices.
The latest data from The Money Charity shows that the average household in the UK now has £2,085 credit card debt. With surging inflation and rising energy costs, paying as little interest as possible on your debts has never been more important.
Alastair Douglas, CEO of credit app TotallyMoney, says: "0% cards can be a great way to spread payments, helping you clear an outstanding credit balance, or pay for a new purchase over a number of months. Since they're interest-free, they can help make managing your finances easier, giving greater financial flexibility."
How do 0% interest credit cards work?
There are two main types of 0% interest credit cards:
0% purchase credit card
0% balance transfer credit card
A 0% interest purchase card charges zero interest on new spending, while a 0% balance transfer card charges zero interest on existing credit card debt transferred from other cards.
Some credit cards offer 0% interest promotions on both purchases and balance transfers. A small number offer 0% on 'money transfers' which can be used to pay off overdrafts and loans.
What is a 0% interest purchase credit card?
A 0% purchase credit card is the cheapest way to borrow money. This type of credit card comes with zero interest for a set period of time – usually anything from three months to two years or more.
You can use a 0% purchase card to spread the cost of an expensive item without paying interest.
To make sure you don't pay any interest, you'll need to make at least the minimum repayment each month, and repay the whole debt within the interest-free period.
When the 0% period ends, you'll be charged interest on any balance on the card.
What is a 0% interest balance transfer credit card?
A 0% balance transfer credit is a cheap way to pay off debts. You can move existing credit card debt to a 0% balance transfer card and stop paying interest on the debt for a set number of months.
Most 0% balance transfer cards come with a balance transfer fee of 2 or 3%. This will impact how much money you save by switching cards.
With a 0% balance transfer card, 100% of your repayments will go towards repaying your debt, not paying interest.
Ideally, you will repay your entire debt before the 0% period ends. If you don't, the outstanding balance will start incurring interest.
Who can get a 0% interest credit card?
You'll normally need a good credit score to get a 0% interest credit card – and you'll definitely need a good score to get the best deals on offer
Dennis Hussey, money adviser at National Debtline, said: "Low or 0% interest is hard to get if you do not have a good credit rating – and as is the case with any borrowing there are risks involved. If you are already behind on other payments, you should seek debt advice."
Before you apply for a 0% credit card, it's a good idea to use an online eligibility checker, like the one from our sister site GoCompare, before making an application. You can also check your eligibility with credit reference agencies like Experian, Equifax or TransUnion.
This will help protect your credit score as you won't apply for cards that you're likely to be rejected for.
Legally, credit card firms only need to give their advertised deals to 51% of successful applicants, so you may be offered a shorter 0% interest period than advertised.
How can I get a 0% credit card?
Most credit card providers and banks offer 0% credit cards. The best card for you will depend on whether you want to borrow money or pay off existing debts cheaply.
When using GoCompare's eligibility checker, use the drop down menu to find 0% balance transfer cards to compare deals.
The key thing to look for is how long the 0% offer will last for and you should also look at the balance transfer fee. This fee is quoted as a percentage of the debt transferred, with a minimum cash amount. For example, '2% with a minimum of £5'. If you transferred £1,000 of debt, a 2% balance transfer fee would mean you pay £20.
You should factor the balance transfer fee into your calculations when working out how much money a 0% balance transfer card will save you.
Some balance transfer cards don't charge a balance transfer fee. These cards tend to offer shorter 0% periods.
Are 0% credit cards a good idea?
Interest-free credit cards mean you can borrow money for free. But that doesn't necessarily mean they are the right option for everyone.
Even though there is no interest charged, you still have to repay the money you borrow on a 0% credit card. If you fail to make the minimum payment each month, the credit card company is likely to cancel the 0% offer and you'll start being charged interest.
Jonathan Chesterman, debt advice policy manager at StepChange debt charity, said: "It's important to make a note of when the 0% period ends to avoid being take off guard by interest being applied to your debt. If you're coming to the end of the 0% interest window and you still have an outstanding balance, make sure you switch to a new no-interest card to avoid incurring high costs that will impact how long it takes to clear your debts."
What do I need to know about before I apply for a 0% credit card?
The golden rule with both 0% purchase cards and 0% balance transfer cards is to repay your entire debt in the interest-free period.
How quickly you can repay the debt will influence which card you should choose. For example, if you want to transfer £2,000 of debt to a 0% balance transfer card and can afford to repay £200 a month, you need a 0% deal that is at least 10 months long.
If you take out a 0% balance transfer card, be aware that any new spending on the card is likely to incur interest.
Try not to use a 0% card for cash withdrawals – these will incur interest from the moment you take the cash out.
Most importantly, don't let 0% credit card deals tempt you to spend more money than you need to. It's still debt that you need to pay back.
Emma Lunn is an award-winning freelance financial journalist who specialises in money and consumer affairs. She has more than 17 years' experience writing for national newspapers, trade and consumer magazines, and specialist websites. She has a particular interest in writing about property and mortgages, and enjoys explaining complex issues in an easy-to-understand way.