New banking hubs to open to help cash customers - will one open in your area?
Thirteen new banking hubs will be rolled out throughout the UK to help improve access to cash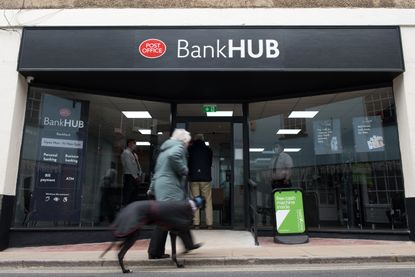 (Image credit: Getty Images)
New banking hubs are set to open to help fill gaps in access to cash amid hundreds of branch closures by high street banks.
Banking hubs operate in a similar way to bank branches, but with several banks sharing one store and having staff on rotation so trained specialists from different banks are available on different days.
They are seen as a lifeline in parts of the UK which have been left without any bank branches or easy access to cash. Scotland, for example, has seen some of the highest rate of closures, making it harder for around half a million people there to access cash.
The hubs are likely to become more important amid the cost of living crisis: increasing numbers of households are turning to cash as a way of budgeting effectively.
The new Financial Services and Markets Bill, currently making its way through Parliament, will also force banks and building societies to give people access to cash within a reasonable living distance.
The first banking hubs were piloted last year in Cambuslang in South Lanarkshire and Rochford in Essex and deemed a success: the two hubs have already had almost 60,000 customer visits and transactions worth £16 million have taken place since they opened.
John Bachtler, chair of the Cambuslang Community Council, said: "The banking hub is the centre of our community and it's bringing life back to the high street and crucially helping people and businesses with their everyday banking needs."
Where will the 13 new banking hubs be?
The 13 new hubs will be in the following locations in England, Scotland and Northern Ireland:
Forres, Moray
Carluke, Lanarkshire
Kirkcudbright, Dumfries and Galloway
Axminster, Devon
Barton-upon-Humber, Lincolnshire
Lutterworth, Leicestershire
Royal Wootton Bassett, Wiltshire
Cheadle, Staffordshire
Belper, Derbyshire
Maryport, Cumbria
Hornsea, Yorkshire
Kilkeel, Newry
More banking hubs are on the way. Natalie Ceeney, chair of the Cash Action Group, said: "This is only the start. The hub network will expand significantly to meet the demand of communities across the UK. I would expect us to be supporting hundreds of communities within a few years."
How can I access cash if I can't get to a bank branch or ATM?
If you're unable to access a bank branch or an ATM, some supermarkets and convenience stores offer cashback at their tills with your debit card. You can find your nearest one using the search option on the Link website.
It's free to access cash this way and you also don't need to buy anything in the shop.
There are also initiatives under way to provide standalone deposit services and banking services in libraries or community centres.
If you're not happy that your local bank branch is closing and there is no banking hub replacing it, you could switch to another bank that does offer a local branch - and even get a bonus at the same time. We explain how to do this in our article 'free money for switching bank accounts'.
Additional reporting from the Press Association.
Katie is staff writer at The Money Edit. She was the former staff writer at The Times and The Sunday Times. Her experience includes writing about personal finance, culture, travel and interviews celebrities. Her investigative work on financial abuse resulted in a number of mortgage prisoners being set free - and a nomination for the Best Personal Finance Story of the Year in the Headlinemoney awards 2021.