Nine new shared banking hubs announced
As more branches close, locations for nine new banking hubs have been revealed to help improve access to cash. We explain who can use them and if there's one near you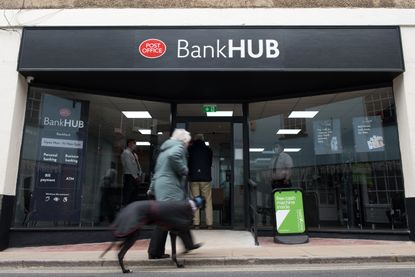 (Image credit: Getty Images)
Nine new banking hubs are set to open to help fill the gaps left by hundreds of branch closures by high street banks.
Banking hubs allow customers from different banks to deposit and withdraw money, with a counter service provided by the Post Office. The hubs also provide dedicated rooms with bank staff on rotation, so trained specialists from different banks are available on different days.
They are seen as a lifeline in parts of the UK that have been left without any bank branches or easy access to cash. Barclays recently announced it will close 30 branches, while Lloyds and Halifax have said they are axing 40 further branches this year.
According to research by Which? last year, almost a quarter of free-to-use ATMs have vanished since 2018, while 4,685 bank branches have closed - meaning almost half of the UK's bank branches have disappeared since 2015.
The banking hubs are likely to become more important amid the cost of living crisis, with increasing numbers of households turning to cash as a way of budgeting effectively.
Meanwhile, Barclays is rolling out a number of "banking pods" in shopping centres and retail parks for its customers.
We look at how banking hubs and banking pods work, where the new shared banking hubs will be, and what the alternatives are if your local branch has closed.
Where will the nine new banking hubs be?
The new hubs will be in the following places. Additional banking hub locations will be announced at a later date:
Barnoldswick in Lancashire
Clay Cross in Derbyshire
Earlestown on Merseyside
Heywood in Greater Manchester
Horwich in Greater Manchester
Oakham in the East Midlands
Shoreham-by-Sea in West Sussex
Stapleford in Nottinghamshire
Watton in Norfolk
In total, there are plans to create 38 shared banking hubs. Four have opened so far: Brixham (Devon), Cambuslang (South Lanarkshire), Cottingham (East Riding of Yorkshire) and Rochford (Essex).
John Howells, chief executive of Link, the ATM network operator which recommends locations for the banking hubs, said: "Access to cash and face-to-face banking services continues to be important for millions of people across the UK. Not everyone can or is able to go digital yet, so we're pleased to announce new cash services to support these communities."
What is a banking pod?
Barclays has announced it will launch a string of flexible "banking pods". These are purpose-built, semi-permanent structures in locations such as shopping centres and retail parks. They provide a private space, and can be moved depending on demand.
The pods are different to the shared banking hubs mentioned above, as the pods are only for Barclays customers.
At least 10 pods will be rolled out across the UK by the summer. In addition, six electric vehicle banking vans will be added to Barclays' existing fleet of 10, allowing the bank to reach customers in remote locations.
The bank also said it is expanding its scheme where it works with local authorities and communities to arrange banking pop-ups in places such as town halls and libraries.
How can I access cash if I can't get to a bank branch or ATM?
If your local branch has closed, check to see if there is a shared banking hub near you, or if your banking provider has a local pop-up. As well as Barclays, TSB runs pop-ups for its customers, such as in libraries, churches and village halls.
If you have a Post Office near you, you may be able to use its banking services, such as withdrawing money, depositing cash and cheques and checking your account balance.
Some customers, like those that bank with Halifax, Lloyds, TSB or Virgin Money, can access the full range of manual and automated banking services at a Post Office. Others may only be able to use certain services.
There's a useful table on the Post Office website showing which services are available to which banking customers.
If you're unable to access a bank branch or an ATM, some supermarkets and convenience stores offer cashback at their tills with your debit card. You can find your nearest one using the search option on the Link website.
It's free to access cash this way and you also don't need to buy anything in the shop.
If you're not happy that your local bank branch is closing and there is no banking hub replacing it, you could switch to another bank that does offer a local branch - and even get a bonus at the same time. Read our guide on how to switch and how to find the best bank account switching offers right now.
Look After My Bills Newsletter
Get the best money-saving tips, tricks and deals sent straight to your inbox every week. Make sense of your money in partnership with The Money Edit.
Katie is staff writer at The Money Edit. She was the former staff writer at The Times and The Sunday Times. Her experience includes writing about personal finance, culture, travel and interviews celebrities. Her investigative work on financial abuse resulted in a number of mortgage prisoners being set free - and a nomination for the Best Personal Finance Story of the Year in the Headlinemoney awards 2021.
With contributions from