Energy bill freeze coming? More details of Liz Truss's rumoured plan emerge
New prime minister promises a support package for energy bills that will bypass October's rise in the price cap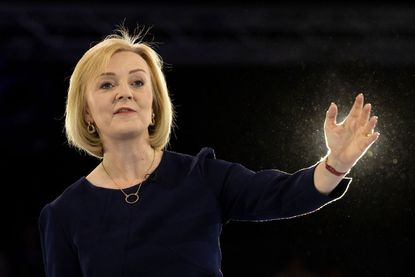 (Image credit: Getty Images)
New prime minister Liz Truss is expected to announce plans to freeze energy bills at around £2,500 as part of a wider package of support to deal with increasing energy bills.
The £400 energy grant for all households is expected to be factored in, effectively keeping the energy price cap at close to its current level of £1,971.
The plan to fix annual energy bills and avoid the rise in the price cap in October will be made possible by allowing energy firms to take out government-backed loans to subsidise bills.
Bloomberg is reporting that the support package may cost as much as £130 billion over the next 18 months. An announcement is expected this Thursday.
Annual energy bills for the average home are set to rise from £1,971 to £3,549 from October when the new price cap kicks in.
Truss said in her victory speech on Monday that she would "deliver on the energy crisis" and "the long term issues we have on energy supply". She had previously said in an interview on the BBC that rising energy bills do not have to mean "Armageddon" this winter.
We explain everything we know so far about upcoming government energy measures.
What do we know about an energy support package?
Under plans drawn up, energy firms will charge households a reduced rate for gas and electricity. In exchange the government will guarantee loans to the energy firms to cover the difference. These loans will be repaid from our energy bills over the next 10 to 20 years.
The plan allows the government to set a "price guarantee" for average household bills and effectively replace the current price cap. Ministers will review the fixed price every three months.
The Times is reporting plans to freeze energy bills at about £2,500. Taken alongside the £400 energy grant for all households which has already been announced, the energy price cap will be kept at close to the current level of £1,971.
It's an expensive plan: Scottish Power has estimated that freezing all bills at the current price cap of £1,971 for two years would cost almost £100billion.
However, the specific details such as which households would benefit, how long for, to what extent the taxpayer would cover the cost of the scheme and if it means higher energy costs over time are not yet clear.
There's already a reaction on social media about the package. The BBC's economic editor Faisal Islam has questioned how it's possible to freeze bills and calculate how much it will cost the government to do so:
It's literally impossible to freeze the price of energy for consumers while giving a fixed cost for how much this will cost the Government. If the wholesale price is fixed, then value of subsidy depends on the market price. Which is varying by 10-20% almost day to day.September 6, 2022
See more
Meanwhile, Shadow Chancellor of the Exchequer Rachel Reeves, says the overall cost of the support package should not fall solely on taxpayers and that energy firms must contribute:
Where Labour leads, the Tories follow.It seems the new PM will adopt the energy price freeze Labour has been calling for.She must urgently bring this in, but it can't be working people footing the bill. Energy giants must pay their fair share.September 6, 2022
See more
Some experts say households will still get poorer over the coming months even with an energy bill freeze.
Torsten Bell of the Resolution Foundation think-tank, said millions of households will still face a tough winter, particularly those on pre-payment meters, as they may not be able to build arrears, as well as customers who are likely to build up "very large arrears" which could damage their credit ratings and have a long-term impact to their financial wellbeing.
"Even with the big policy announcement this week, households will be getting poorer," he said. "They don't have lots of non-essential spending and luxuries they can cut to pay their energy bills and that context is really worrying".
Liz Truss has also promised around £30bn in tax cuts in an emergency Budget later this month - this may include a reversal of April's 1.25% rise in National Insurance . Small businesses are also expected to be offered some relief.
What other help is available for energy bills?
If you're struggling with rising bills, then there is some help with energy costs that you can tap into.
A number of energy suppliers offer hardship funds. In some cases they include grants that don't have to be repaid and debt being written off up to a certain amount. You need to be an existing customer - with the exception of the British Gas Trust which offers grants up to £1,500 to customers irrespective of their energy supplier.
Additional reporting by PA
Katie is staff writer at The Money Edit. She was the former staff writer at The Times and The Sunday Times. Her experience includes writing about personal finance, culture, travel and interviews celebrities. Her investigative work on financial abuse resulted in a number of mortgage prisoners being set free - and a nomination for the Best Personal Finance Story of the Year in the Headlinemoney awards 2021.